Seven new Level 2 electric vehicle charging ports installed on campus
Thanks to a grant from the Ohio EPA, seven dual port charging stations have been installed: two each at Millett Hall, Chestnut Fields, and Ditmer; and one at Marcum Conference Center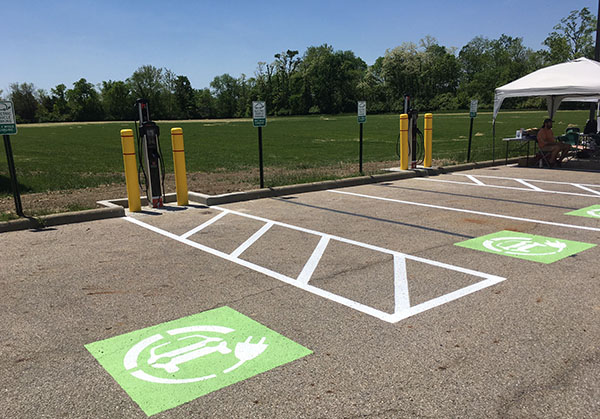 Two EV charging stations at Chestnut Fields parking lot
Seven new Level 2 electric vehicle charging ports installed on campus
Two EV charging stations at Chestnut Fields parking lot
Electric vehicle owners now have more opportunities to charge their vehicles on campus with the recent installation of seven Level 2 dual port charging stations on campus.
The Level 2 chargers — which can recharge an electric vehicle battery typically in about 5-6 hours — are located in the parking lots of Chestnut Fields, Ditmer, Millett Hall West, and Marcum Conference Center.
Miami University received a $105,000 grant from the Ohio Environmental Protection Agency (EPA) to fund the charging stations, according to Adam Sizemore, director of sustainability.
Funding for the grants comes from Ohio's allocations from the Volkswagen Mitigation Trust Fund. Public and private entities in 26 counties were eligible to apply for the grants, which provide all or partial funding for the publicly accessible electric vehicle charging stations.
Butler County received more than $195,000 in 2021 from the Ohio EPA to fund Level 2 charging stations in 11 locations, including the seven locations on Miami's campus and one in the city of Oxford.
To use the charging stations and find available stations, download the
ChargePoint mobile app.