Daryl Baldwin testifies about importance of NEH funding and technology in helping to support endangered Indigenous languages
The Myaamia Center's executive director spoke about the ongoing Myaamia language and cultural revitalization effort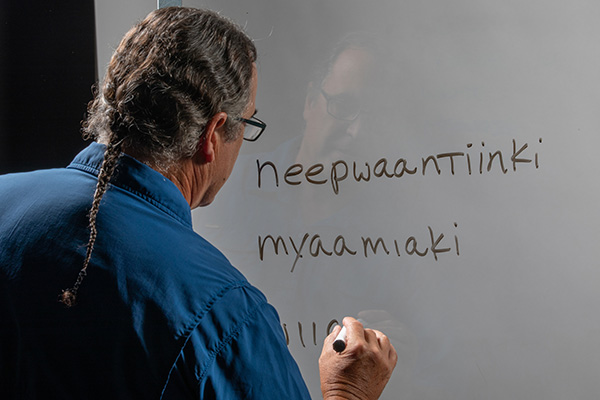 Daryl Baldwin, executive director of the Myaamia Center and co-director of the National Breath of Life Archival Institute for Indigenous Languages, both located at Miami University, writes Myaamia words (photo by Scott Kissell).
Daryl Baldwin testifies about importance of NEH funding and technology in helping to support endangered Indigenous languages
Daryl Baldwin, executive director of the Myaamia Center and co-director of the National Breath of Life Archival Institute for Indigenous Languages, both located at Miami University, writes Myaamia words (photo by Scott Kissell).
Myaamia Center Executive Director Daryl Baldwin testified in a virtual congressional briefing Wednesday about the importance of National Endowment for the Humanities (NEH) funding in helping preserve and revitalize endangered Indigenous American languages.
Baldwin is a member of the National Council on the Humanities, the NEH's advisory board. President Joe Biden appointed him last year. He presented as an NEH grantee along with Larry Kimura and Bruce Torres Fischer from the Kaniʻāina (Voices of the Land) project at the University of Hawai'i at Hilo and Audra Vincent from the Coeur d'Alene Online Language Resource Center in Idaho.
The virtual briefing was co-sponsored by the National Humanities Alliance and the Congressional Asian Pacific American Caucus.
U.S. Rep. Judy Chu, D-California, caucus chair, said, "With 143 of the 216 languages spoken by native communities listed as 'endangered,' we must strive to provide resources and support to preserve and document the languages and cultures of those who have called this country home for centuries."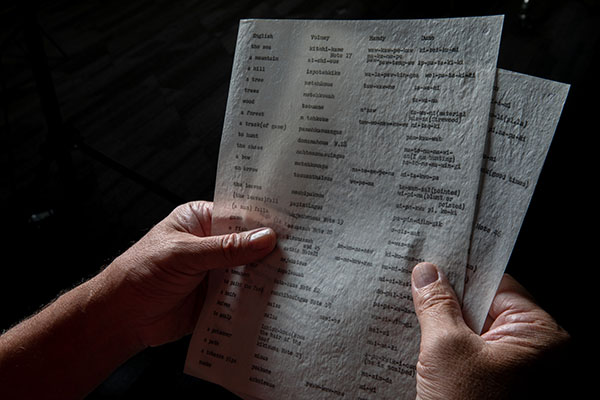 Daryl Baldwin's hands hold papers with typed Myaamia words.
A citizen of the Miami Tribe of Oklahoma, Baldwin spoke about the Myaamia language, which fell dormant and lost its last generation of native speakers sometime during the mid-20th century.
"The language is fortunate in that it has vast archival written records, far more extensive than many Native American languages and which span nearly 270 years," he said. "These records consist of several thousand pages of materials, which will take many years — maybe a few generations – of analysis for the full reconstruction of the language."
The Myaamia Center, located on Miami's Oxford campus, started in 2001 to respond to the research and educational development needs of the Miami Tribe of Oklahoma with a focus on the preservation of their Indigenous knowledge system, language, and culture.
Using technology and developing a community-curated digital archive allowed them to engage with these historical language materials, Baldwin said. He explained how archival content, in its original form, is not always easily accessible or ready for use in educational programs.
"In many cases, we have to develop our own 'tools of the trade,' meaning that off-the-shelf archival software does not typically meet our unique community needs to work with these documents and make the materials more useful to revitalization efforts."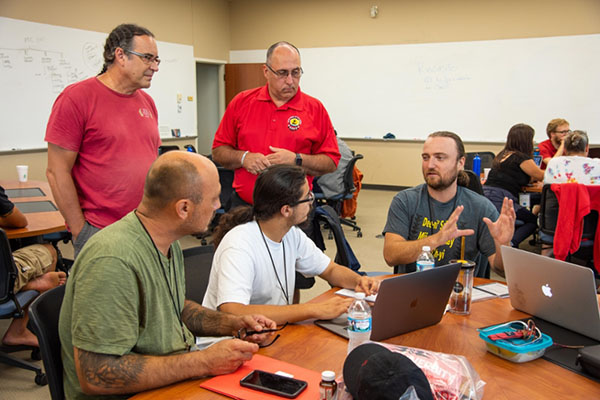 Daryl Baldwin (standing, left) and Miami Tribe of Oklahoma Chief Douglas Lankford (standing, center) listen as Jerome Viles, a development trainer for National Breath of Life Archival Institute for Indigenous Languages (National BoL), assists participants at a 2019 National BoL conference.
A community-curated digital archive
Beginning in 2012, the NEH supported the Myaamia Center in the development of an online software platform.
"For the first time ever, digital copies of our language materials have been created and are now coming together into one archive," he said. 
The Indigenous Languages Digital Archive (ILDA) allows Myaamia language specialists and teachers  to analyze digitized materials specifically for the purpose of informing tribal language revitalization and educational efforts.
"By pairing images and sound files of original documentation alongside transcribed versions of these same materials, ILDA creates a searchable database which serves as a conduit between the archival materials and language revitalization staff," Baldwin said.  
Baldwin said the software platform also is uniquely designed to provide content to a growing base of educational tools such as an online dictionary, an ethnobotanical database, and other educational software still in development.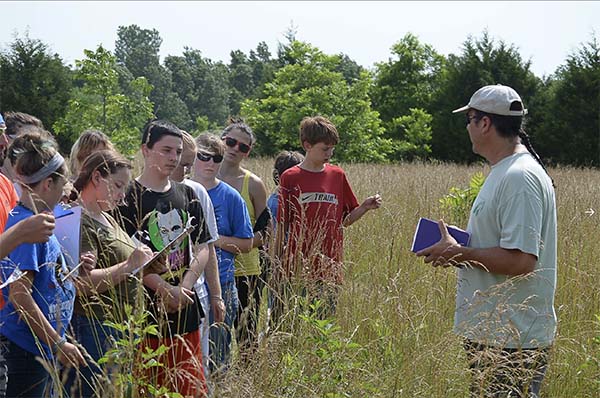 The Eewansaapita Summer Youth Educational Experience for Tribe members in Oklahoma and in Indiana helps new generations of young people learn more about the Myaamia language and culture.
A growing number of tribal educational programs
Development of the digital/archival infrastructure is critical for capacity building efforts that support a growing number of tribal educational programs across age groups, Baldwin said.
"We know that when a child enters a learning environment where their heritage language and culture are valued and included as a medium of instruction, they perform better academically," he said.
Formal assessment and evaluation work within the Myaamia Center has documented increased graduation rates among Myaamia tribal students at Miami University from 56% in the 1990s — prior to the 2003 campus implementation of language and cultural education — to a 6-year graduation rate today of nearly 92%.
"We have also documented increased youth engagement in the tribal community, increased sharing of cultural knowledge that strengthens identity, and growing evidence that revitalization impacts community health and well-being. It's important to note that although high levels of fluency may be the goal for many, there are still positive outcomes at the community level for efforts that are not currently focusing on such levels of language proficiency, such as the case for the Myaamia effort."
Shelly Lowe, chair of the National Endowment for the Humanities who grew up on a Navajo reservation in northeast Arizona, called Indigenous languages "living knowledge."
One of her priorities in her new role as chair is to make sure grant programs and the projects NEH funds "reflect the whole and rich diversity of this country's histories, voices, experiences and cultures."
Lowe said, "On this continent, the history of Indigenous languages is one of erasure and loss, both through episodes of brute force and through slow erosion," she said. "When we lose a language, we lose all the knowledge, history and values of that culture that are embedded in the language."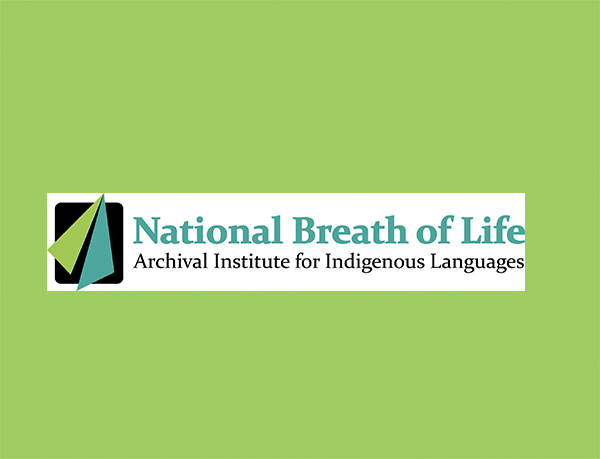 National Breath of Life 
The Myaamia Center also is home to the National Breath of Life Archival Institute for Indigenous Languages (National BoL).
"Since its inception in 2011, National BoL has worked with 137 community researchers representing 65 different endangered languages," said Baldwin, co-director with Gabriela Pérez Báez, associate professor of Linguistics at the University of Oregon.
The training has been supported through the Dynamic Language Infrastructure-Documenting Endangered Languages Program, which is a partnership between National Science Foundation and NEH.
Since 2015, National BoL has advanced its training and technological infrastructure to support the growing number of tribal communities turning to archives for their language efforts. ILDA was further developed to increase its usability and to handle a broader range of archival resources, such as audio and video materials, Baldwin said.
"The new platform is currently being utilized by 11 different tribal communities to support archive development for their language efforts," he said, noting that much of ILDA's development has been carried out with NEH support.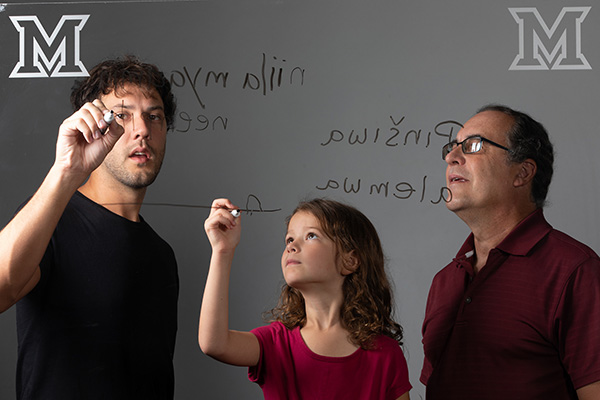 Daryl Baldwin, here with his son and granddaughter, has watched new generations of Miami Tribe citizens discover the Myaamia language.
 Documenting critically endangered languages
"Over the last 20 years, we have seen a significant increase in the need to document critically endangered languages, as well as communities needing to use these archival resources to support language activities," Baldwin said.
He cited a 2019 Global Survey of Language Revitalization Efforts that found out of 245 revitalization efforts worldwide, 1 in 5 languages are now relying solely on archival materials to support their activities.
"If this trend continues, NEH programs such as those from the Division of Preservation and Access will likely become even more important," he said.
In response to a question about other funding sources, Baldwin noted the Myaamia Center relies heavily on the Miami Tribe of Oklahoma to support tribe-specific activities and on external funding to move National Breath of Life forward.
"And because that work takes place within the context of a university — Miami University and the Miami Tribe of Oklahoma are now celebrating 50 years this year — we are very fortunate in that collaborative environment to receive various kinds of support from Miami University as well," he said.
Noting the Native American Language Act passed in 1990, Baldwin said more time is needed for capacity building, training, and development that support language efforts.
"This work will simply take time and resources, but tribal communities are responding and slowly building capacity to meet their specific language needs and goals," he said.
As the body of assessment research continues to grow, Baldwin said, "we will deepen our understanding of the impact this important work has on our lives as Indigenous people. We welcome continued support from all directions to aid in what has become a healing process for many of our tribal communities."