University Communications and Marketing, Advancement, win top honors from CASE Circle of Excellence
UCM wins a CASE Grand Gold for 'A Day of Reflection'; Photographer wins honors at University Photographers Association of America
University Communications and Marketing, Advancement, win top honors from CASE Circle of Excellence
Miami University Communications and Marketing won a Grand Gold in the Special Events category for 'Day of Reflection: Commemorating the 17th anniversary of the Miami Tribe's removal"
Miami University Communications and Marketing (UCM) and University Advancement won five CASE 2022 Circle of Excellence Awards, including a Grand Gold, from the Council for the Advancement and Support of Education.
CASE Circle of Excellence is the premier recognition program for educational advancement. Winners are selected based on factors including overall quality, innovation, use of resources and the impact on the institution or its external and internal communities, such as alumni, parents, students, and faculty and staff.  
In 2022, CASE received more than 4,500 entries from 636 institutions in nearly 30 countries. Of those, volunteer judges selected 626 exemplary entries for bronze, silver, gold, or Grand Gold recognition. 
University Communications and Marketing wins three CASE Awards:
Grand Gold - Special Events (In-person, Single Day Events):
The project: 2021 marked the 175th anniversary of the Miami Tribe of Oklahoma's removal from their homeland, which is now occupied by Miami University. To commemorate the event and honor the oppression endured by the Tribe's ancestors, Miami hosted the Day of Reflection program Oct. 11 to reaffirm the university's commitment to our partnership, their well-being, and their quest to heal.
Judges comments

: 

A courageous and powerful program to address the legacy of Native removal and the role of the university. The most powerful part of this entry was reading the speeches and the program. It was evident how this event would be moving and historic. 

The applicant provided strong evidence from the outset and helped co-create the event with the Miami Tribe and engaged with their diversity and inclusion team to create a sensitive and respectfully delivered experience. 

A great example of a university showing how its educational missions and grappling with complex issues and bringing them to light IS the work of the university always. A very strong entry overall and an exemplar to other universities struggling with how to recognize similar legacies.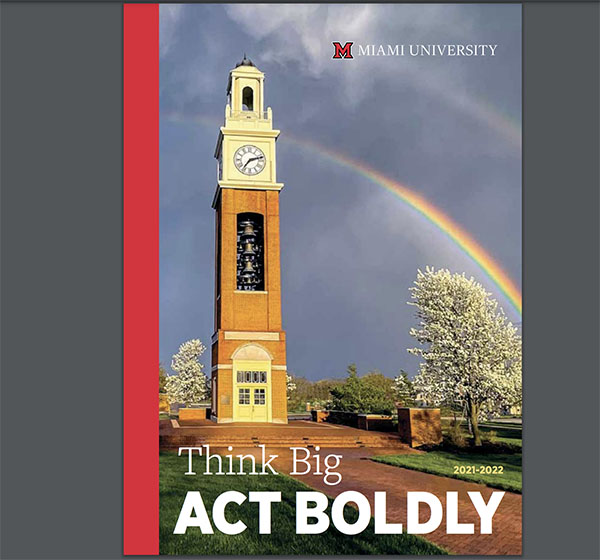 UCM won a Silver award for Publications - Student Recruitment Series (image is the cover of the 2021-2022 View Book )
Silver- Publications (Student Recruitment Series): 
Project

: 

The goal of this series of publications is to represent Miami University''s brand pillars through authentic stories, images, and examples so students can make concrete connections between their interests and opportunities at Miami. This series supported a record year for Miami, both in the number of student inquiries and applications for fall 2022. It also supported the goal to maintain the academic profile of admitted students.
Judges comments: Strong on use of resources and understanding of target audience. Pieces were well connected to one another. It felt like they built upon each other well to accomplish goal.  Travel postcards were witty.
Bronze: Communications, Podcasts (Frequent)
Project: 

Reframe

, an original podcast from Miami University's College of Education, Health, and Society, hosted by James Loy, copywrite/editor, explores the transformative and progressive work being done across the university and throughout the community. 

Reframe

goes beyond the simple interview format to incorporate storytelling, quality audio production, and professional voice-overs to create a narrative-driven experience that covers a variety of socially-conscious topics.  

Judges comments: Great host that keeps the listener engaged through many interesting topics.
Miami University Advancement receives two CASE Awards
The project: Alumni and friends of Miami once again set records with #MoveInMiami. The university's annual day of giving outpaced its initial goal of 2,025 gifts in 20 hours and 25 minutes by early afternoon, finishing with 4,812 gifts and $3,317,836 raised. Both of those totals are new highs for the program, which is in its eighth year. 
Judges' comments: 

#MoveInMiami is a brilliant campaign that captures the magical moment that is "move-in day" at many of our schools, colleges, and universities.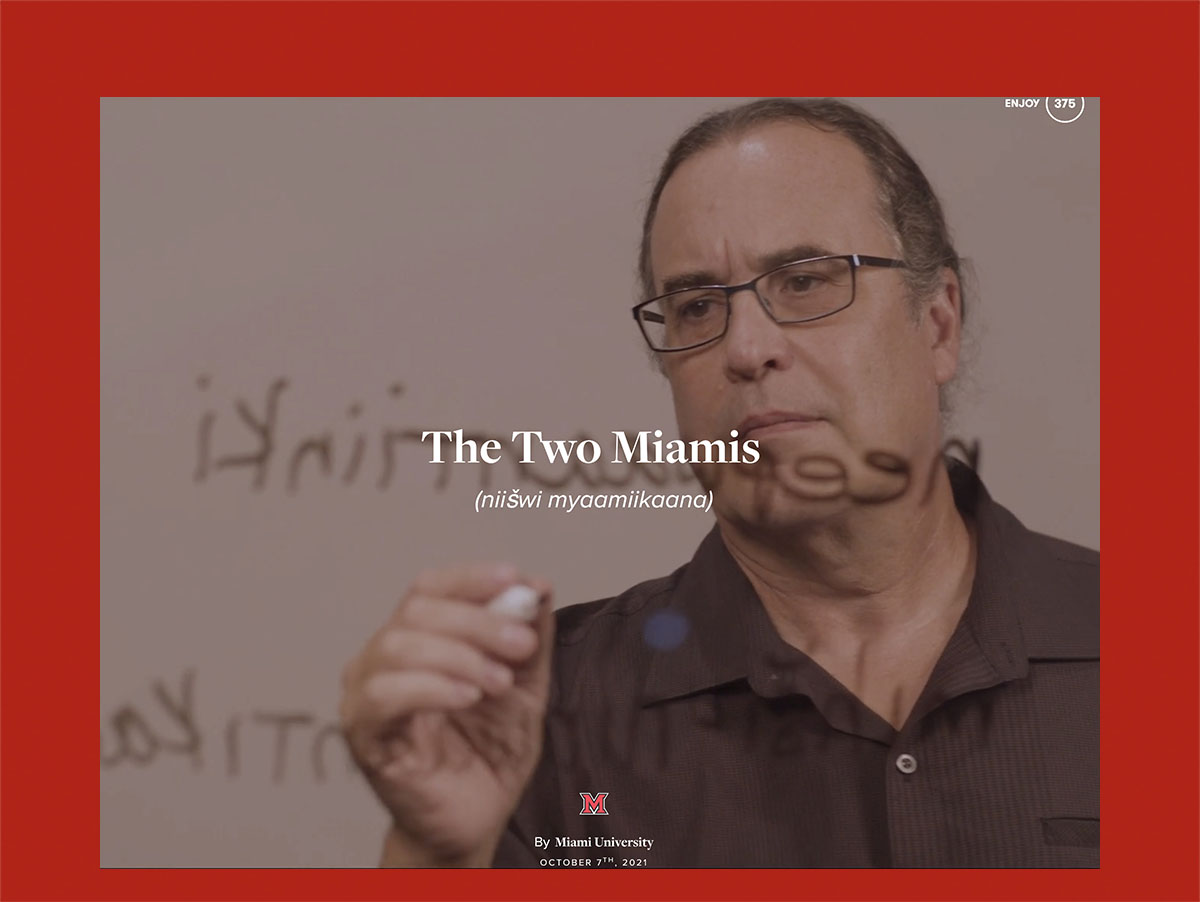 'The Two Miamis' won fourth place in the Online Photo Essay category