Miami receives Higher Education Excellence in Diversity (HEED) Award from INSIGHT Into Diversity magazine for third straight year
The national honor recognizes U.S. colleges and universities that show an outstanding commitment to diversity and inclusion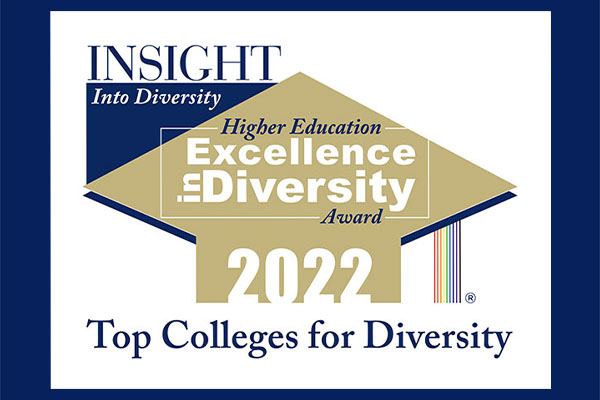 Miami receives Higher Education Excellence in Diversity (HEED) Award from INSIGHT Into Diversity magazine for third straight year
Miami University has again been awarded a Higher Education Excellence in Diversity (HEED) Award from INSIGHT Into Diversity magazine, the oldest and largest diversity-focused publication in higher education.
The national honor recognizes U.S. colleges and universities that demonstrate an outstanding commitment to diversity and inclusion. Miami also received the honor in 2021 and 2020.
"Diversity and inclusion are vital attributes of a university with an innovative culture and strong community," Miami President Gregory Crawford said. "We are honored to be nationally recognized for our efforts for the third consecutive year and will continue to discover and implement new ways to advance our DEI mission.
The HEED Award process focuses on the recruitment and retention of students and employees, leadership support for diversity, campus culture and climate, supplier diversity, and many other aspects of campus diversity and inclusion.
"We look for institutions where diversity and inclusion are woven into the work being done every day across their campus," said Lenore Pearlstein, publisher of INSIGHT Into Diversity. Miami and other award winners will be featured in the November issue of the magazine.
Two years ago, President Crawford appointed the President's Diversity, Equity, and Inclusion (DEI) Task Force to make recommendations aimed at building a more inclusive, diverse, safe, and welcoming climate.
Today, there is an overall completion rate of 92 percent of the 44 recommendations the task force presented to President Crawford and the President's Executive Cabinet in September 2020, a recent progress report shows.
The task force will address those recommendations not yet completed this summer and fall as the university moves toward developing its first diversity, equity, and inclusion (DEI) strategic plan, said Cristina Alcalde, vice president of Institutional Diversity and Inclusion and professor of Global and Intercultural Studies.
 "As part of our strategic planning efforts, this academic year we are planning for a climate study, which includes climate and stay interviews with faculty, staff, and students and a survey," Alcalde said. "Data from these will help guide our DEI strategic planning."
 The three new councils through the Office of Institutional Diversity and Inclusion — the Academic DEI Officers Leadership Council, the Divisional DEI Leadership Council, and the Student DEI Council — as well as CODI (the Council on Diversity and Inclusion), will be key partners throughout the Strategic Planning process.
Alcalde said they have restructured the Office of Institutional Diversity and Inclusion (OIDI), which includes two directors of Programming and Strategic Initiatives who help lead, coordinate, and support universitywide initiatives for students, faculty, and staff.
She pointed to several other critical developments beyond the DEI Task Force recommendations that are making Miami a more inclusive campus.
Highlights include:
The Diversity, Equity, and Inclusion online course developed by OIDI in partnership with the President's Office includes modules by faculty specializing in DEI topics. The course recently won a bronze Telly Award, the world's largest honor for video and television content across all screens, in the Online Series – Education and Discovery category.
The implementation of a new diversity statement requirement for faculty candidates starting in September 2021 and revised search committee training focusing on implicit bias, strategies for addressing biases, and evaluation of diversity statements. To complement these efforts, OIDI is developing a Faculty Recruitment Toolkit to further strengthen recruitment and retention efforts.
These structural and capacity-building efforts were supplemented with workshops on diversity statements for students preparing to enter the job market.
This summer, INSIGHT Into Diversity bestowed its 2022 Inspiring Programs in STEM award on Miami's Louis Stokes Alliance for Minority Participation (LSAMP) program, which provides incentives and opportunities for high-achieving underrepresented minority students to achieve their goals in STEM degrees, careers, and graduate school.
For more information about Miami's DEI efforts, view "Inclusive Excellence at Miami," the 2021-2022 Office of Institutional Diversity and Inclusion report.