Miami University to honor the National Underground Railroad Freedom Center
Freedom Summer of '64 Award recognizes those who have inspired the nation to advance civil rights and social justice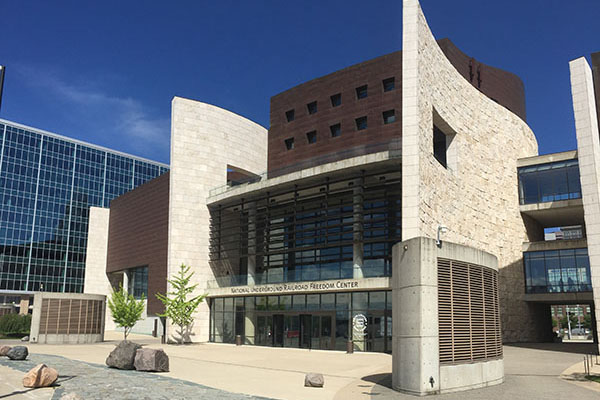 The entrance to the National Underground Railroad Freedom Center
Miami University to honor the National Underground Railroad Freedom Center
The entrance to the National Underground Railroad Freedom Center
Miami University will honor Cincinnati's National Underground Railroad Freedom Center on Sept. 22 with the Freedom Summer of '64 Award for its efforts in advocating for social justice. The award is bestowed by Miami upon a distinguished leader or an organization that has inspired the nation to advance civil rights and social justice.
The event at the Freedom Center in downtown Cincinnati will be invitation only and feature a symposium on "Race: A Necessary Dialogue in America." CBS News national correspondent Jeff Pegues (Miami '92) will moderate the panel discussion with Cincinnati Mayor Aftab Pureval, author and journalist Wil Haygood (Miami '76), and Northern Kentucky University professor of sociology Joan Ferrante.
The Freedom Summer of '64 Award is inspired by the 1964 movement when Student Nonviolent Coordinating Committee leader Bob Moses led the training of 800 college students in Oxford — at what was then the Western College for Women but is now part of Miami University's Western campus — to travel to the South to register Black voters.  
Miami strives to honor the legacy of those who worked for civil rights and social justice and, in the case of Michael Schwerner, 24, James Chaney, 21, and Andrew Goodman, 20,  Freedom Summer activists who gave their lives in service to humanity.
"The National Underground Railroad Freedom Center embodies the spirit, mission, and tenacity that sustained the bravery of the Freedom Summer activists," Miami University President Gregory Crawford said. "The center is a national icon that enriches our country and community by educating and creating more advocates for equality. We are excited to bestow this well-deserved recognition on the Freedom Center and will continue to support their efforts to modernize the advancement of equity and inclusive freedom."
The Freedom Center is a museum that shares the stories of courage, perseverance, and cooperation from the era of the Underground Railroad to inspire ongoing efforts for equity today. Opened in 2004, the center also pays tribute to all efforts to "abolish human enslavement and secure freedom for all people."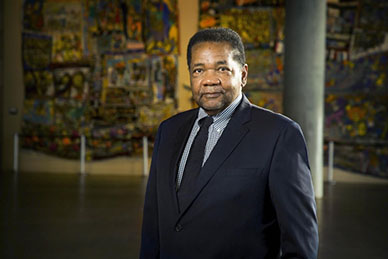 Woodrow Keown, Jr., the center's president since 2019 (pictured to the right), has led a team through a re-envisioning process resulting in a refreshed mission for the museum, which includes promoting justice for all, building on the principles of the Underground Railroad, and serving as a national cultural learning center for inclusive freedom.
"I am overjoyed and humbled that Miami University is recognizing us for our efforts," Keown said. "This award addresses our refreshed mission and speaks prominently to the work we are doing in advocating for social justice."
Keown said the museum's new focus will include shedding more light on "those systems of oppression, like voting rights, which perpetuate white supremacy and jeopardize political freedom."
Working with organizations and institutions like Miami, the Freedom Center is reaching out into the community to train and educate, especially the younger generation.
"Many of the people who participated in community rallies around the world in 2020 were diverse and young," he said. "They are the key to our future, and I want our Freedom Center to be a part of inspiring these modern abolitionists to continue what they started with their global protests."
The Freedom Center also is considering opportunities with other organizations on projects that include honoring the legacy of the late Congressman John Lewis. Lewis was Miami's first recipient of the Freedom Summer of '64 Award in 2018 and received the Freedom Center's International Freedom Conductor Award in 2021.
"Congressman Lewis fought for fair and equitable treatment of all citizens, and that is the core of our mission," Keown said. "Thank you to Miami University for bestowing this honor to the National Underground Railroad Freedom Center and me, and we pledge to live up to these principles."
The Freedom Summer of '64 Award has recognized other such notables as radio talk-show host Joe Madison; former president of the League of Women Voters Carolyn Jefferson-Jenkins (Western College '74); NBA executive and basketball icon Wayne Embry (Miami '58) and his late wife Terri Embry (Miami '60); and Hollywood film producer/director Reginald Hudlin.