Dinesh and ILA Paliwal help advance Miami with $2 million gift to Engineering and Computing
Endowment will go toward establishing named deanship and scholarship
Dinesh and ILA Paliwal help advance Miami with $2 million gift to Engineering and Computing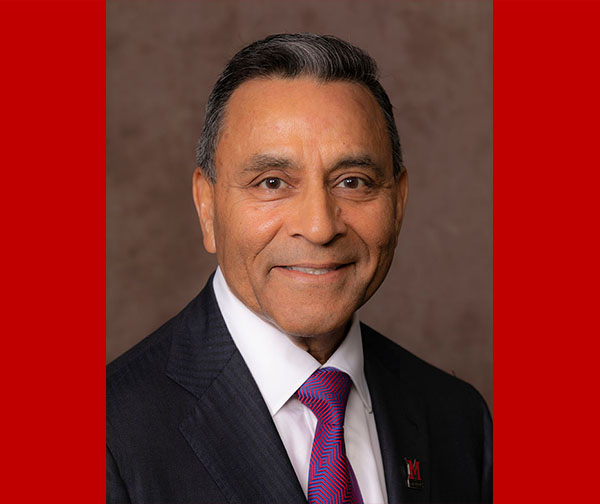 Dinesh Paliwal
Miami University President Gregory Crawford announced that Dinesh and ILA Paliwal are making a transformational $2 million gift to the College of Engineering and Computing (CEC) to realize its vision for attracting and retaining prestigious faculty leaders in high-demand fields.
The generous gift from the Paliwals will establish the Dinesh and ILA Paliwal Endowed Dean of the College of Engineering and Computing. This is the first fully endowed position for CEC and will support current and future deans in realizing the strategic direction of the school. Additionally, the gift will establish the Dinesh and ILA Paliwal Engineering and Computing Scholarship fund to support underrepresented meritorious students.
Dinesh Paliwal MS '83, MBA '85 is a partner at KKR, a leading global investment firm headquartered in New York. He also serves on the board of directors for Fortune 500 corporations Nestlé and Raytheon and is chairman of the automotive electronics corporation Marelli. He formerly served as president and chief executive officer of Harman International, an American audio and automotive electronics company, and chairman and CEO of ABB Inc. USA.
"It is a privilege and highly gratifying to give back to the university that provided the foundational platform that my humble achievements have been built upon," Paliwal said. "The College of Engineering and Computing at Miami University continues to evolve, and I am pleased to help strengthen the school to ensure it stays a relevant and leading force for engineering education in the U.S. through growth in robotics, block chain, cybersecurity, artificial intelligence and machine learning, and other software applications.
"Dean Beena Sukumaran is a transformational leader, and I hope this endowment will help realize her vision," he added. "Similarly, the next generation of talented engineers must be encouraged, and ILA and I are pleased to establish this scholarship for those deserving individuals who will be among the innovators and inventors of the future."
President Crawford said he is grateful for their heartfelt commitment to Miami University and its students.
"Dinesh and ILA have been generous supporters of academic programs and scholarships at Miami for many years," he said. "They are building on that legacy with this new $2 million gift. Miami is grateful to have such passionate supporters of the university, especially as we embark on the public launch of our $1 billion campaign. It's exciting to have gifts like this to lead the charge and encourage others to support the university, our faculty, and students in record ways."
First fully endowed position in CEC
Sukumaran, who came to Miami as dean in the summer of 2020, said she is grateful for the confidence the Paliwals have placed in CEC.
"The investment made by Dinesh and ILA enables us to maintain our mission of providing high-quality education in the in-demand fields of engineering and computer science," Sukumaran said.
"The endowed dean position provides the resources to support the college's strategic priorities by offering degree programs and coursework in cutting-edge areas," she said. "The scholarship support will enhance the diversity of our student body, a priority for us.
"The gift is meaningful to me because it is the first fully endowed position in the college, provided by one of our alumni," she said. "This speaks to Dinesh Paliwal's commitment to his alma mater and the value he places on his Miami education. This gift will have a long-standing positive impact on the College of Engineering and Computing and Miami University."
The CEC scholarship is part of the university's Match the Promise initiative, which provides a university match to eligible new school funds. Preference for the scholarship will be given to underrepresented groups and female students.
About the Paliwals
The Paliwals previously created the Dinesh and ILA Paliwal Innovation Chair and the Dinesh and ILA Paliwal Scholarship in the Farmer School of Business, as well as the Dr. Bill Scott Leadership Scholarship in the Paper Science and Engineering Foundation for students studying in one of the three engineering disciplines with a paper concentration.
Dinesh Paliwal serves on Miami's Board of Trustees as a national trustee. He is a highly decorated business professional, having been named to Fortune Magazine's "Business Person of the Year" list. In 2019, he was bestowed with an honorary Doctor of Laws degree by Miami's Board of Trustees and was presented the CEC Pioneer Award in 2021 for his distinguished service in providing vision and leadership to expand the future of Paper Science and Engineering at Miami University.
He earned master's degrees in computational science and engineering and an MBA in finance from Miami.
ILA Paliwal is a classically trained Indian vocalist, director, and producer who has earned international acclaim and performed worldwide, including at the Kennedy Center and Carnegie Hall. ILA chairs the Paliwal Family Foundation and also serves on not-for-profit boards of Pratham USA and Central Park Conservancy, New York.
"We are grateful for this extraordinary contribution from Dinesh and ILA and for their dedication and passion for our mission," said Brad Bundy, vice president for University Advancement. "Miami made an impact on Dinesh, and his generosity in paying that experience forward by advancing the university is nothing short of remarkable."