Graduate Research Forum 2022: Top presenters and posters announced
More than 110 graduate students presented their work at Miami's 2022 Graduate Research Forum held Nov. 4. The top presentations and posters were selected by Graduate School alumni and faculty judges 
More than 110 graduate students presented their work at the Miami University 2022 Graduate Research Forum held Nov. 4. The top presentations and posters were selected by Graduate School alumni and faculty judges. 
Michael Crowder, associate provost and dean of the Graduate School, said,  "A unique feature of having alumni, who are in many disciplines, judging the forum is that students often must present their very technical projects to groups of generalists and non-experts. This style of communication is different from what our students experience at their disciplinary professional society meetings and is a skill that we promote." 
The top presenters each receive $300 in professional funds. The forum and the awards are sponsored by Patricia and Stephen Lang Graduate Research Support Fund; the Paxton Graduate Research Fund; Perry Stein; and the Miami University Graduate School.
Meet the top presenters, below (note: student-written biographies are in quotes).
Top Presenters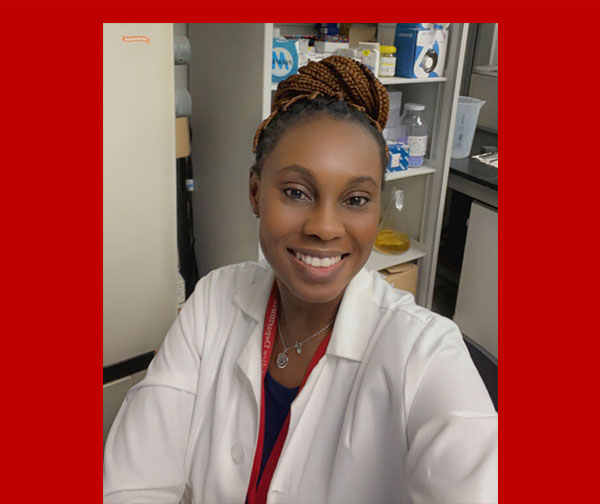 Yaa Sarfowah Amankwah, doctoral student in Chemistry and Biochemistry
Presentation: "Chaperones: Facilitators of Protein Origami"

Advisor:

Andrea Kravats

, assistant professor of Chemistry and Biochemistry
Amankwah received a bachelor's degree in Biochemistry from the Kwame Nkrumah University of Science and Technology, Ghana, where she investigated the incidence of albuminuria among diabetes patients. "Her current research in the Kravats lab focuses on understanding how chaperones help proteins to fold. Proteins are essential for nearly all biological processes and can only function when they are correctly folded. Defects in protein folding lead to many diseases like Alzheimer's' and Parkinson's. Chaperones act as origamists to ensure proper protein folding. Amankwah's research aims to uncover chaperone mechanisms and how this knowledge can lead to the development of therapeutics to manage protein misfolding-related diseases."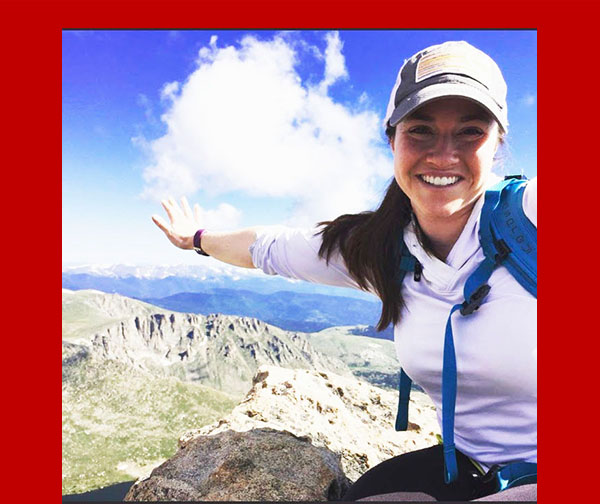 Rachel Arbor, MAT student in Biological Sciences (Project Dragonfly)
Presentation: "Integrating Environmental Literacy into Mainstream Education"

Advisor:

Kevin Matteson,

associate director MA/MAT program and  instructor of Biology
Arbor is the Pre-K-8 Coordinator of Environmental Education for the Garrison Union Free School District in New York. Her work focuses on bridging the gap between mainstream and environmental education. She has conducted research on middle school teacher and student perceptions of environmental education in relation to their needs. "COVID-19 and the nature of global quarantine caused a significant increase in middle school students' social and emotional needs. Simultaneously, with the climate crisis at an all-time high, students are experiencing heightened eco-anxiety. Arbor's research shows that environmental education can be used as an effective tool to meet these social-emotional-environmental needs. Her work also highlighted how middle school teachers across academic disciplines and state lines want to be teaching Environmental Education. Arbor is using this research to develop a cross-curricular Pre-K-8 program, which blends national standards teachers already need to meet with Environmental Education, to support students and teachers alike. To view a portfolio of her work, creating and teaching that curriculum, visit her website."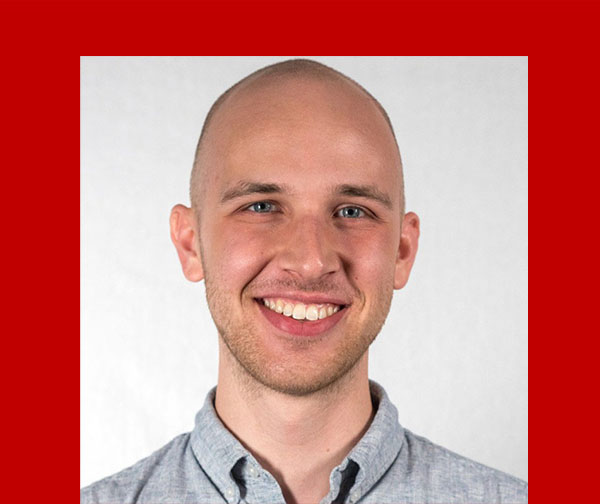 Logan Clem, second-year doctoral student in Composition and Rhetoric  
Presentation: "Labor Data, Labor Stories: Compensation, Conditions, and the Complexities of GTA Labor"
Clem received a master's degree in Rhetoric and Composition from North Carolina State University and a bachelor's degree in Literature from University of Tennessee-Chattanooga. Clem is currently assistant director of the First-Year Composition program at Miami, where he contributes to graduate teaching assistant (GTA) training and curriculum development for Miami's first-year writing course. His research interests include academic labor, teacher education, writing pedagogy, and digital multiliteracies. His developing dissertation project seeks to explore how networked digital technologies shape writers' thinking and learning processes.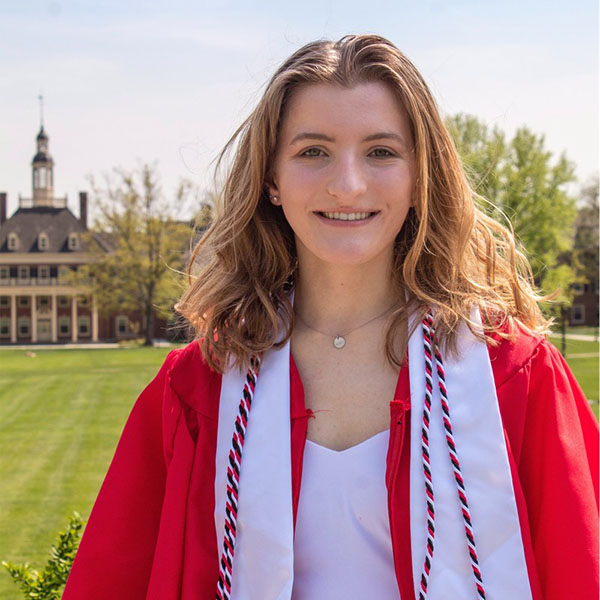 Top Poster Presentations
Sophia Ratvasky '22, first-year doctoral student in Biology
Poster: "The role of macrophages in lens regeneration"

Advisor:

Katia Del Rio-Tsonis,

professor of Biology 
Ratvasky received a bachelor's degree in Biology from Miami, where she developed an interest in tissue regeneration after taking a developmental biology course. She is currently working under Del Rio-Tsonis studying lens regeneration in the
Pleurodeles waltl,
also known as the Spanish newt. "This animal has an amazing capacity to regenerate many parts of the body, including but not limited to its tail, limbs, spinal cord, and eye tissues. In the particular case of lens regeneration, iris pigment epithelial cells (IPECs) transdifferentiate into new lens cells after lens removal (lentectomy). Throughout her senior year of undergraduate study and her first year of graduate school, Ratvasky has been studying how macrophages play a role in lens regeneration. Interestingly, when macrophages are depleted, lens regeneration fails to occur and results in a fibrotic response, which is the formation of a scar. Further studying the relationship between the immune system and regeneration will unravel mechanisms behind this astonishing healing process, and will aid in advancing regenerative medicine."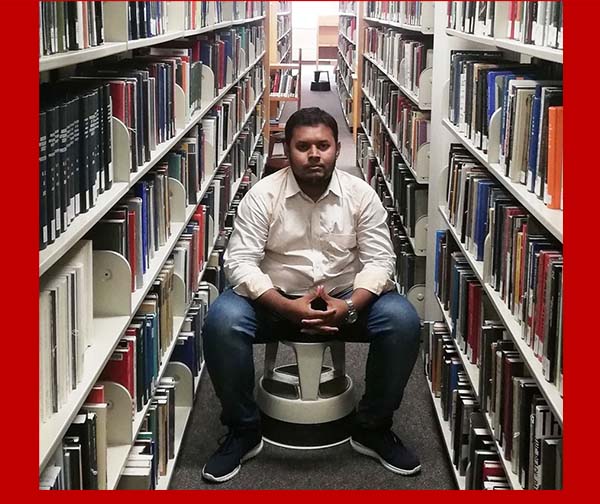 Sheikh Yasir Arafat, second-year master's degree student in Statistics
Poster: "Outliers Detection in High-dimensional Data"

Advisor:

Maria Weese

, and

Waldyn Martinez,

associate professors of Information Systems and Analytics
Yasir Arafat received a bachelor's degree in Statistics from Bangabandhu Sheikh Mujibur Rahman Science and Technology University, Bangladesh, where he developed control charts for monitoring non-normal production processes. "At Miami, he works under the supervision of Maria Weese and Waldyn Martinez, and studies outlier detection methods as outliers indicate abnormal data behavior, which is the basis of fraud detection, network robustness analysis, and medical diagnostics. For his master's degree project, he proposed a new outlier detection algorithm, Modified One Class Pelling (MOCP), by adopting the support vector data description method and the robust kernel distance approach. The proposed method is more flexible than existing counterparts, does not require prior knowledge of data attributes, and fits moderately correlated data of any shape."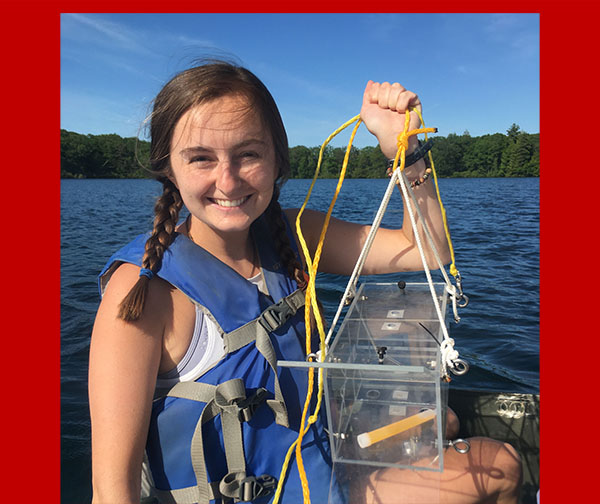 Addison Zeisler '19, third-year master's degree student in Biology
Poster "Can UV exposure help deter another "bloody" invasive?  The role of ultraviolet radiation in the spread of

Hemimysis anomala

in the Great Lakes"

Advisor:

Craig Williamson

, Ohio Eminent Scholar of Ecosystem Ecology and professor of Biology
Zeisler received a bachelor's degree in Biology from Miami, where she developed her interest in ecology and love for freshwater lakes. She is currently conducting research on the Great Lakes invasive Hemimysis anomala, or the "bloody red shrimp," and its relationship with ultraviolet radiation (UV).  "While some of the Great Lakes are increasing in transparency, and potentially UV exposure, other inland lakes are decreasing in transparency.  This decrease in transparency is caused by both algal blooms, exacerbated by human use of fertilizer, and lake browning, or an increase in dissolved organic carbon prompted by climate-change induced heavy rainfall events.  Learning how organisms respond to UV exposure can help us determine how organisms might respond to these changes in water transparency, as UV exposure decreasing in lakes can increase the invasion potential of UV-sensitive organisms, such as the bloody red shrimp.  Zeisler is passionate about studying freshwater lakes in our changing climate and hopes to help educate the public on the natural systems in which they live."