OKI funding has Amtrak project on track for 2026 construction
Rail stop is part of Chestnut Fields transportation center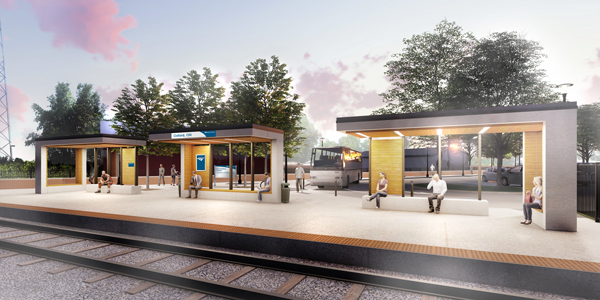 OKI funding has Amtrak project on track for 2026 construction
A recent award from the Ohio-Kentucky-Indiana Regional Council of Governments (OKI) has Miami University and the City of Oxford eyeing a 2026 construction date for the Amtrak platform project at Chestnut Fields.
The OKI Board voted to fund $2,096,183 toward the project, expected to be dispersed in 2026. Engineering and design work is also anticipated to be completed by then for the site to be shovel ready.
The Amtrak platform is part of a larger multimodal transportation center at Chestnut Fields, located at the site of the former Talawanda High School. Plans have been in the works for nearly a decade for the project, which would impact potentially 77,000 riders among Miami students, alumni, and Oxford residents.
"To see it come to fruition is quite exciting," said Randi Thomas, Miami's vice president for advancing strategy, partnerships, institutional relations, and economy (ASPIRE).
"The relationship and partnership among the city, the university, and the Butler County Regional Transit Authority (BCRTA) is unique in that it is looking to provide economic opportunities for people right here in our own backyard. With BCRTA covering the whole county, it also allows us to draw outside of our community. Amtrak will be another leg in that process of providing transportation outbound as well as inbound."
Chestnut Fields will also include BCRTA offices and a facility to house buses, operate as a fueling station, and be used for bike storage.
The Oxford platform will be part of Amtrak's Cardinal Line from New York to Chicago. The line travels through Oxford now but does not stop.
Amtrak has approved the rail stop, and funds will be used to construct a platform, along with a small parking area and sidewalk connection to an interior waiting room. The waiting room will include a ticket kiosk, digital messaging board, and access to restroom facilities.
Construction includes a nearly $500,000 match, with $350,000 confirmed from Miami.
"This is transformative in the area of transportation for a small community like Oxford," said Jessica Greene, Oxford's assistant city manager. "This shows we are really serious about multimodal transportation and climate sustainability. This is a huge step."
The grant is part of $69 million awarded in October by OKI to 34 transportation projects in the region. OKI is a council of local governments, business organizations, and community groups that are committed to the economic development potential of Ohio, Kentucky, and Indiana.
"This has been a real team effort," Thomas said. "We've been at this for a while, and this is the most recent success."