Exuberant Miami students generate global excitement for U.S. Men's National Soccer Team 
"Barstool, U.S. soccer, and local news outlets have picked up the story of Miami students supporting the U.S. soccer team. It's become somewhat of a national story," Adam Beissel, assistant professor of SLAM, said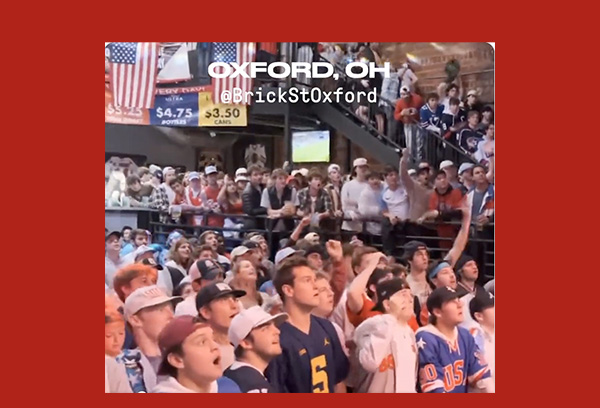 Exuberant Miami students generate global excitement for U.S. Men's National Soccer Team 
Hundreds of fans showed up early for another viewing party at Brick Street in Oxford to cheer on the U.S. Men's National Soccer Team during Saturday's World Cup match with the Netherlands.
Fox Sports was also on hand with a live camera to record the excitement after Oxford, Ohio became a hub of national pride earlier this week when a video featuring Miami University students uproariously celebrating a triumphant U.S. victory over Iran went viral.
"The entire Brick Street phenomenon has gone worldwide," said Adam Beissel, Miami assistant professor of Sport Leadership and Management. "Barstool, US soccer, and local news outlets have picked up the story of Miami students supporting the U.S. soccer team. It's become somewhat of a national story."
Footage of the goal celebration in the victory over Iran has since been shown on the jumbotrons in Qatar. FIFA also chose Saturday's gathering at Brick Street to be streamed live back to Qatar as part of the World Cup's halftime coverage.
The Official U.S. Men's National Soccer Team, Fox Sports, and Fox Soccer social media pages also posted videos of their own featuring the celebrating Miami students. 
The 2022 World Cup has seemingly captured the hearts and minds of viewers everywhere as U.S. games have averaged about 15-20 million viewers per match.