Miami senior's 'Better Burger' takes top prize in national contest
Primary Education major plans to put part of winnings toward future classroom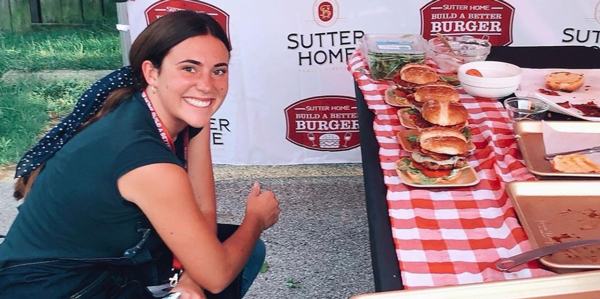 One night before flying to California for the finals of her first Build a Better Burger Contest, Miami University senior Sarah Ralston wanted to get in one more taste test. 
Armed with a grill and a flashlight, Ralston toiled in the dark at her family's home in New Albany in a quest to perfect her entry, the Via Napoli Burger.
Practice did make perfect in this case. One plane ride and a tense hour of grilling later, she was presented with an oversized check for $25,000 as the 2022 winner of the Sutter Home Family Vineyards 32nd annual  Build a Better Burger Recipe Contest.
The moment was surreal for the Primary Education major.
"I remember they said, 'Sarah Ralston,' and I couldn't believe it. I looked around at everyone else to make sure they really said my name," she said.
It has been a whirlwind experience for Ralston, who happened upon the contest details on Instagram. She had just returned from a vacation with her extended family to Italy and immediately thought this was an opportunity to revisit some of her favorite parts of the trip.
With the Via Napoli Burger, she recalled the vivid flavors and amazing experiences. From sun-ripened tomatoes to fresh arugula to the giant, bright lemons she found, her Via Napoli Burger was a love letter to the Mediterranean.
It immediately became a favorite among Sutter Home judges, too. The burger made the cut for the semifinal round, which featured five locations across the country. Ralston's stop was in Chicago, where she grilled at Wrigley Stadium before a baseball game for a panel that included Chicago Cubs great Ferguson Jenkins and Joey Chestnut, a well-known figure in the world of competitive eating.
Ralston was then selected as one of five regional champions to compete in the final cookoff, held at the Sutter Home Victorian Inn in Napa Valley, California.
"The burger was really creative, with an extraordinary use of ingredients," judge Ziggy Eschliman said in a press release from Sutter Home.
"You took us on a trip to Italy," added Liam Mayclem, another judge. "You delivered on the name. All the other burgers were great in their own way; this one went over the top and delivered."
Along with the Primary Education PreK-5 major, Ralston also is studying for a master's degree in Literacy and Language K-12. A student-teacher at Kramer Elementary School in Oxford, Sarah hopes to teach either kindergarten or first grade after graduation.
She already has plans for the $25,000 – and it includes her future students.
"I would love to use the money to buy books for my classroom," she said. "Children's literacy is very important to me."
As for the Via Napoli Burger, Ralston is no longer eligible for future Sutter Home contests. That doesn't mean the recipe is going into retirement, though.
"My family is already asking me to make it for them. It's definitely going into our weekly rotation," she said. "This really encourages you to continue to be creative in the kitchen. You never know where life is going to take you."
Ralston's time at Miami has taken her around the world. She has studied abroad twice, traveling to Germany, Austria, Switzerland, and Belgium to see classrooms in Europe, as well as a summer spent at Miami's Luxembourg campus, the John E. Dolibois European Center.
"It's been such a fast four years," Ralston said. "I've loved every minute of it."