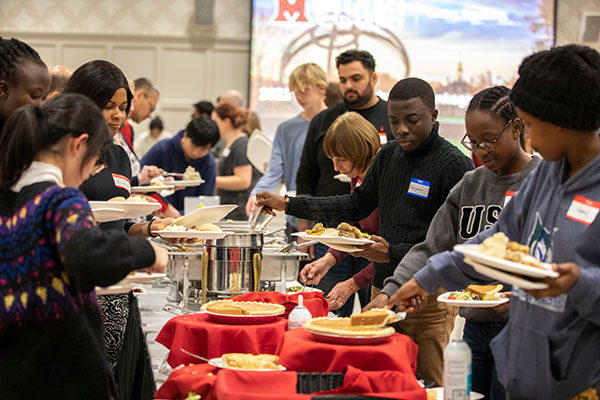 Miami students and others from the Miami and Oxford communities enjoyed Miami's Global Friendship Thanksgiving Dinner, sponsored by International Student and Scholar Services
The Wrap-Up: November
Miami students and others from the Miami and Oxford communities enjoyed Miami's Global Friendship Thanksgiving Dinner, sponsored by International Student and Scholar Services
The Miami University Art Museum received re-accreditation by the American Alliance of Museums. Accreditation signifies excellence to the museum community, governments, funders, outside agencies, and the public. All museums must undergo a re-accreditation review every 10 years to maintain accredited status. The Miami University Art Museum received its first accreditation status in 1984 and is one of only 21 museums accredited in Ohio. 
Donna Amrhein, director of business services in IT Services, received a  2022  EdScoop 50 Award, which honors the most influential people in the higher education technology community, along with the most innovative projects that make a positive impact across universities. This is the first year for the awards.
John Jeep, professor of German, Russian, Asian, and Middle Eastern Languages and Cultures, was honored for 30 years of service to the MLA International Bibliography as a Field Bibliographer. He was recognized by the organization for "contributing his knowledge and talent to the project of the MLA International Bibliography. Dr. Jeep is truly a philologist whose work straddles the fields of German language and German literature, which gives him a specialized and highly valuable perspective on the secondary literature we (MLA International Bibliography) cover. He is a dedicated and reliable field bibliographer, with a tenure matched by few."
Kevin Ballard, associate professor of Kinesiology, Nutrition, and Health, was named president-elect of the American College of Sports Medicine, Midwest Chapter.
Elizabeth Keslacy, assistant professor of Architecture + Interior Design, received the Best Paper award at the annual meeting of the Association of Collegiate Schools of Architecture for her paper "Re-reading the Pedestrian Mall: Race and Urban Landscape in the Memphis Mid-America Mall."
John Miller, who is pursuing a master's degree in Music Performance, was selected to perform as second tuba with the Cincinnati Symphony Orchestra in a recent performance of "Also Sprach Zarathustra."
Christian Ponce, senior director of marketing and communications for University Communications and Marketing, led two roundtable discussions about "Underrepresented Professionals Serving at Primarily White Institutions" at the American Marketing Association Symposium for the Marketing of Higher Education in Maryland in November. Discussion included the unique challenges underrepresented marketing professionals face, the opportunities for diversifying staff, and the benefits that diverse staff bring to institutions. Participants also discussed ideas for equity, inclusion, belonging, and ways to build community. 
Kathleen Knight Abowitz, professor of Educational Leadership, and Liz Wilson, professor of Comparative Religion, received $170,734 from the National Endowment for the Humanities for the project "Muslims in America's Midwest: An Educator's Guide to Past and Present."
Haifei Shi, professor of Biology, received $59,725 from Ohio University, pass through funds from the U.S. Department of Health and Human Services, for a project entitled "Age-related neuronal regulation of thermogenesis and lipid metabolism."
Helaine Alessio, chair and professor of Kinesiology, Nutrition, and Health, received $10,000 from the Oxford Community Foundation for the project "Pavilion/Shelter for Active Learning and Play."
Amanda Alexander, chair and professor of Art, co-edited the annual Journal of Cultural Research in Art Education. The theme for this 39th volume is "Rethinking Ritual Ecologies."
Faculty from the College of Education, Health, and Society were authors on publications including: 
Nathaniel Bryan, assistant professor of Teaching, Curriculum, and Educational Inquiry, was the lead author on two new publications. Toward A Black PlayCrit in Educational Leadership: What School Leaders Need to Know About Black Boyhood Play was published in the Journal of School Leadership, and Prison abolition literacies as Pro-Black pedagogy in early childhood education was published in the Journal of Early Childhood Literacy.
Leah Wasburn-Moses, professor of Educational Psychology, and Miami senior Evette Harrell had a paper accepted to the Mid-Western Educational Researcher, "Fostering Reading: Supporting Foster Children Through Virtual Tutoring." Sponsored by the Ohio Department of Education, the Fostering Reading program is currently working with five Ohio universities to scale up the project.
Dean Smith, clinical professor of Kinesiology, Nutrition, and Health, co-authored a new paper, Immediate effect of lower extremity joint manipulation on a lower extremity somatosensory illusion: a randomized, controlled crossover clinical pilot study, published in Frontiers in Human Neuroscience. 
Callie Maddox, assistant professor of Sport Leadership and Management (SLAM), and Adam Beissel, SLAM assistant professor, were co-authors on a new paper, "We did it: Women's World Cup 2023 analysis of online news media," published in the International Journal of Sport Communication.
Christine Pacewicz, assistant professor of Sport Leadership and Management, was the lead author on a new article, The role of physical activity on the link between stress, burnout, and well-being in Athletic Trainers, published in the Journal of Athletic Training. 
On Nov. 26, Robin Vealey, professor of Sport Leadership and Management, delivered an invited presentation titled, "Extending the Mental Training Framework in Sport Psychology: Beyond Performance to Mental Health and Wellbeing," to the International Meeting of Sport Psychology in Rome, Italy.
Jay Kimiecik, associate professor of Kinesiology, Nutrition, and Health, is the lead author on a new article, "The baseball boys of Onionville: A personal reflection on the rise and fall," published in NINE: A Journal of Baseball History and Culture. He is also the co-author, along with Kyle Timmerman, associate professor of Kinesiology, Nutrition, and Health, on the article "Intuitive eating and biomarkers related to cardiovascular disease in older adults," published in the Journal of Nutrition Education and Behavior.
 Want to see your news in The Wrap-Up? Email us at newsinfo@MiamiOH.edu