Three honorary degrees to be awarded at Fall Commencement
Denise Taliaferro Baszile will deliver this year's address on Dec. 9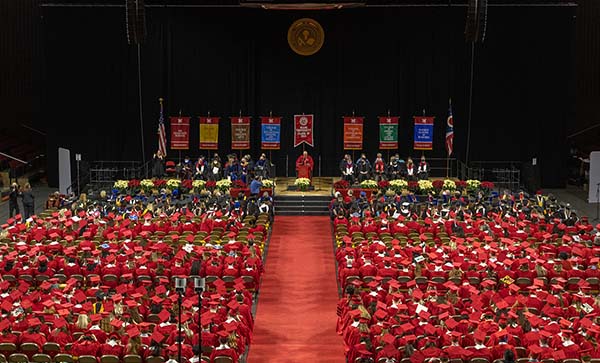 Miami University will award three honorary degrees during its 2022 Fall Commencement at 3 p.m. Friday, Dec. 9, at Millett Hall.
Denise Taliaferro Baszile, this year's Benjamin Harrison Medallion honoree and associate dean in the College of Education, Health, and Society, will serve as commencement speaker. As a professor of Educational Leadership, Taliaferro Baszile is internationally renowned in the field of education and known for challenging students to think critically.
No tickets are required for the open-seating ceremony, and no restrictions on the number of guests per graduate. 
All degree candidates will be individually recognized. 
The ceremony will be live-streamed from the Miami University YouTube account during the event. 
Honorary Doctorate of Humane Letters degree will be awarded to:
Stephanie Wright Byrd '81, regional chief executive officer for the American Red Cross Central and Southern Ohio Region

David Dauch '86, chairman of the board and chief executive officer of American Axle & Manufacturing

Nina Leigh Krueger '83, chief executive officer and president for Nestlé Purina PetCare Company in the U.S.
Honorary degree recipients are recognized for distinguished achievements in their respective endeavors and for the contributions their accomplishments make to the life of the university and the betterment of society.
Stephanie Wright Byrd
As regional chief executive officer for the American Red Cross Central and Southern Ohio Region, Byrd is responsible for a 47-county, five-chapter region serving 6.1 million people through the efforts of 60 employees and 1,600-plus dedicated volunteers. Byrd works as an elected official liaison during major disasters and managed the region through the Dayton tornadoes and mass casualty tragedy in 2019. She also is on the organization's Black Executive Steering Committee, which advises national CEO Gail McGovern on the status of key diversity, equity, and inclusion efforts.
Byrd has an extensive background in the nonprofit and health care communities. As senior vice president for early learning strategies at United Way of Greater Cincinnati and as founding executive director of Cincinnati Preschool Promise, she created partnerships and coalitions resulting in a $10 million campaign to increase kindergarten readiness and passage of a $15 million, five-year tax levy to increase access to high quality preschool programs.
She holds a bachelor's degree in Public Administration from Miami University and a Master's in Health and Hospital Administration from Xavier University. Byrd serves on several local boards including the Miami University Foundation, 4C for Children, and Envision Children. She is a member of the Fifth Third Bank National Community Advisory Forum and the Duke Energy Ohio/Kentucky Advisory Council. Her accomplishments have resulted in Byrd receiving numerous awards including YWCA Career Woman of Achievement, Champion for Children, and Cincinnatian of the Year.
David Dauch
Dauch is responsible for overseeing the day-to-day operations of American Axle & Manufacturing (AAM), which include nearly 85 facilities in 18 countries. He is also responsible for developing and implementing the company's operating and strategic objectives as well as providing AAM's Board of Directors with the vision and insight that is vital to AAM's strategic plans.  
He has served on the Board of Directors of AAM since 2009 and currently serves on the Boards of Business Leaders for Michigan, the Detroit Regional CEO Council, the Detroit Economic Club, the Detroit Regional Chamber, the Detroit Regional Partnership, the Detroit Mayor's Workforce Development Board, the Great Lakes Council Boy Scouts of America, the Boys & Girls Clubs of Southeastern Michigan, the National Association of Manufacturers (NAM), and the Amerisure Mutual Holdings, Inc. and the Amerisure Companies.
Dauch has received several significant business and leadership awards including the prestigious Ellis Island Award, the EY Entrepreneur of The Year Award (Michigan and Northwest Ohio region), and the Automotive News All Star Award. He earned a bachelor's degree in Management (Production/Supply Chain) from Miami University in 1986 and received an MBA from Michigan State University. As a student at Miami, Dauch played football and was a member of the Delta Tau Delta Fraternity. He maintains an active relationship with Miami as a member of the Miami University Business Advisory Council.
Nina Leigh Krueger
Krueger began her career at Purina in 1994 in the cat food marketing division. She went on to hold various positions of increasing responsibility within the company, working on key global brands and initiatives, and she has been instrumental in bringing innovation to market.
In 2010, Krueger was named vice president of Purina's Golden Products litter division, moving to the position of chief marketing officer in 2015. She was promoted to president in 2016 and named CEO in November 2020.
After graduating from Miami in 1983 with a bachelor's degree in marketing, Krueger received her MBA from Washington University's Olin School of Business in 1994. She is active in her community, serving on multiple boards and executive committees of various nonprofit organizations.