Five career and internship fairs set for spring semester
Spring offerings build on fall success, with 300+ employers set to participate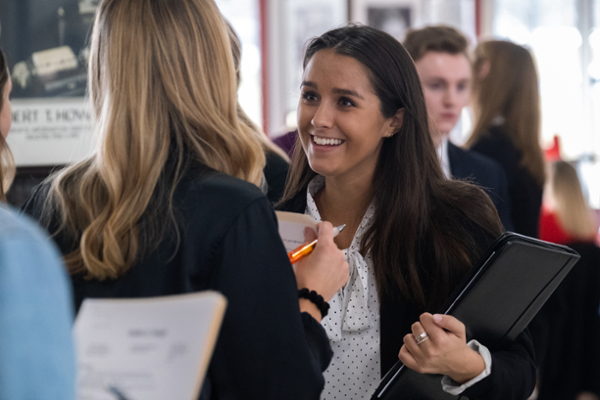 A student talks to a recruiter at a Miami University career fair.
Five career and internship fairs set for spring semester
A student talks to a recruiter at a Miami University career fair.
Miami University will host five career fairs during spring semester, headlined by the Spring Career and Internship Fair from 1-5 p.m. Wednesday, Feb. 15, in Millett Hall.
Four specialized fairs will follow the all-majors fair, which is sponsored by Nucor Raw Materials Group. Last fall, 4,239 students and 329 employers attended one or more of Miami's five Career and Internship Fairs.
"On the heels of a very successful series of fall career fairs, I'm excited for students to connect with more than 300 unique organizations this spring," said Jennifer Benz, assistant vice president of the Center for Career Exploration and Success. "Our career fairs are for any student who wants to explore new opportunities. Attending a career fair is a must, whether you hope to research potential careers or connect with industry professionals looking to hire Miami students."
The in-person Architecture + Design Career and Internship Fair will be held from 1-5 p.m. Wednesday, Feb. 22, in Alumni Hall. The virtual rendition takes place the following week on from 3-5 p.m. Tuesday, Feb. 28, on Handshake, Miami's job and internship database.
The Virtual Sports Career Exploration and Networking Expo is set for 1-4 p.m. Friday, Feb. 24, on Handshake. The Education, Government, Nonprofit and Human Services Fair rounds out this spring's offerings. Slated for Wednesday, March 1, in Millett Hall, all students are welcome to attend from 2-5 p.m., and K-12 teaching seniors and recent graduates can interview for open positions from 8:30 a.m.-5 p.m.
At February 15's Spring Career and Internship Fair, employers representing every career cluster will hire for full-time and internship positions. A sample of the employers confirmed to appear include Fifth Third Bank, ADM, American Axle & Manufacturing, ArtWorks Cincinnati, Avery Dennison, Cincinnati Bell, City of Cincinnati, Dayton Children's Hospital, Enterprise Holdings, Federal Bureau of Investigation, genesisONE, Great American Insurance Group, Honda, Indianapolis Zoo, Johnson & Johnson, Kohl's, Nestle Purina, Ohio Department of Development, Plante Moran, Reynolds & Reynolds, and Swagelok Company.
"We host a variety of career fairs that offer students convenient access to opportunities across career clusters," Benz said. "We utilize in-person and virtual formats to attract local, regional, and national employers."
Students will have the opportunity to speak with employer representatives, gain insight into career opportunities, and distribute copies of their resumes. Employers use career fairs to identify candidates to invite for interviews.
"One of the best ways to get the most out of a career fair is to research employers and their available positions on Handshake," Benz said. "Don't just review the major or degrees they consider. Research the skills needed to perform the job. Most employers hire candidates from a wide range of majors. I encourage students to consider their interests and skills."
For more information, visit MiamiOH.edu/careers, e-mail careercenter@MiamiOH.edu or call (513) 529-3831.