High-tech innovations meet rare historic relics: Makerspace and Special Collections give students a singular learning experience
"A new turn in academic libraries"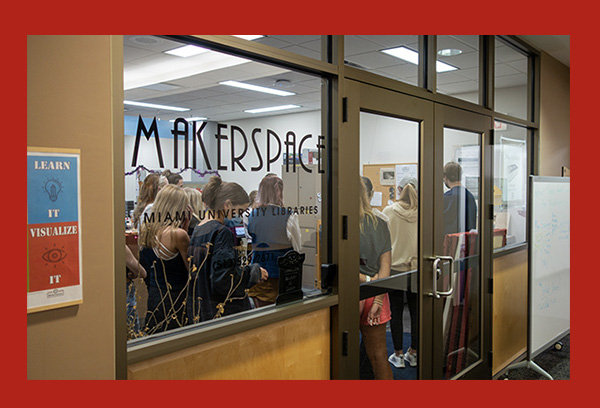 Students learn about the Makerspace in King Library (image courtesy of Miami University Libraries)
High-tech innovations meet rare historic relics: Makerspace and Special Collections give students a singular learning experience
Students learn about the Makerspace in King Library (image courtesy of Miami University Libraries)
On the third floor of King Library there is a single hallway that bridges two seemingly very different worlds. 
At one end, you'll find a high-tech innovative space filled with dye sublimation printers, 3D printers, laser cutters, immersive VR headsets, an entire suite of A/V equipment, and much more. 
Down the other, there's an archive containing 4,000-year-old Cuneiform tablets, some of the first books ever printed, and more than 90,000 other rare and historically significant items.
But the Makerspace and the Walter Havighurst Special Collections and University Archives have more in common than one may think, especially because everything old was once new, and understanding the past can sometimes inspire the future. 
"One of the best ways to look at the innovations that changed life is actually to look through archives," said Rachel Makarowski, Miami special collections librarian. "You can see the processes that lead to the things that humans have created. It gives us a good sense of what it would have been like at the forefront of cutting edge technology."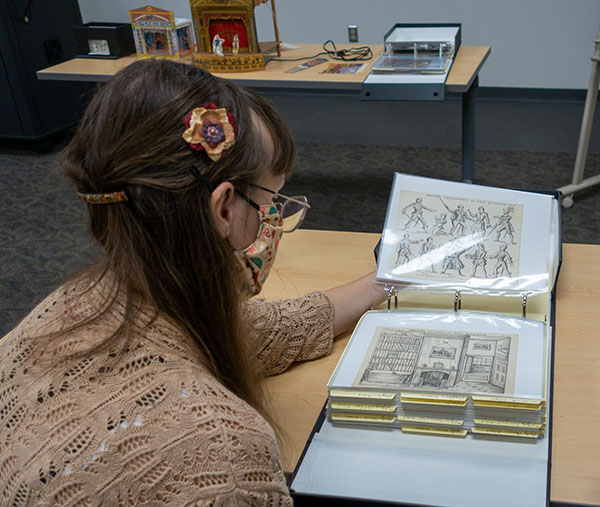 A student looks through a portfolio of historical Toy Theater illustrations in Special Collections
This idea has led to several collaborations between Makerspace and Special Collections, which have helped several Miami professors connect the past and the present in ways that push beyond a typical classroom experience.
"We have a big focus on inclusivity," said Sarah Nagle, Miami creation and innovation services librarian. "We make sure that as many students as possible feel welcomed, and feel like they can be makers by working with courses outside of the traditional STEM fields that you might associate with Makerspaces."   
Nagle has helped Italian Renaissance students replicate realistic art and architecture pieces, make interconnected chainmail-like scales for a fashion design class, and rapid prototype narrative-driven table-top board games for an English technical writing class and several Entrepreneurship classes.
And her initial collaboration with Special Collections involved a Spanish class that focused on media that arose from the Mexican Revolution.
For that class, students attended a session with Special Collections to see artifacts and materials that contextualized and influenced the Mexican Revolution including lithographs, woodblock prints, and halftone photography. Then, during a Makerspace session, students not only learned about different ways to recreate that same print-based technology, they also created new prints and objects designed to inspire contemporary change around other important social issues.
"That was really the first iteration," Makarowski said, "having students visit special collections for context and inspiration, and then go to the Makerspace to actually make it happen." 
So when Mark Dahlquist, a Miami humanities and social sciences librarian, had another idea to offer a new spin on a classic Shakespeare and Film class, he knew exactly where to turn.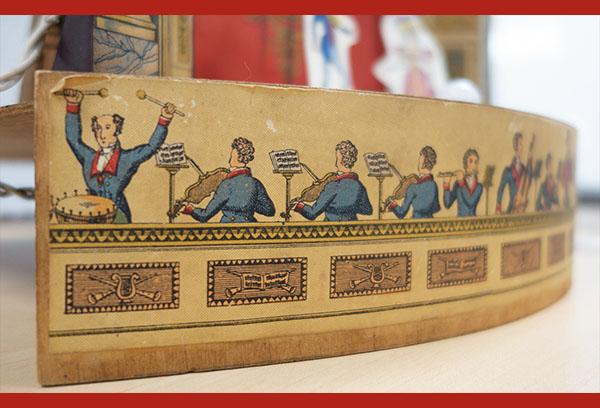 A Shakespearian union of the past and present
Students in Dahlquist's class studied various plays that have been filmed, why Shakespeare continues to resonate with audiences today, and how modern cinematic interpretations can impact our understanding of the original works. 
"But I also thought, 'How can we do things differently,' and give students more creative latitude by finding a way for Special Collections to work in sync with our Makerspace in a way that most libraries rarely do," Dahlquist said. "And Rachel and Sarah were immediately excited about this collaboration because of the success of their previous collaborations."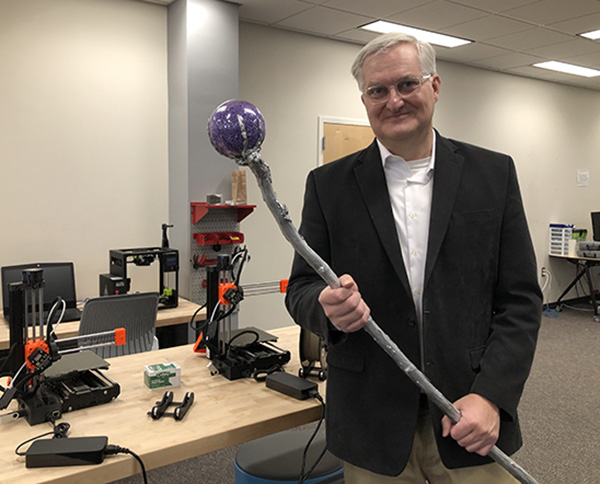 Mark Dahlquist holds a 3D printed replica of Prospero's staff created by Miami student Annie Bingham. Prospero is a protagonist in William Shakespeare's play The Tempest.
For their final project, students had the option to write a traditional paper. Or they could choose a more creative route.
For inspiration, students viewed rare Shakespeare Folios from 1623 through 1685, cultural pieces representing Elizabethan print history, and the Toy Theater Collection (large image above) which Dahlquist called a "remarkable set of objects" that children once used to make imaginative reenactments of their own plays.   
A visit to the library Makerspace also helped students learn about different technologies they could use to create a relevant final project using any medium they chose.
"The idea was not only to give students information about Shakespeare's period, but also to get them thinking creatively and to spark new ideas," Dahlquist said. "They were to incorporate creativity with thoughtful scholarly reflection, and they came up with all kinds of things."
From makeup and design to music, art, and more, students demonstrated their command of the material in a variety of surprising ways. 
Some students created sets and props related to specific films and plays, "such as a stage prop of Prospero's staff that a student created, along with a whole set design for a production of the Tempest," Dahlquist said. 
One student even created an entire short film — a modern interpretation of Macbeth's famous soliloquy — that was shot with an artistic and ominous tone in the depths of some nearby industrial ruins. 
More than experiential learning
Those students who chose not to write a traditional final paper were able to get hands-on by creating projects that connected directly to media, film, and theater, and to potential audiences. 
Each project was rooted in experiential learning. But it also provided an additional opportunity to engage in maker literacy — a transdisciplinary method of project-based learning involving hands-on tinkering, materials exploration, and fabrication, as well as design thinking, which uses an empathic and human-centered approach to design practice. 
"Design thinking involves embedding yourself within the group for which you are designing and understanding their needs," Nagle said. "And it doesn't have to always apply to product development or design. You can use it as a problem solving tool in any discipline."
What's more, the entire experience also allowed Dahlquist to introduce students to what he calls "information creativity." 
"We're seeing a turn towards helping students find information, and then use it to create something new — whether that's a data visualization, a film, or any other form of creativity," he said. "Having students be able to access information, and then transform it into something novel and meaningful and significant is a new turn in academic libraries.
"And this is certainly something we're excited about at Miami."
Makerspace is open to all students, faculty and staff. Stop in during standard hours to use an array of 3D printers, laser cutters, sewing matchings, VR or AV equipment, and more. For questions, contact create@miamioh.edu.
To learn more about using Makerspace or Special Collections for any class or personal project, contact Sarah Nagle, pricesb@miamioh.edu, or Rachel Makarowski, makarorm@miamioh.edu.