Data analytics major becomes 2023 collegiate national champion
A storm of challenges couldn't stop Tommy Fowler '23 from defeating the competition in sport analytics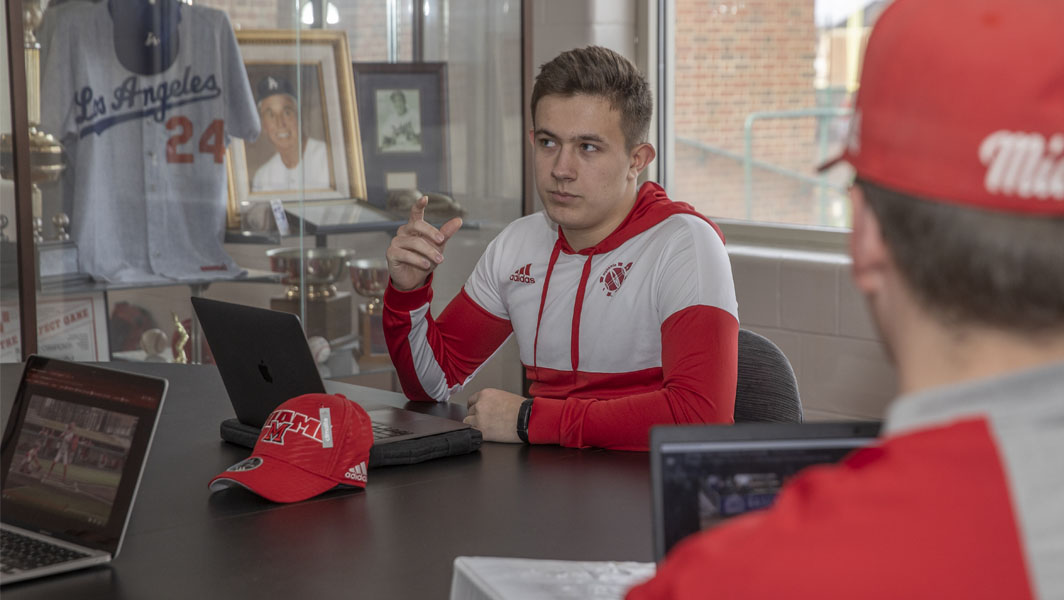 Tommy Fowler '23 first gained experience in sport analytics while working with Miami's baseball team.
Data analytics major becomes 2023 collegiate national champion
Tommy Fowler '23 first gained experience in sport analytics while working with Miami's baseball team.
"Keep in mind that ice storm," Tommy Fowler '23 says, as he recounts the unforeseen circumstances leading to his first place win in Business Analytics at the 2023 AXS National Collegiate Sports Analytics Championship.
"We had to take baby steps. Even McDonald's was closed. That's how bad it was." 
The entire city of Dallas shut down. Planes were grounded. Travel was delayed, and the whole day Fowler had planned to spend comfortably prepping at the hotel ahead of his AXS competition presentation was lost. 
When the official data set was released to the competitors, Fowler, a Data Analytics major with a concentration in sport analytics, who also works as an analyst for Miami's baseball team, was forced to begin his analysis on a last-minute flight to Dallas. 
In the end, he still managed to take top honors at a national event that brings together the best collegiate sports analysts in the country.
Each competitor blindly received a real data set from an anonymous professional team. It could be analyzed any way they chose, while judges evaluated the usefulness and insightfulness of the analysis, communication skills, and presentation visualization. 
"The data set involved ticket sales, so I came up with customer clustering," Fowler said. "Basically I took all the customer IDs and developed five to seven kinds of customers like die-hard fans, new comers, and one-and-done fans."
In all, 63 other graduating seniors from 20 different universities or colleges had advanced from the first qualifying round held back in November to compete alongside Fowler in the final championship round in Dallas. 
"Tommy claimed the first place in both rounds with different industrial judges," said Jerred Wang, Miami assistant professor of Sport Leadership and Management (SLAM) and AXS student advisor. "It underlies the superior quality of Miami students. Students were on their own in the competition."
Alongside the support of Wang, Fowler also credits his involvement with Miami's baseball team as a pivotal part of his success.
"I feel like all my years of school worked up to this," he said. "Winning showed me where all my hard work took me. I started on the baseball team my freshman year, and just dove in, figuring out how to do sport analytics. I don't think I would have had the opportunity to work on a baseball team like I have here."
"That's another thing I am definitely thankful for."