Miami faculty member named a Senior Member by the National Academy of Inventors
Andrew Jones selected as one of country's foremost emerging academic inventors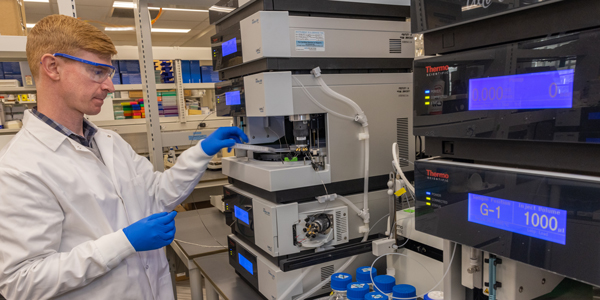 Miami faculty member named a Senior Member by the National Academy of Inventors
A central theme throughout Andrew Jones' career has been collaboration.
Jones, his students, and his colleagues strive to generate new ideas and discover novel solutions to problems. That approach has led to the submission of 13 independent patent applications for Jones, an assistant professor in Miami University's Department of Chemical, Paper, and Biomedical Engineering. It's also led to national recognition.
Now in his sixth year at Miami, Jones is one of 95 of the country's foremost emerging academic inventors selected as a Senior Member by the National Academy of Inventors (NAI). He will be among the class celebrated at the NAI's annual meeting June 25-27 in Washington, D.C.
"There is a saying that those who can't do, teach," Jones said. "Miami and other universities want to put away that myth. We want to show that members of our faculty are not only innovating in the classroom, impacting students, and engaging with scholarship that influences academic circles, but that we are also making an impact in the world."
One of the focuses of Jones' research is the biosynthesis of psilocybin, a chemical naturally found in the mushroom Psilocybe cubensis, and its use in treating addiction, depression, and post-traumatic stress disorder in humans.
In 2020, PsyBio Therapeutics Corp. awarded a $1 million grant toward the work and a $1.5 million grant the following year. 
Nick Kaplan, a 2022 Miami graduate, is now a Ph.D. student at the University of Washington and a National Science Foundation (NSF) Graduate Research Fellow. Through the Jones lab, Kaplan participated in the development of the first psilocybin production strains from project conception to scale-up optimization and commercial adoption.
It was an invaluable experience for Kaplan, who said that most students never get to see their research leave the lab.
"Throughout this process, I realized the power of metabolic engineering to impact human lives outside of academia," Kaplan said. "Andrew is an incredible inventor but an even better teacher. He is passionate about training the next generation of scientists, engineers, and inventors, and we will surely have a brighter future because of his dedication to teaching."
Lexie Adams '21 also collaborated in the Jones lab and gained an immense appreciation for working on novel scientific research. 
"Andrew was able to show us the kind of impact science has in the world through the vision of an inventor," said Adams, who is now a second-year Ph.D. student at Stanford University and an NSF Graduate Research Fellow. "It shaped my thought process as a young scientist and encouraged me to pursue translational research opportunities in my graduate career."
NAI Senior Members are active faculty, scientists, and administrators from member institutions who have demonstrated remarkable innovation producing technologies that have brought, or aspire to bring, real impact on the welfare of society. They also have growing success in patents, licensing, and commercialization, while educating and mentoring the next generation of inventors.
The 2023 Senior Member class is the largest to date with 50 member institutions and research universities represented.
"I'm delighted to see how this program has expanded in just a couple years' time," Paul Sanberg, president of NAI, said in a recent release. "It really reflects the shift we are seeing at universities where invention is not only being recognized, but prioritized as well." 
Jones is looking forward to meeting the other Senior Members in this year's class – and continuing to innovate and collaborate at Miami.
"That's the reason I'm at Miami," Jones said. "I'm able to impact students and get them engaged in both the material I teach in the classroom but also through the experiential learning that happens in the lab. Being able to pass my passion for engineering and research along to students and seeing them engage with it and accomplish unimaginably more than what I had envisioned is why I enjoy this job so much."