The Lee and Rosemary Fisher Innovation College@Elm celebrates grand opening
The hub of creativity and innovation, imagination and design, and talent cultivation will transform a three-block area in Oxford's business district into a high-tech innovation and creativity corridor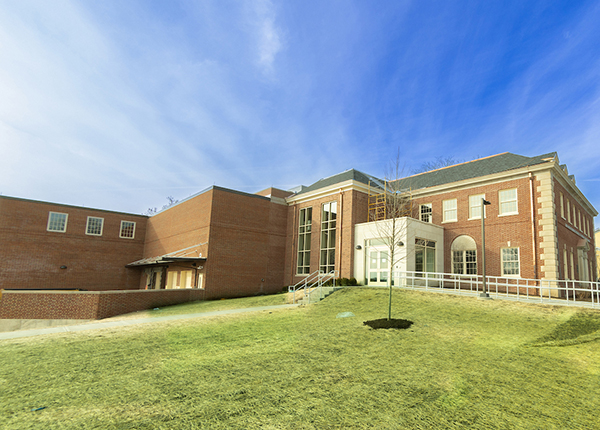 The Lee and Rosemary Fisher Innovation College@Elm building
The Lee and Rosemary Fisher Innovation College@Elm celebrates grand opening
The Lee and Rosemary Fisher Innovation College@Elm building
By Margo Rutledge Kissell, University Communications and Marketing
Miami University, local, regional, and state officials on Thursday will celebrate the opening of the Lee and Rosemary Fisher Innovation College@Elm incubator and workforce development center.
Fisher Innovation College@Elm is a unique public-private investment focused on developing the talent and entrepreneurs necessary to advance Oxford, Butler County, and the region's workforce. It seeks to serve as a national model for how a rural community can leverage its creative and technological assets to promote local economic prosperity and contribute to a vibrant world-class entrepreneurial ecosystem.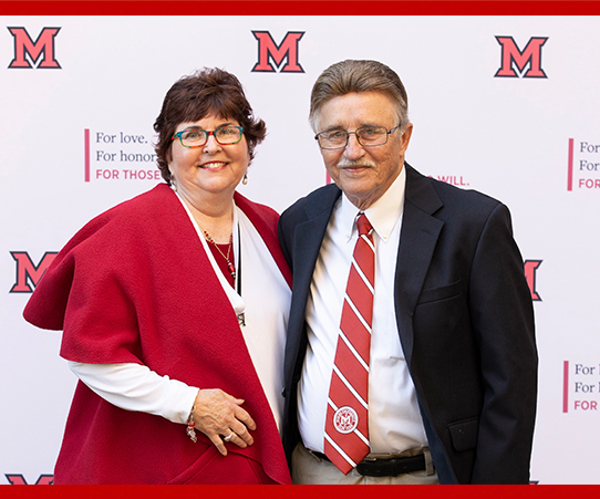 Lee and Rosemary Fisher
Fisher Innovation College@Elm transformed the 39,000-square-foot building at 20 S. Elm St. in Oxford that had served as the university's food service operation and later as a general storage facility. Miami alumni Lee '68 and Rosemary Fisher '69, who have lived in Oxford nearly 10 years, provided the generous naming gift.
Randi Thomas '88 MA '90, vice president for ASPIRE, an office at Miami that cultivates partnerships with corporate, community, and government entities, is leading Fisher Innovation College@Elm efforts. He said the technology, entrepreneurship, and workforce development hub will transform a three-block area in Oxford's business district into a high-tech innovation and creativity corridor. 
With the theme, "We Will Innovate," Thomas touts the new incubator as a place that will leverage Miami's entrepreneurship, business, and engineering expertise to build Butler County as a center of inclusive innovation.
It will include an entrepreneurial training center in partnership with Miami University and the Butler County Small Business Development Center. Tenants will include the Fischer Group, 1809 Capital, the city of Oxford, and Miami University. 
Tim Holcomb, chair and professor of Entrepreneurship and director of the John W. Altman Institute for Entrepreneurship, said faculty and staff share a fundamental belief in the power of learning by doing.
"We are driven by a desire to unleash students' entrepreneurial mindsets, ignite their imaginations about what is possible, and motivate them to innovate, create value, and elevate their impact on society," Holcomb said.
"College@Elm will provide another opportunity for students from across campus to 'experience' entrepreneurship, working hand-in-hand with founders, investors, and experienced professionals who are committed to their success."
The John W. Altman Institute for Entrepreneurship in the Farmer School of Business was ranked No. 9 in the world and No. 5 among public colleges and universities by Princeton Review in November.
Holcomb added that the new incubator will support a range of innovative programming led by the Altman Institute, including the RedHawk Launch Accelerator and the Altman Institute's two student-managed seed stage venture funds, the $500,000 RedHawk Ventures Fund and the $250,000 Social Impact Fund.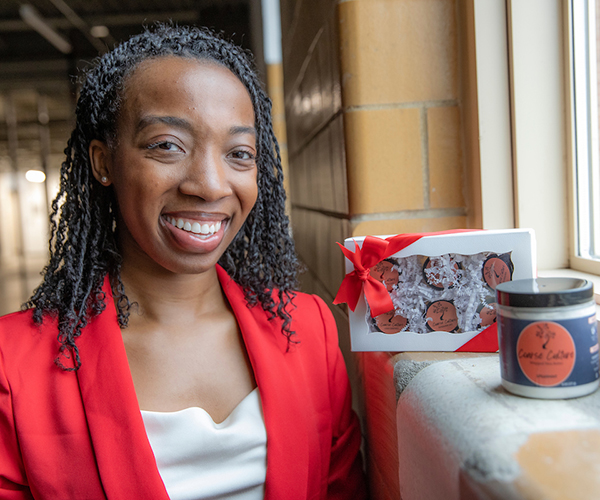 VaLanDria Smith-Lash stands beside some of her Coarse Culture skincare products (photo by Jeff Sabo).
Student entrepreneur to move home base to Fisher Innovation College@Elm
One of the first tenants will be Miami senior VaLanDria Smith-Lash, who sells her Coarse Culture skincare products on Amazon.
"Coarse Culture's new home base will be at College@Elm," she said, noting the company will be relocating its production site from Chicago to Oxford.
Smith-Lash started selling the products nine years ago after her mother was diagnosed with lupus, an autoimmune disease.
"The disorder and medication wreaked havoc on her hair, skin, and confidence," she recalled. "I wanted to help her get relief, so I did research and consulted with her doctors on natural things that would be beneficial without producing further side effects,'' she recalled. "After much trial and error, a family recipe was born."
Smith-Lash, who is majoring in Speech Pathology and Audiology, said, "The Culture Center, what I call the production space, will distribute and produce all Coarse Culture products at College@Elm."
She is excited to see Miami and the city of Oxford take steps to advance entrepreneurial and inclusive innovation.
"I feel it's a wonderful opportunity for student entrepreneurs to develop their ideas and receive support," she said. "I anticipate that small businesses in the space will provide more jobs and help mentor budding businesses within the community."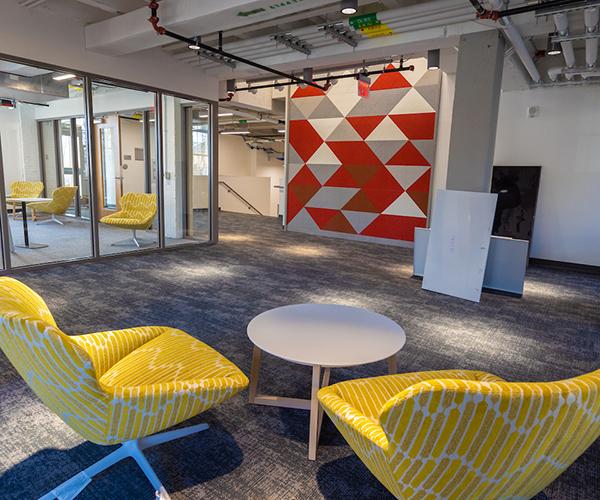 A space on the main floor near the entrance (alll photos of Fisher Innovation College@Elm by Scott Kissell).
Seeing the potential
Miami University President Gregory Crawford is perhaps Fisher Innovation College@Elm's biggest proponent. He has been thrilled to watch the building transform from the first time he walked through it more than two years ago.
He immediately saw its potential.
"When you look at incubators around the country that are driving innovation, they have this warehouse effect with open spaces for collaboration to inspire creativity and ingenuity, and that was all there," he said. 
While the 90-year-old brick building had a strong foundation, President Crawford said it needed a lot of work, which required funding.
"We went out to a lot of potential partners to share our vision of what Elm Street could be to see if they would share in our passion to develop something special and distinctive in Oxford," he said, adding that there are so many areas of strength, and intellectural and creative resources at Miami University and in the city of Oxford.
"There is a convergence here that is unique for a business incubator or accelerator — an extraordinary arts scene in Oxford, coupled with our manufacturing prowess in Butler County, and the creativity and passion of energetic students from our Entrepreneurship program."
President Crawford continued, "Our Entrepreneurship programs and talented faculty from the renowned John W. Altman Institute for Entrepreneurship on the Oxford campus — known as a top-ranked program nationally for more than a decade and a half — train and mentor some of the best entrepreneurial talent in the country."
The response from both public and private sources was strong.
Thomas led the fundraising efforts for Fisher Innovation College@Elm. To date, $17.55 million in funding has been invested by the state of Ohio, JobsOhio, Butler County, the city of Oxford, and private donors.
Lee and Rosemary Fisher provided a significant financial commitment. Alumni Richard Smucker '70 of the J.M. Smucker Co. and Chrissy Taylor '98 of Enterprise Holdings also gave major and generous commitments.
Thanks to this unique public-private partnership, according to Thomas, Fisher Innovation College@Elm will be "the lighthouse, the beacon, for community members, regardless of their educational attainment, who have an idea and would like to get assistance on how to develop that idea further and make it a viable business entity."
And Thomas also believes the hub will demonstrate "the value of infusing young people filled with creative ideas and ingenuity into the local entrepreneurial ecosystems while also providing a template for how rural communities like Oxford can replicate this to advance their local economies."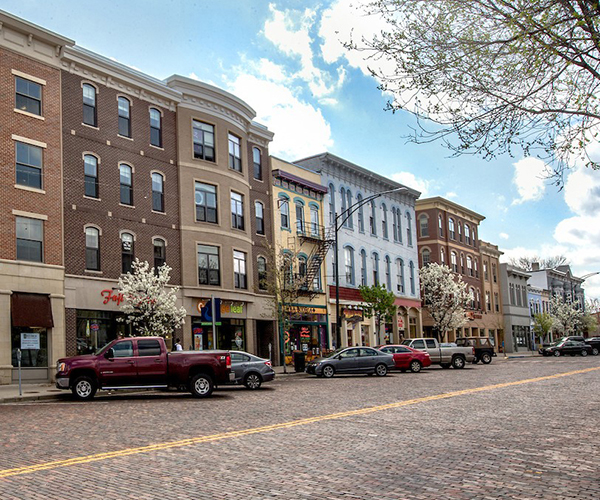 High Street in Oxford
An eye on economic development
Jessica Greene, Oxford's assistant city manager, said city officials are excited about the grand opening and the emerging Innovation and Creativity Corridor.
"The city and Miami ASPIRE group have been working together for a long time toward this goal," she said. "We began with a joint application to the JobsOhio Vibrant Communities grant program, and we've been working closely together ever since with the vision of having a workforce and innovation center that will lead to new jobs in our community."
Last week, the city announced it has closed on its purchase of two properties in the Elm Street Corridor. These properties are contiguous to the Fisher Innovation College@Elm Project, an area that the Oxford Tomorrow Comprehensive Plan identified for economic redevelopment. 
Greene said the newly adopted City of Oxford Comprehensive Plan identifies Elm Street as a focus area for redevelopment and growth.
Elm Street also was the focus of a community design effort in 2018, where the community shared ideas and their vision for this district.
"When the properties were listed for sale, we knew we had an opportunity to help lead the preservation and redevelopment of the Elm Street area," Greene said. "While we have no concrete action items for the properties at this time, we look forward to working toward a vision of new vibrancy in this area."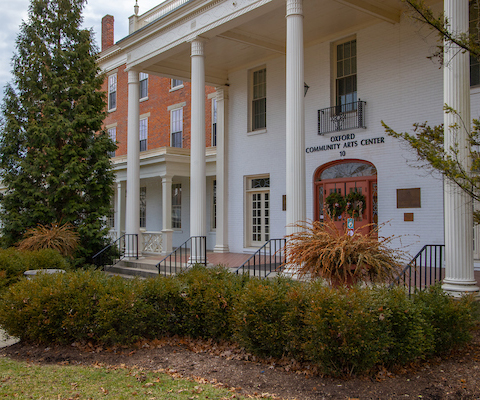 The Oxford Community Arts Center on College Avenue is near the new Lee and Rosemary Fisher Innovation College@Elm hub.
Technology and the arts
The Oxford Community Arts Center (OCAC) at 10 S. College Ave. and its beautifully landscaped property and amphitheater back up to Elm Street across from Fisher Innovation College@Elm. President Crawford pointed out the third floor of OCAC contains spaces for various sole proprietors, including artists, musicians, photographers, painters, and sculptors, and papermakers. 
He envisions them seamlessly interacting with those working at Fisher Innovation College@Elm.
"Having a block in uptown Oxford with Oxford Community Arts Center and the Lee and Rosemary Fisher Innovation College@Elm filled with dynamism, separated by a beautiful green space, brings to mind the old adage that 1 + 1 = 3," President Crawford said. "The whole of what's going to happen in uptown Oxford and across Butler County is much greater than the sum of the individual parts."
President Crawford, Thomas, and Greene came across research by Tim Wojan and colleagues at the U.S. Department of Agriculture that document how rural America innovates.
Author Richard Florida reported, "Ultimately, Wojan and colleagues' analysis find a strong statistical association between the arts, innovation, and economic dynamism in rural areas." 
They concluded the arts are a direct force in rural innovation, not just an indirect factor that helps to attract and retain talent for all industries. 
"The research shows it's not just technology, technology, and technology that creates a dynamic and entrepreneurial community," President Crawford said, "but it's also a very robust arts culture in that city or town that brings an ethos of creativity and vibrancy." 
Greene echoed that sentiment.
"Learning that rural communities that embrace the arts have more positive economic change than those who do not was an inspirational bit of research. We have such a wealth of creativity and artists in our community," she said. 
"New technology needs creativity behind it. It is my hope that building partnerships between the OCAC and the College@Elm will spur new ideas, lead to innovation, and eventually, result in new high-quality jobs in our community."
The city of Oxford has invested $1.07 million overall in the project, including upgrading the sewer system and road infrastructure, constructing the parking lot, as well as the cost of purchasing the adjacent properties. The city also will move an economic development specialist staff member to Fisher Innovation College@Elm.
"If the city and university can continue to leverage each other's strengths with the College@Elm, we hope to witness the spark of innovation, job growth, and increased quality of life in our community," Greene said.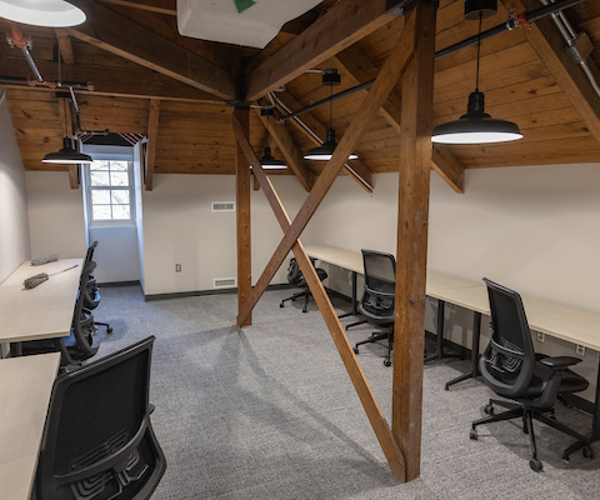 An upper-level space
"The potential to kick-start the economy"
Before moving to Oxford, Lee Fisher sat on the board of TechConnect West Virginia, a statewide economic development organization dedicated to the advancement of science, technology, and the innovation economy there.
"That was really the first time in my life I sat around with true entrepreneurs and big risk-takers," he said.
Lee and Rosemary were excited to support the new Innovation College@Elm venture in Oxford.
"It has the potential to kick-start the economy around this venture that people don't even know about at this point," he said, adding it has the potential to create jobs, too.
"And it's a way of bringing forward talents and ideas in a community that have never surfaced before and putting them in one place. That's exciting to me."
Brian Furnish '01, assistant vice president of development, worked with the Fishers on their gift. He has seen their generosity benefit the Miami University Men's Glee Club, which Lee had been part of as a student.
"Lee and Rosemary are two of the most generous people I have ever met," Furnish said. "Their commitment to our students' success is what I really appreciate the most about them. It really is all about the students."
Rosemary, a retired elementary school teacher who sews and quilts, said, "Lee is the financial wizard, I'm the creative one in our family, so we complement each other. And the Innovation College@Elm is that kind of a place where the art and the business can work together." 
Anchors tenants and partners
• The Fischer Group: The Fischer Group is an affiliation of companies that complement each other as a whole but offer unique manufacturing and product development solutions individually. 
• 1809 Capital: A financial return focused investment platform which leverages the impressive Miami Alumni network.
• Ohio Small Business Development Centers: The Ohio SBDC at Miami is charged with accelerating Ohio's economy by helping people start, sustain, and grow businesses by providing free business counseling, planning, training, and access to capital through local banks and the Small Business Administration.
• City of Oxford: The city is the proud home of Miami University and one of America's most idyllic college towns.
• CincyTech: CincyTech represents one of the most prolific seed funds in the entire Midwest. CincyTech is supported by Ohio Third Frontier and more than two dozen foundations, corporations, municipalities, and individuals.
• Coarse Culture: VaLanDria Smith-Lash, founder and CEO, started Coarse Culture, an all-natural line of plant-based, shea butter products. She pursues the growth of her company as a full-time college senior and an Evans Scholar at Miami.
• The Wright Brothers Institute: The Wright Brothers Institute is a cutting-edge center for innovation and technology commercialization that provides breakthrough solutions to the U.S. Air Force's most complex initiatives by leveraging resident experts, unique facilities, disruptive innovation processes, and extensive networks.
• TechLink: TechLink's primary activity is marketing new inventions from the Departments of Defense (DOD) and of Veterans Affairs (VA) and navigating businesses and entrepreneurs through the licensing process. TechLink assists companies evaluating federally-developed inventions from DOD and VA labs and develop high-quality license applications and commercialization plans.
• Cintrifuse: Cintrifuse is a Cincinnati-based regional innovation network designed to successfully launch high-growth startups by connecting entrepreneurs, accelerators, incubators, mentors, investors, and strategic businesses/institutions through access to key resources, a co-working space, and a venture capital fund.
• Cincinnati Minority Business Accelerator: Its mission is to increase economic inclusion and empowerment in the Cincinnati region by providing customized analysis, resources, and funding to accelerate the growth of scalable minority-owned businesses.