Brett Smith and Michael Vanni named University Distinguished Professors
Dedicated teacher-scholars and internationally recognized researchers, Brett Smith and Michael Vanni are honored for their contribution to the life and mission of Miami University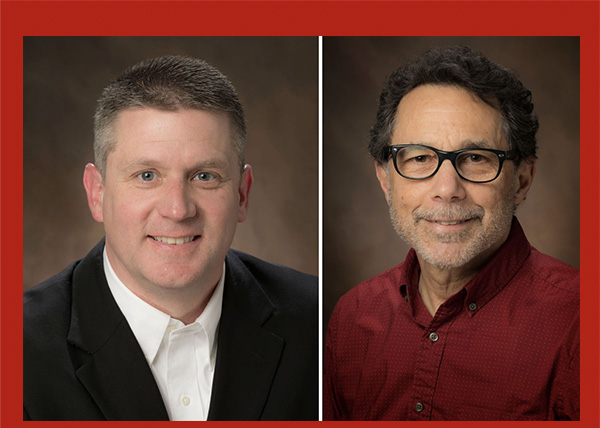 Brett Smith, left, and Michael Vanni
Brett Smith and Michael Vanni named University Distinguished Professors
Brett Smith, left, and Michael Vanni
Brett Smith, Cintas Chair and Professor of Entrepreneurship, and Michael Vanni, professor of Biology, have been awarded the title of University Distinguished Professor by Miami University's President Gregory Crawford and Provost Elizabeth Mullinex. 
The title includes an annual stipend for conducting research and other professional activities. 
University Distinguished Professors have national and international stature with demonstrated recognition and projected high level of scholarly productivity in the future. They must be a teacher of demonstrated excellence and a contributor to the life and mission of Miami University.
The call for nominations for the University Distinguished Professor Award is issued every other year, alternating with the Distinguished Service Award.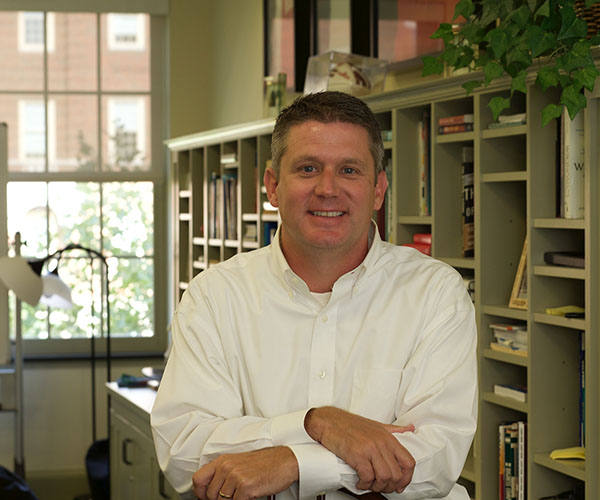 Brett Smith
Brett Smith
"As a Miami undergraduate and early career faculty member, I learned the value of a Miami University education and the instrumental role of faculty in making that value a reality."
Over the past 17 years, Brett Smith '91 has been paying forward the value of his Miami experience by launching the Center for Social Entrepreneurship, leading the John W. Altman Institute for Entrepreneurship, and founding the Leading the Integration of Faith and Entrepreneurship (L.I.F.E.) program. In these positions, Smith has focused on delivering value through teaching and scholarship.
Lauded by colleagues for his ability to expertly navigate the challenges of driving change and innovation at the university, Smith's visionary leadership helped grow Entrepreneurship at Miami into a perennially recognized program on a national level. "Where others saw disparate bits and pieces, Brett saw the whole picture," wrote one nominator. Smith is credited with fanning the spark that made Entrepreneurship an interdisciplinary, cross-university program that has been ranked in the top 10 by the Princeton Review for 15 consecutive years.
Smith's work has been cited more than 3,500 times. He has 60 publications, including 33 academic journal articles, with research focused on identity and legitimacy issues of social and religious entrepreneurs, investors, and accelerators. "With respect to his overall research contribution, it is fair to say that professor Smith has become a global academic leader in scholarship focused at the interface of entrepreneurship and social entrepreneurship," wrote one external nominator.
Ten of Smith's journal articles have been published in the prestigious Financial Times Top 50 academic business journals, including nine since 2015 with the collaboration of three Miami undergraduates.
Educator and innovator
In the classroom, Smith is regarded as an outstanding professor who serves as a leading curriculum innovator. Smith's teaching honors include the Richard K. Smucker Teaching Excellence Award (2011), the Outstanding Professor, Excellence in Education Award from Ohio Magazine (2011, 2012), the ASHOKA Exchange Innovation Award for Social Entrepreneurship Education (2011), and the Skoll World Forum Experiential Education Award on Social Entrepreneurship (2008). He continually seeks opportunities to expand the knowledge of students and the reach of social entrepreneurship. He received three grants from the U.S. Department of State totaling $450,000 to host and teach Fulbright students from North Africa and Afghanistan, and Smith has developed study abroad programs in Guatemala, Nicaragua, Ecuador, and South Africa, encouraging Miami students to co-develop solutions to alleviate poverty in those regions.
"Professor Smith is one of those rare academic gems who gives more than he takes along seemingly every dimension of his life," wrote a nominator. "Not only is he a prolific scholar, having published 33 articles in some of the most prestigious and discriminating journals in business, but he has done so while laying the foundation for important emerging sub-disciplines within entrepreneurship. Namely, both social entrepreneurship and religious entrepreneurship have gained considerable traction at both Miami University and in business scholarship because of his efforts."
Serving Miami and beyond
Smith's contributions extend across Miami. Known as a leader in co-developing curricula, he is the co-author of the graduate certificate in Gerontology and Social Entrepreneurship and helped launch a new co-major in Global Health. Smith also worked with Glenn Platt, the C. Michael Armstrong Professor of Network Technology and Management, on the new master's degree in Entrepreneurship and Emerging Technology.
In 2021, Smith raised $150,000 to establish the first undergraduate student-led impact fund in the country. Externally, he organized two conferences for L.I.F.E., and he also partnered with the company led by U2's Bono to create Edun Live on Campus, a student-run social business. "It's hard to imagine Miami today without Brett," wrote a nominator. "It's easy to forget that Miami's brand was not always so intertwined with entrepreneurship. It is Brett's legacy that this is now an integral part of the Miami experience for all – not just FSB students."
A recent $3 million donation to L.I.F.E.'s funding will help expand its efforts and open doors for academics at other schools to launch and expand similar programs. Smith also has served on several committees for Miami and the Farmer School of Business and is a member of the board of directors for OCEAN Programs, a faith-based, high-technology startup accelerator located in Cincinnati which has helped launch and scale more than 40 high-growth startups. Smith co-founded and serves as a member of the advisory board for Flywheel Social Enterprise Hub, a Cincinnati-based nonprofit that catalyzes social impact strategies and support services for nonprofit organizations pursuing earned income in southwest Ohio and northern Kentucky.
"I have been blessed by these opportunities and hope that I have delivered value back to our students, faculty, and university," Smith said.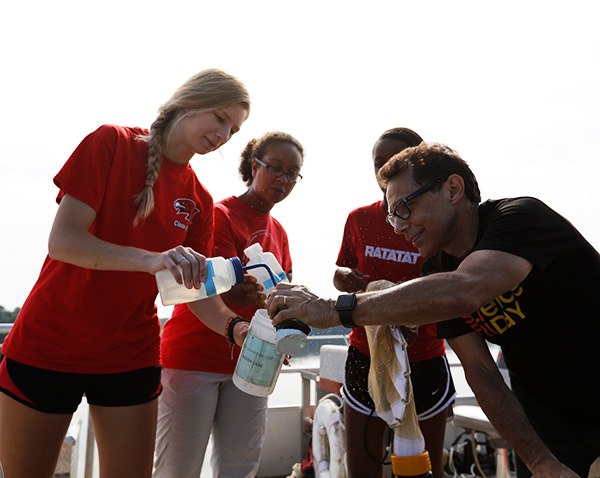 Mike Vanni (right) and Miami undergraduate summer research students Isabelle Anderson '19, (left, currently a doctoral student at Baylor University), and Ashley Mickens '20 (currently a doctoral student at the University of Victoria) , and Ferdos Abdulkader '20 (currently attending University of Colorado School of Medicine), collect samples from Acton Lake, summer 2018. Photo by Jeff Sabo.
Michael Vanni 
"I truly believe that my active engagement in research makes me a much better teacher." 
Vanni is an internationally recognized scholar in aquatic ecology and among the top experimental ecologists in the world working on freshwater pelagic ecosystems. He is frequently sought as a collaborator by scientists worldwide for his novel perspectives and breadth of expertise in freshwater ecology, according to his nominators.
His research brings together watershed and ecosystem science to understand the ecology of food webs and nutrient cycling in lakes and streams. Vanni and his students address important applied research questions on the effects of land use and climate change on lake water quality and species interactions among fish, invertebrates, and algae.
He is one of the leading experts in the world in the field of ecological stoichiometry, a subdiscipline of ecosystem ecology that focuses on the importance of nutrient ratios in ecological interactions, nominators said. He was one of the first to show that fish and small invertebrates (zooplankton) in lakes and reservoirs can play fundamental roles in ecosystem nutrient dynamics by excreting assimilated nutrients as waste products (see Miamian Spring/Summer 2022 Who's Peeing in the Global Pool).
While Vanni has conducted research around the globe — in Canada, Germany, Venezuela, Brazil, and Finland — his long-term research program on Acton Lake has become one of the most productive reservoir ecology programs in the United States. He and his co-investigators (María González, professor of Biology; Bill Renwick, professor of Geography emeritus, and Bart Grudzinski, associate professor of Geography) have worked on Acton Lake for more than 30 years, with continuous grant support from the National Science Foundation (NSF) and the NSF's Long-Term Ecological Research in Environmental Biology Program.  
He has been awarded almost $7 million in external funding, from agencies including the NSF, the U.S. Department of Agriculture, the Environmental Protection Agency, the Ohio Department of Higher Education, and the Ohio Department of Natural Resources. He was the recipient of an NSF Opportunities to Promote Understanding through Synthesis (OPUS) grant, which is notable in that the NSF only awards about six OPUS awards each year.
Vanni's scholarship represents an exceptional body of work, both in quality and quantity of publications, said his nominators. Not only has he published in the premier journals that span all areas of science, such as Nature and Proceedings of the National Academy of Sciences, but a large fraction of his more than 120 publications are among the top journals in the fields of ecology and limnology.
He has an active and dynamic research team that always includes graduate and undergraduate students and often involves post-doctoral fellows, technicians, local teachers, and high school students, nominators said.
He has mentored more than 20 graduate students and 100 undergraduates as part of his research program, and many of his publications include them as first authors or coauthors. Many of these students have been supported by Miami's Undergraduate Summer Scholars (USS) program or Research Experiences for Undergraduates (REU) awards funded by NSF.
Vanni is a dedicated classroom teacher who consistently receives excellent student evaluations in all courses he teaches, according to his nominators. He was recognized nationally last year with the Rámon Margalef Award for Excellence in Education from the Association for the Sciences of Limnology and Oceanography (ASLO) — honored for "his outstanding mentoring contribution from a rare combination of passion for science and compassion for students." 
Service to the profession and to Miami
Vanni has served as an associate editor of Limnology and Oceanography (his discipline's top journal) and as an associate editor for the journal Freshwater Science. He has been a member of the executive committee of ASLO. He also served for two years as a program director for the NSF.
In recognition of his outstanding contributions to the field, he was named a 2018 Fellow of the Ecological Society of America (ESA). He was named a Fellow of the Association for the Sciences of Limnology and Oceanography for outstanding and sustained contributions to the fields of limnology or oceanography.
At Miami, he led the effort to create the interdepartmental doctoral program in Ecology, Evolution, and Environmental Biology (EEEB), and served as its first director. He also helped lead the formation of the interdisciplinary Center for Aquatic Watershed Sciences and served as its director. Currently, he serves on Miami's Climate Action Task Force.
"He is a great colleague who has committed himself to improving the department, the university, and the climate for science both in the U.S. and abroad," a nominator said. 
"My career at Miami has been driven by my belief that teaching, research, and service are synergistic activities," Vanni said. "I believe that my performance in any one of these areas is greatly enhanced by the others, and that this has allowed me to become a teacher-scholar that underlies Miami's core mission."