Finding his calling on the field, on the court, and in the arena
Patrick Geshan, who will graduate this May, has started professional broadcasting career with Dayton Dragons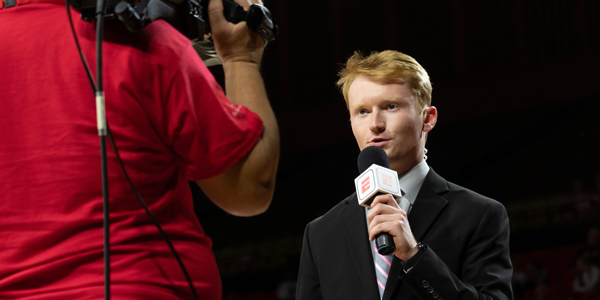 Patrick Geshan often had one of the best seats in the house for Miami University's hockey team.
Geshan's father, Andy '88, is a member of the program as head ice hockey equipment manager. That gave his son an inside look at a team that grew into a perennial power and advanced to the Frozen Four in 2009 and 2010.
With that success came national attention and broadcasts, which led to unique opportunities for Geshan. At age 11, he was able to closely follow announcers like Shireen Saski, Ben Holden, and Dave Starman of CBS Sports when they called games in Oxford.
"That's when I made the decision that this is what I wanted to do," Geshan said.
That decision led Geshan down the path from sports fan to professional. He will graduate in May with a double major in Journalism and Political Science and has already started working full-time as a baseball broadcaster for the Dayton Dragons, the Class High-A affiliate for the Cincinnati Reds.
The Oxford native serves as the Dragons' media relations assistant for Tom Nichols, the team's director of media relations and Geshan's on-air partner who has more than 30 years of experience.
When a game is broadcast on radio only, Nichols and Geshan work together and alternate play-by-play and color commentary. If a game is on both radio and television, Geshan will be solo in the radio booth. Keith Raad (New York Mets radio), Bill Spaulding (New Jersey Devils play-by-play), and Mike Couzens (ESPN play-by-play) are among the broadcasters who have had stints in Dayton. 
"It's a pretty perfect opportunity for me at this point," Geshan said. "It allows me to start working close to my support system and finish my degree at the same time."
It helps that Geshan already had established ties with the Dragons. Two years ago, he had an internship with the Mansfield Destroyers of the New York Collegiate Baseball League. This past summer, Geshan was looking for more experience and reached out to the Dragons. That helped him get his foot in the door and work about a dozen games assisting the team's media relations department.
Keeping busy has long been one of Geshan's traits. A 2019 graduate of Talawanda High School, he was student body president. At Miami, Geshan worked as sports director at WMSR RedHawk Radio, doing play-by-play for Miami football, men's and women's basketball, baseball, and hockey. He's also done sideline reporting for Miami basketball for ESPN3 and ESPN+ and covered high school and college events for Chatterbox Sports in the Cincinnati area.
Geshan has called everything from track-and-field to field hockey to lacrosse — and nearly anything in between. To those who know him and have worked alongside him, Geshan's enthusiasm is obvious and shines through in his work.  
"One of his best assets is his passion for sports," said broadcaster Greg Waddell, who recently completed his 17th season as the voice of Miami hockey. "He loves sports, and that's first and foremost where you have to be at. He has a great mindset for a lot of different sports. He takes the next step to becoming prepared. He takes the time."
A longtime family friend, Waddell watched as Geshan immersed himself in broadcasting, describing him as a self-starter who took the initiative to stream high school events and learn about the craft.
"He's a good kid who has this great, giant dream, and now he's getting a chance to live it," Waddell said.
First, though, comes finishing school.
Geshan needed three classes to graduate and was able to take two of those over January's winter term. His Political Science capstone is all that remains this spring semester, and the Dragons have been flexible with him as he attends class on Tuesdays and spends his lunch breaks on homework.
It's well worth it, though.
"There is just really nothing like working in sports," Geshan said. "Being able to convey that atmosphere and energy and excitement to a viewer who is sitting somewhere else, that's what makes it fun for me. I couldn't imagine my life not revolving around a season or not going to a game."
He's attended more than his share over the years. Some of Geshan's fondest memories include calling the Miami-University of Cincinnati football game and the RedHawks victory over the Big Ten's Northwestern University.
And, of course, hockey games with his father.
"Being able to be with my dad on the road with the hockey team are some awesome memories for me," Geshan said. "Miami really is a special place. It's kind of hard to describe until you experience it for yourself.
"Without the opportunity of RedHawk Radio, there's no way I'm in the position I'm in now."