Meredith Erb receives Miami's E. Phillip Knox Distinguished Teaching Award
"With each electron movement, I felt guided by her teaching style. Dr. Erb's teaching and influence in the classroom, as well as outside of it, are major contributors to my current success (as a medical student)," a nominator said
Meredith Erb receives Miami's E. Phillip Knox Distinguished Teaching Award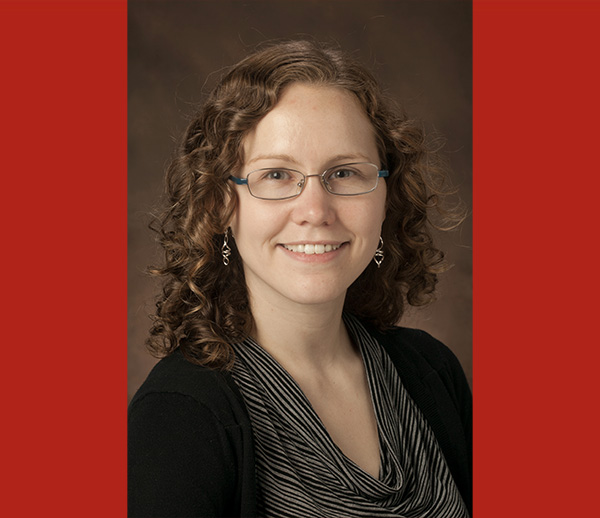 Meredith Erb, teaching professor of Chemistry and Biochemistry, is the recipient of Miami University's 2023 E. Phillip Knox Distinguished Teaching Award.
The award recognizes faculty members who demonstrate creative, innovative, and engaging teaching methods at the undergraduate level.
Erb teaches organic chemistry to both non-majors and majors and coordinates the non-majors organic chemistry lab sequence. 
One of Erb's most notable achievements is that she has made organic chemistry less "scary" for students while maintaining high rigor and excellent student performance, according to a faculty nominator. 
As one of her students described, while organic chemistry "is known to bring students trouble across the country," Erb made it one of their favorite classes of their college career. 
She integrates evidence-based practices and learning theories to develop creative activities such as role-playing in organic chemistry. She incorporates active learning techniques such as Kahoot! quizzes and clicker responses.
One example is her use of an iPad-to-computer interface which allows students to visually comprehend the material, a student nominator said. "Her use of this technology provided me the opportunity to understand her thought process in working through practice problems. With each electron movement, I felt guided by her teaching style. Dr. Erb's teaching and influence in the classroom, as well as outside of it, are major contributors to my current success (as a medical student)."
One of the reasons students find organic chemistry so inaccessible is that they could not see why learning organic chemistry reactions is important to their future careers, a nominator said. So, Erb "started using difficult practice problems in class and having the students take an approach to solve the problem similar to what doctors do to diagnose an illness with a patient."
A former student said Erb "teaches her class in a way that showcases her devotion and passion for organic chemistry. This is seen through her 'Out in the real world' pages that includes Dr. Erb's book recommendations to encourage discovery and application of the material we learned."
Erb is "greatly dedicated to the education of her students," said a former graduate teaching assistant for her Organic Chemistry Laboratory for Non-Majors course. For example, every year, Erb would revisit and revise the laboratory instruction manual. "During every meeting, she would meticulously take notes on what the students struggled with and excelled at the previous week so that the manual could be updated to be both the most helpful and most educational."
She has created a climate which encourages students to be curious, experiment with new ways of thinking, and problem solve within in-person and online learning environments. 
Students feel supported in their learning and credit her positive attitude, her investment and care for their development, as well as "her intentional, authentic efforts to center them in their classroom experience," according to her nominators. "She is someone that you turn to for life advice as well as organic chemistry help," a student said.
Erb has been recognized for her teaching multiple times. She was named one of the Distinguished Educators from the College of Arts and Science last year. She was the 2022 recipient, and the 2018 recipient, of the Mallory-Wilson Center Faculty/Staff Recognition Award in recognition of outstanding dedication and commitment to undergraduate pre-medical training. 
She joined Miami in 2012 after receiving her doctorate from Johns Hopkins University.  She is chair of undergraduate recruiting for the Department of Chemistry and Biochemistry and serves as a faculty associate for the Center for Teaching Excellence. 
A former student said Erb's impact "extends for years as she instilled a love of learning and a passion for chemistry in each new class of students." 
"Dr. Erb is someone who will not just always motivate her students to be the best but also truly believes that the students can achieve their best."
Knox Award
Established by Miami alumnus E. Phillips Knox '68, the award is presented to faculty members whose achievements unequivocally merit recognition for excellence in teaching along dimensions such as learning through inquiry and experimentation; awareness and appreciation of cultural diversity; or active participation in experiential learning and community partnerships.  
Award winners receive a professional expense allocation of $3,000.