Miami receives $5 million Social Work grant to support local schools and communities
Scholarship and paid internships will boost workforce among school-based social workers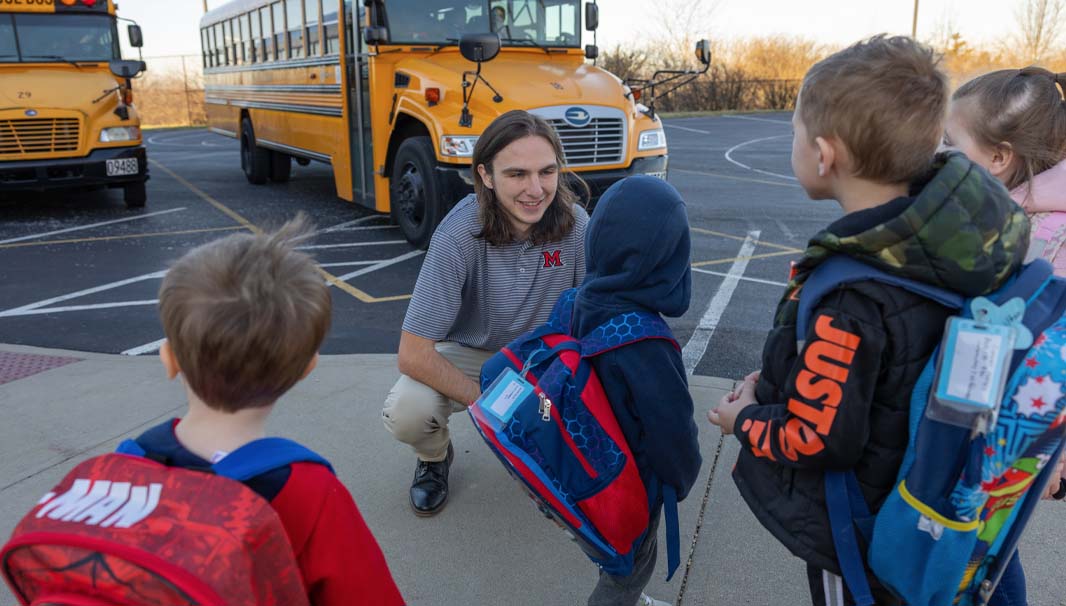 Miami receives $5 million Social Work grant to support local schools and communities
"I volunteer my time in a Montgomery County school reading for kindergartners and doing mentor groups," said Shawnieka Pope. "And in the last two months, I have been called in three times to offer supports for individuals because of students who have died by suicide."
Her recent experiences illustrate the grim realities that many schools now face, especially as students everywhere struggle to cope with anxiety, depression, poverty, gun violence, food insecurity, and more.
Pope, who is also a licensed social worker, LISW, LCSW, and an assistant clinical professor of Family Science and Social Work at Miami University (FSW), understands the dismay. 
"It's harder and harder to find the support and resources," she said. "And the young people who need it the most are experiencing behaviors that are the most alarming."
To help alleviate these concerns, the U.S. Department of Education has awarded Miami University almost $5 million to increase social worker support among several Ohio K-12 public schools across the cities of Hamilton, Northridge, and Dayton.
The purpose of the grant is twofold. 
First, it will bring more assistance into local schools by offering paid internships and stipends to Masters of Social Work (MSW) students who will provide in-school services to those in need.
Second, it will address an ongoing workforce shortage of social workers by providing new scholarship opportunities designed to encourage more people — especially those from diverse backgrounds in high needs communities —to pursue a career in social work. 
"Social work is the only mental health-related degree where you can get licensed at the bachelor's level in Ohio, and there's a big misconception about what social workers do and don't do," said Sharon Custer, director of workforce development for Miami's Ohio School-Based Center of Excellence for Prevention & Early Intervention. "Over 60% of mental health services are conducted by social workers. But many people think they need to major in something other than social work to perform mental health services. So we want students to realize there are opportunities here."
Through the grant, MSW students will get a $4,000 scholarship per semester while interning, and other financial barriers such as application fees will be waived for selected applicants. MSW students will also receive a $4500 stipend per semester while completing an in-school internship.
"This grant partnership with Miami University provides an amazing opportunity," said Sue Fralick, director of community behavioral health services at Dayton Children's Hospital. "The bonus to grow students who are in the process of exploring and developing their knowledge, skills and ability to help children and families manage and overcome life challenges is exciting. This alleviates some of that stress while providing top notch, hands on, supervised experience in schools."
Hamilton City Schools are also eager to receive additional support.
"Hamilton City Schools is thrilled to continue its strong partnership with Miami University by increasing our collaboration with the Social Work department," said Alexandrea Sorrentino Hamilton City Schools Supervisor of Mental Health. "We are encouraged by the Department of Education's provision to support the resolution of the mental health crisis. Cultivating strong experiences for MSW students will build a strong workforce who can in turn support our students and community wellness."
The program also includes an enhanced mentorship component to ensure that MSW students grow their skills, while simultaneously being prepared to stay on as professionals after graduation.  
"The pipeline leads back to these communities that are under-resourced," said Pope. "We're trying to get students into the program who also have a commitment to go back to these communities that we've identified as high need. It's not about just getting your MSW and moving on."
At Miami, the grant will also allow faculty to enhance a FSW curriculum that takes an anti-oppressive approach by focusing on anti-racism initiatives, as well as on social, environmental, and economic justice related to school-based settings.. And anyone with an interest in advancing human rights is encouraged to apply.
"While the majority of people who get their master's in Social Work have a related degree such as psychology or sociology, many people see this as a second career path," Custer said. "We've had people in our MSW program who have a degree in business or a degree in art, but have a passion for making a difference in the lives of individuals, families, or their communities."
Alongside Custer and Pope, who will serve as the program director, the program also includes FSW associate professor Angela Curl as the lead principal investigator and Heather Wells, visiting assistant professor at Miami's Regionals campus, who will provide project management consultation. 
Amy Lamborg, coordinator of research development at Miami's Discovery Center, also helped the team navigate the federal grant application process. 
The $5 million federal grant is effective immediately, and many Miami MSW students will begin their internships later this year.
"Mental health is a vital part of any school environment," said Dayton Public Schools Superintendent Elizabeth Lolli. "Having the additional Miami student interns in the district to support the work of our ResiliencyCoordinators is such a great opportunity. More students can be seen and more counselors can be trained for the future. Working with Miami, my alma mater, is a wonderful addition to our partnership program."