Miami University's prolific cybersecurity writer has a full suit of armor after 20 books
David Seidl, who oversees IT Services, collected the pieces over the past decade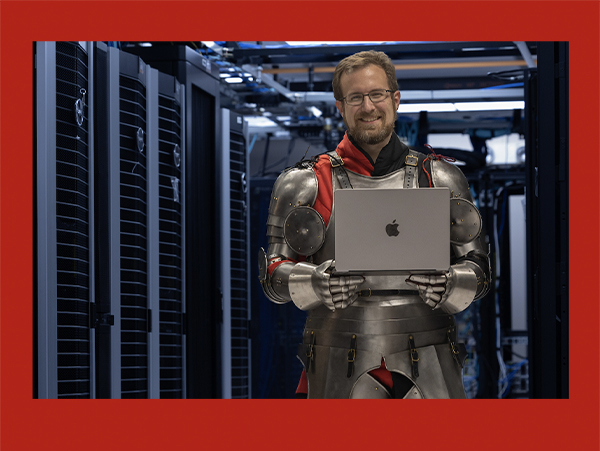 David Seidl, who oversees IT Services at Miami University, stands inside the data center. The prolific writer of books on cybersecurity bought the suit of armor he is wearing piece by piece over the past decade. (Photo by Scott Kissell)
Miami University's prolific cybersecurity writer has a full suit of armor after 20 books
David Seidl, who oversees IT Services at Miami University, stands inside the data center. The prolific writer of books on cybersecurity bought the suit of armor he is wearing piece by piece over the past decade. (Photo by Scott Kissell)
David Seidl has something special to show for all of the books he has written or co-written about cybersecurity.
A new computer? Nope.
Some other high-tech gadget? Think again.
Miami University's vice president for information technology and chief information officer (CIO) has a suit of armor for his 5-foot-11, 170-pound frame that he collected piece by piece over the past decade.
What's behind this collision of high-tech and medieval interests?
The history buff said he bribed himself to stay enthused during a writing process that can be long and arduous.
"Especially in this space, you are writing to someone else's outline of topics. You have deadlines that you contracted for and there are whole production processes for books," he explained. "I said, 'I should find a way to reward myself so there's something I'm looking forward to.' And it needs to be something I would not normally get for myself. Something special."
A piece of armor.
And, he reasoned, if he wrote enough books, he could eventually have a whole suit.
Since coming to Miami in 2018, the prolific writer has authored or co-authored eight books.
The latest two will be published this summer — making them his 19th and 20th overall. The third edition "CompTIA CySA+ Study Guide Exam CSO-003," co-written with his former University of Notre Dame colleague and writing partner Mike Chapple, and its companion volume of practice tests are geared toward early- and mid-career cybersecurity practitioners.
The books have done well as cybersecurity has become a household word.
"The market has grown," he said of the field where measures are taken to protect computer systems against unauthorized access or attack.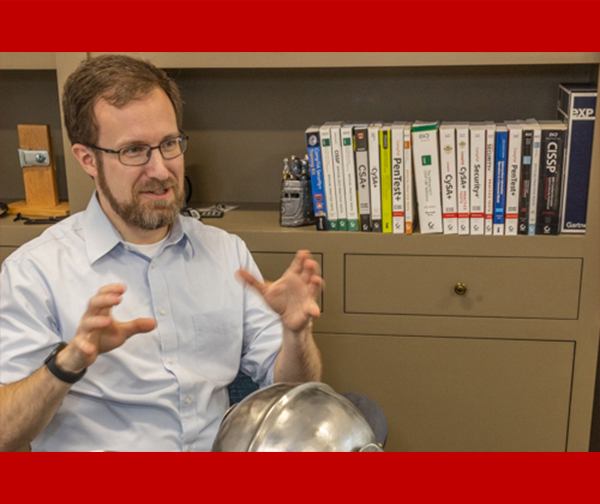 David Seidl with his published books behind him (photo by Scott Kissell).
Collaborating on Miami's new Cybersecurity degree
Miami's new Bachelor of Science in Cybersecurity in the College of Engineering and Computing (CEC) will begin this fall semester.
Seidl and John Virden, Miami's assistant vice president for security, compliance, and risk management and chief information security officer, helped design it.
Miami also offers additional educational pathways in cybersecurity.
The Farmer School of Business has an Information and Cybersecurity Management major, and the Department of Computer and Information Technology at Miami Regionals has a Cybersecurity Administration minor.
There also is a Cybersecurity Foundations microcredential offered by Miami Regionals E-Campus.
Seidl is excited to see cybersecurity as a career path — and as an academic program — continue to grow.
"Miami offering these pathways is a big deal — there's a huge market for cybersecurity talent and skill sets," he said. "The new program in CEC, in particular, focuses on education, internships and other hands-on experience, and pathways to certification, which will set our graduates apart from others."
Meanwhile, Seidl plans to start work soon on two more books.
And, yes, he already has ideas for the next special item he may get.
Virden, who served 27 years in the Navy, said he first learned about Seidl's interest in armor about three months after arriving at Miami in 2020.
"I was curious because it's not every day that you meet someone who collects medieval body armor," he said, adding he thinks it's cool Seidl rewards himself with a new piece each time a book is published. He has two of the books.
"I know of no one more widely known in the areas of information technology, cybersecurity, and building partnerships," he said, calling Seidl a strong leader. For the second year in a row, Computerworld has chosen Miami IT Services a best place to work in IT, and Seidl was again this year a finalist for an Ohio CIO of the Year ORBIE Award.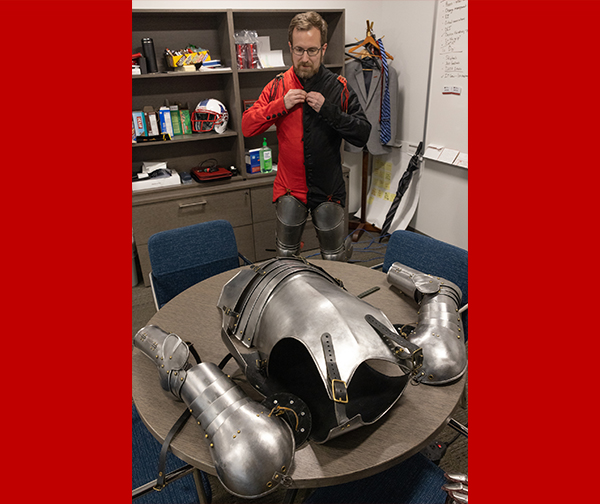 David Seidl gets dressed in his medieval suit of armor in his office (photo by Scott Kissell).
A different kind of suit
A suit and tie hang at the ready on the coat rack in Seidl's third-floor Hoyt Hall office.
On this day, he is putting on the suit of armor but needs a hand tying down the leather straps at the shoulders after he slips into the clanky metal arm pieces.
He estimates he's 70 pounds heavier with it on.
A lot of what he has is called munitions grade or "off the rack armor" that fit him.
The drawback to mild steel, which will bend if it takes a hit, is it can rust, so he has used a Brillo pad before to clean it.
"I try to keep it waxed," he said.
The first armor piece Seidl bought was the breastplate after his first co-authored book in 2012. Then came a pair of legs custom-made to his proportions, and the arms.
"When I had those, I knew I needed a helmet," he said, noting he has two but is eyeing a third.
Shin protection followed.
"I bought a basic pair of greaves, which are a lot like soccer shin guards, except metal."
He has worked with three armorers as he searched for what he described as modern, pretty authentic re-creation armor.
"It really has to be somewhat custom to your body because it turns out metal doesn't stretch," he quipped.
The gauntlets covering his hands were custom-ordered from an Etsy artisan in Lviv, Ukraine, about a year ago. Everything is contemporary for the roughly 1475 to 1525 time period.
Most pieces cost between $150 to $600, "so it's not as bad as you might think."
What's next?
"There are a couple of things I wouldn't mind adding," he said, mentioning that sabatons, part of a knight's body armor covering the feet, would be nice.
He already has a medieval poleaxe, which is a battle-axe, as well as a small shield called a buckler that is about the size of a dinner plate.
Any swords? Not yet, he said, but "that may happen at some point."