Faculty and staff are invited to Alumni Weekend 2023 and MiamiFest picnic June 10
MiamiFest headlines the weekend: The huge outdoor party with food, music, and a KidZone is fun for all ages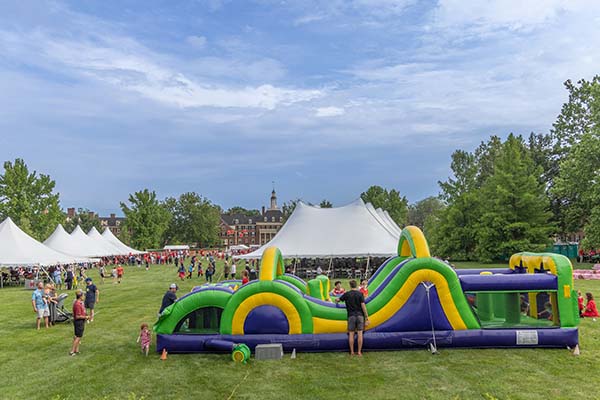 MiamiFest 2022
Faculty and staff are invited to Alumni Weekend 2023 and MiamiFest picnic June 10
MiamiFest 2022
Hundreds of Miamians will return to Oxford for Alumni Weekend 2023 on Friday and Saturday, June 9-10, to reunite, reminisce, and celebrate, and the Miami University Alumni Association invites faculty and staff to join in the fun.
Events actually begin Tuesday, June 6, at 4:30 p.m. with the dedication of the newly upgraded disc golf course on Miami's Hamilton campus.
On Wednesday, June 7, at 4:30 p.m., Miami Regionals will host the grand re-opening of hiking trails on the Middletown campus. Both the Tuesday and Wednesday event are complimentary, but registration is requested.
The weekend kicks off at 1:30 p.m. Friday, June 9, in the Armstrong Student Center's Wilks Theater when Robert Keller '73, retired Miami architect and university planner, traces the evolution of the Oxford campus and also offers a sneak peek of what's being planned for the next 20 years. This session includes the 50-year class induction into the Hughes Society.
MiamiFest
Saturday night's MiamiFest headlines the weekend. The huge outdoor party with food, music, and fun for all ages, is from 6:30-9:30 p.m. in Central Quad between MacCracken Hall and the Tri-Delt Sundial.
KidsZone will offer plenty of outdoor activities for those under the age of 12.
Cost is $20 without alcohol and $30 with alcohol. Kids under 12 get in free. You may register for MiamiFest in advance or pay at the gate.
Other Alumni Weekend 2023 highlights include:
The Friday evening "Red Brick Night … Uptown," a collaboration with the city of Oxford. From 6-10 p.m., visit your favorite Uptown businesses and enjoy an evening in the park. There will be a variety of family friendly activities, live entertainment featuring music by Exploit, and more.
Saturday morning's 7:30 a.m. Toasted Roll Run/Walk 5K through campus, which starts and ends at Lewis Place. The cost is $20. Walk-up registrations are welcome.
President Greg Crawford's State of the University Address at 11 a.m. Saturday in Armstrong Student Center's Wilks Theater. He will reflect on the past year and share his vision for the future.
Here is the complete Alumni Weekend schedule. Today is the last day for online registration. But you may still attend even if you don't register in advance. During the weekend, feel free to stop by the Welcome Center in the Shriver Center Dolibois Rooms B-C to grab a Toasted Roll and register for events happening that day.