Family continues to inspire Miami Nursing student
Brittany Brown begins her full-time nursing career at the end of May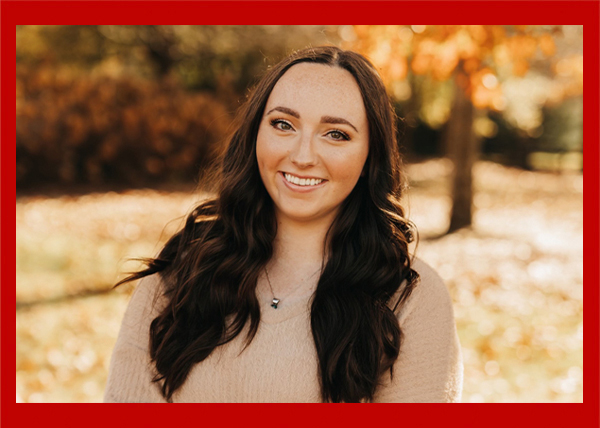 Brittany Brown decided on her career path at a young age.
When Brown was 10, her older sister, Ashley, 12, died from Aicardi syndrome, a rare neurological disorder. Brown saw how members of the medical profession – physical therapists, pediatricians, and nurses – worked together to make Ashley's life better.
It inspired Brown to want to help others the same way, and she hasn't wavered from that course. Brown graduates from Miami Regionals this week with a Nursing degree, and the Springboro, Ohio, native begins full-time at Cincinnati's Children's Hospital at the end of May in the bone marrow transplant unit.
Brown previously was a patient care assistant on that floor. She's eager to start work and build relationships with the patients and their families.
"They are there for a very long time; months, sometimes years," Brown said. "This is something I've been looking forward to for the past four years. I've known this is what I've wanted to do for a while."
Larry Wells, Brown's grandfather, was a heart transplant recipient, and she's watched the medical care and attention he's received throughout the years. It's another family connection to nursing that played a large role in Brown's life.
"I'd have never met him if he hadn't gotten the transplant," she said. "From a young age, nursing was solidified as what I wanted to do, and here I am, almost done."
Miami's Department of Nursing has played a large role in helping Brown along the way. While the 2019 Springboro High School graduate initially looked at other schools, it was after meeting with Brooke Flinders, professor of Nursing and Regionals associate dean for Academic Affairs, that Brown knew Miami was the right fit. 
Britt Cole, assistant professor in the Department of Nursing, described Brown as an excellent student with a good grasp of nursing and science concepts that she then applies to patient situations and clinical settings with ease.
During a five-week pediatric simulation series, Cole saw Brown grow and develop her leadership, communication, clinical judgment, and more. Brown was encouraging to peers and served as a role model for professional behavior.
"Her ability to work interprofessionally and stand out as a nursing leader was impressive and beyond her level of education," Cole said. "It is clear that Brittany will be an extraordinary nurse after graduation."
Brown has enjoyed her time at Miami, from the hands-on classes and receptive instructors to the good friends she's made. Those friends are part of a strong core group (along with her parents Nicole and Ken Brown and fiancé Tristan Weger) that continues to provide inspiration.
"My greatest advice is to stay positive and remember why you decided to be a nurse," Brown said. "It can get really hard at times, and having a good support system is really important."