Buckeye Boys State brings more than 600 to Miami
Weeklong program educates high school juniors on government procedures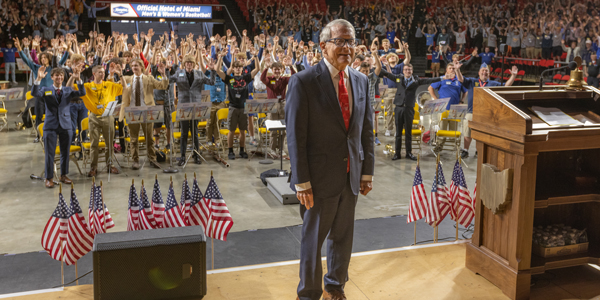 More than 600 attendees visited Miami University's Oxford campus this week as part of American Legion Buckeye Boys State.
Miami has hosted Buckeye Boys State since 2017. The contract recently was renewed for 10 years, said Gerald White, PR director for American Legion Buckeye Boys State.
"Miami University is a wonderful venue," White said. "The campus is beautiful. The facilities are outstanding."
Founded in 1936, Buckeye Boys State is a hands-on experience where juniors from across Ohio learn about city, county, and state government through a non-partisan objective education approach.
Several Ohio government officials spoke during the week, including Gov. Mike DeWine '69, treasurer Robert Sprague, secretary of state Frank LaRose, and Sharon Kennedy, chief justice of the Ohio Supreme Court. 
Gov. DeWine participated in a nearly 40-minute Q-and-A session Wednesday morning at Millett Hall, answering questions whose topics ranged from state parks to public transportation to education before leaving for a similar engagement at Buckeye Girls State at Bowling Green State University.
"Any time that we can give our students, our citizens more opportunity to learn how government works and to participate in government, that's a good thing," Gov. DeWine said during the Q-and-A.
Frances DeWine, Gov. DeWine's wife, graduated from Miami in 1971. Four of the DeWines' eight children are Miami alumni.
"We enjoyed being here very much, and we are very honored to be Miami graduates," Gov. DeWine said.
Planning for Buckeye Boys State is a year-round process, said Paula Green, Miami's senior director for conference and event services.
"We believe very strongly in their mission and are happy to work closely with them," Green said. "It takes a lot of logistics and a lot of people buying in. There is not a department on campus that does not contribute to the success of the program."
One highlight of Buckeye Boys State, held this year June 11-18, is for participants to immerse themselves in the program and the issues they are tasked with in their respective positions. That can include budgets, staffing issues, and developing legislative agendas.
Not every role is a government position. While Buckeye Boys State holds elections and focuses on county, city, and state government issues, the program also has avenues for banking, news, courts, state highway patrol, and more.
"We try to make this as realistic of a learning experience as we can," White said.
The week concludes with a graduation ceremony June 18 at Millett Hall.
Buckeye Boys State is part of a busy June on campus. Along with first-year student orientation events and Hockey School Week, the annual American Legion initiative began just as Alumni Weekend wrapped up.
"Buckeye Boys State is ingrained in what we do here in the summer," Green said. "It's always front of mind because we value our relationship with them."