Glee Club takes 'once-in-a-lifetime' trip to Europe
More than 100 students, alumni, friends, and family traveled overseas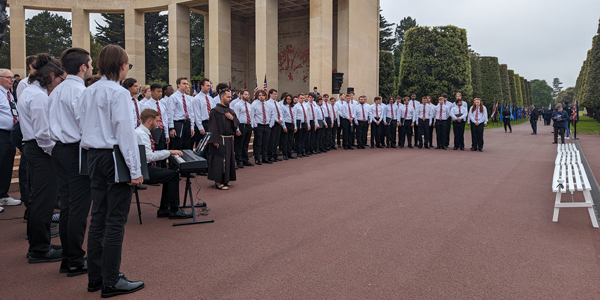 Members of Miami University's Men's Glee Club perform with Friar Alessandro Brustenghi during their recent trip to Europe.
Glee Club takes 'once-in-a-lifetime' trip to Europe
Members of Miami University's Men's Glee Club perform with Friar Alessandro Brustenghi during their recent trip to Europe.
Surprise soon turned to jubilation for members of the Miami University Men's Glee Club.
The club was on the final leg of its recent two-week European tour and preparing to perform in Paris. As it turns out, so too was Alessandro Brustenghi, the Italian Franciscan friar and dear friend of the program. 
Jeremy D. Jones, conductor of the Glee Club and the Fisher-Holoviak Endowed Professor of Music, kept Brustenghi's appearance a secret from the club. When Brustenghi exited his motorcoach in full view of club members, he was met with resounding cheers.
"Getting to sing alongside him is an experience in itself," said Brady Gluntz, a junior Strategic Communications major. "He has an arrangement of 'Amazing Grace' that is one of my favorite songs we perform."
Gluntz had the added treat of sitting next to Brustenghi during an earlier event. The two talked about Brustenghi's experience with music. The tenor, who is signed with Decca Records, is the first friar to land a major record deal.
Part of their conversation turned to making connections and how music can act as the bridge between cultures and different people. This trip, the Glee Club's first overseas since 2019, certainly represented that notion.
"This is one of the things I really appreciate about Glee Club," Gluntz said. "Everyone is very different. But we connect when we're all singing together."
And seeing the sights offered by the late May trip. Stops included Edinburgh, London, Normandy, and Liverpool. More than 100 associated with Miami went on the trip, with 58 students and nearly 50 in the alumni, friends, and family group.
There were also plenty of chances to connect through song. The Glee Club performed seven times, highlighted by a Memorial Day Remembrance Ceremony at the Normandy American Cemetery.
That event was particularly unforgettable for many. Seven in the alumni group were veterans, and wreaths were laid on behalf of the Glee Club, alumni, and the university by Jones and Miami staff members Brian Furnish and Mark Macechko.
Among the alumni on the trip were Lee '68 and Rosemary Fisher '69. Lee served with the 101st Airborne Division, and the Fishers donated Miami letters they wrote to each while Lee was in Vietnam. The letters are in the Special Collections section at Miami's King Library and have been used as required reading for some Miami History classes.
"For me and I think for a number of other people on the trip, the most humbling experience was being the featured choral group at that ceremony," Lee said.
About a month prior, the Glee Club surprised Rosemary with an honorary induction into the group during the annual Home Concert.
"I had no clue," said Rosemary, who sang with the club in Europe during the final day. "Lee was already up there, and then they asked me to come up on the stage."
That interaction and unique collaboration between students and alumni make Glee Club — and trips like this — special, Jones said.
The first overseas tour with alumni was to Italy in 2017, and Jones said the number of participants has more than doubled since then. The hope is to take another international trip in 2025.
"It's an amazing opportunity to experience the world, music, art, culture, and history," Jones said.
Gluntz agreed, calling the trip a "once-in-a-lifetime experience." They walked through the University of Oxford, with a history that stretches nine centuries; heard from a general who was at the Normandy Invasion; and went to the club where the Beatles were discovered.
"The fact I was able to be with all my best friends in college made it that much better," Gluntz said.