Doris Bergen Center personifies the life and work of an extraordinary researcher, mentor, and advocate
A legacy of bringing people together to work on complex problems that can improve society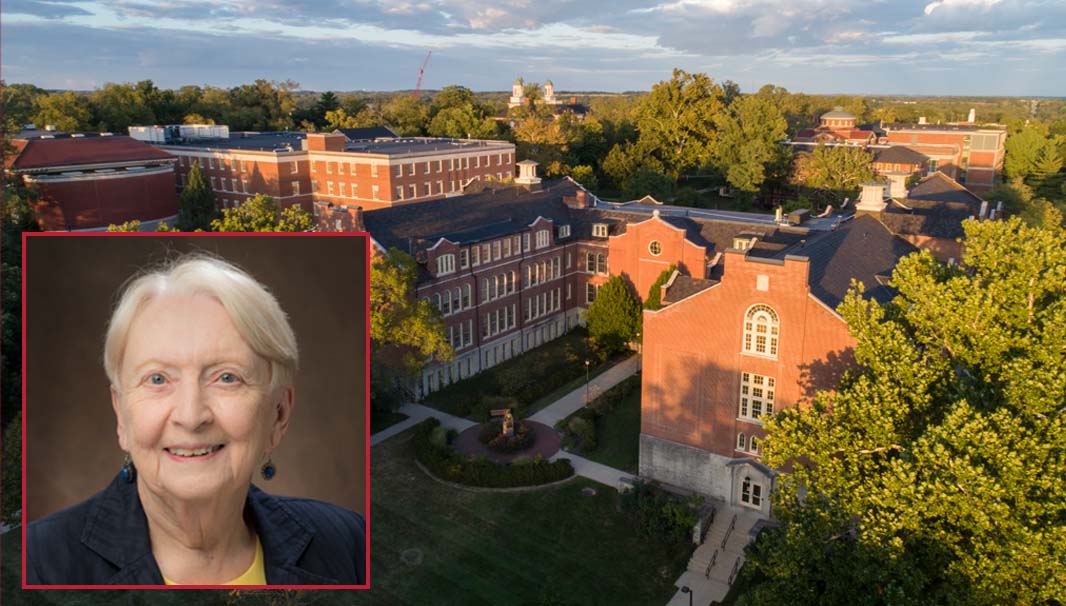 Doris Bergen Center personifies the life and work of an extraordinary researcher, mentor, and advocate
(Doris Bergen, Distinguished Professor of Educational Psychology emerita and a member of the Miami University community since 1988, died July 5)
The Doris Bergen Center for Human Development, Learning, and Technology (CHDLT) was created in 1990, back when the pursuit of interdisciplinary reach and collaborations weren't nearly as common, when even the idea of an interdisciplinary focus was still foreign to most people. 
But the story behind the CHDLT begins much earlier. Because the center, really, is another personification of the life and work of Doris Bergen herself, and she was not like most people. 
"She had vision"
Because as a Distinguished Professor of Educational Psychology Emerita at Miami University, Bergen wasn't just an extremely prolific scholar – she was – having published twelve books and over 150 journal articles and book chapters.
Nor did she just make significant advancements in her field. She did. Asking questions that no one had yet thought to ask, making new connections between children's play and childhood development, and revealing piercing insights into the nature of play as both an educational process and a fundamental psychological construct.
She was also able to take new knowledge and clear research and distill it down to practical application, to use it to actually improve classrooms, local communities, and the lives of real people. 
She helped build better playgrounds and preschools. She helped people understand why recess was important, why parents should encourage kids to play with certain kinds of toys. And she was able to channel her efforts through an advocacy lens that stressed the importance of it all. 
"She had vision," said Darrel Davis, Miami professor of Educational Psychology. "But it wasn't just vision. She could also bring so many different people together — from psychology, the sciences, constituents in the university, businesses, child agencies across Ohio. She could always galvanize a spirit towards a goal." 
A center of centers
When the CHDLT opened in 1990, Bergen was already the chair of Miami's Educational Psychology department. Though she was involved in the center's inception, she did not become director until 1992. But she would serve in that role until her retirement in 2013, when it was named in her honor.
During that time, the center became a focal point for an array of interdisciplinary efforts that required the perspective and participation of people from many different places.
"When Doris and her colleagues were first working together, they discovered that it's great to have an educational psychologist or teacher educators involved," said Kevin Bush, professor of Educational Psychology and Social Work, and current CHDLT co-director. "But they realized we also need people from engineering, psychology, nursing, and other disciplines who have other ways of looking at the same problems." 
Many of those problems also stemmed from Bergen's own advocacy work. Research, for example, around the education, schooling, support, and resilience of at-risk populations — especially children, youth, and families — have always been central to the center's mission.
Today the center includes 61 faculty from across 12 departments and four divisions on campus.
"That's also part of the value of being a faculty associate of the center," said Christopher Wolfe, Psychology professor and current CHDLT co-director. "It's that continuous connection with other people in different areas. A lot of advances are made by bringing people together to work on complex problems, with team science." 
Since 2015, more than $15.5 million in external funding secured by CHDLT affiliates has gone through the CHDLT. And its faculty associates not only conduct interdisciplinary research, consulting, training, and evaluation services, they also use the center to host professional development opportunities, provide seed grants to stimulate proposals, and to support many undergraduate student research projects.
And over the years it's contributed to many other interrelated centers, organizations, and initiatives. 
At Miami, Bergen  and the CHDLT has helped establish and/or support the Discovery Center, Project Dragonfly, the Center for the Study and Support of Children and Families of the Incarcerated, the Center for School-Based Mental Health Programs, and more. 
Across the community, it also helped many programs/organizations serving children. 
In 2006, the CHDLT began conducting annual evaluations of the Butler County Success Program, for example, helping the program as they expanded from one school district to all 10 throughout Butler County, and all five districts in Preble County. The center also helped develop a literacy center in Cincinnati, College Adventure Week for teenage students with disabilities, a partnership with Scottish Rite Masons of the Northern Jurisdiction, and more.
"The center is the biggest example of her ability to get people from areas who have seemingly nothing in common, to come together, and see what they have in common," Davis said. "It represents her ability to gather and motivate people." 
"Her fingerprints are everywhere"
It's this same spirit that has also led to numerous projects beyond the CHDLT as well. 
When her academic work revealed connections between literacy, healthy relationships, emotional intelligence, science, creativity, and positive childhood development, she then helped establish the Miami University Child Development Center operated by Mini University.
"She did that," Davis said. "A lot of academics might just write the book chapter or the article. But how many of them will go build a preschool?"
When she saw a need to improve a local urban environment, she helped establish the Hamilton Tree Advisory Board. "Which is a huge deal now," Davis said. "Now there's a fully functioning tree board that's been going on for years. It's incredible."
And it's this same spirit that has also seen Bergen as an inspirational presence in the lives of so many others.
"She served as a mentor for a lot of us," Bush said. 
"And it's like a lot of people," Davis adds. "She was really good at mentoring people who then carry the work forward." Davis said. "Just look across the campus and you'll see that her fingerprints are everywhere because she has a tremendous impact on people." 
This legacy continues to influence the mission and work of the CHDLT, which recently connected with ASPIRE to bring other research centers across the campus to meet and discuss possible future collaborations.
Other new projects include intelligent tutoring systems, and new faculty associates from Nursing and Emerging Technology in Business + Design have come aboard as well.
Bergen's vision, ability to motivate different people to work together, and her enthusiasm for the work itself are among the many remarkable qualities that are not embedded not only throughout the center, but also carried on by those who she inspired and empowered along the way.