To Thread or Not to Thread? Testing Meta's Newest Platform
Miami University's social media team recently launched the official Miami University Threads account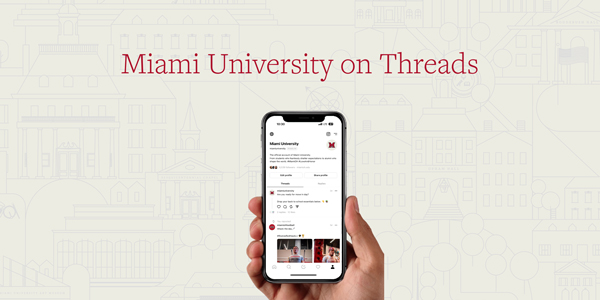 There is a new thread that's tying many generations together – get to know the platform that's changing the social media space. Welcome, Threads – Meta's newest platform. 
"Meta products touch nearly everyone," Glenn Platt, C. Michael Armstrong Chair in Emerging Technology at Miami University, said. "I will definitely be talking about Threads in my courses. We cover the entire Meta ecosystem at the beginning of the semester."
So, it's no surprise the Meta-owned platform gained more than 100 million users in its first week, and many are excited to explore the new channel. The best part about Threads? It should feel like a familiar face.
The new app is integrated with every Instagram user's profile. Combining many elements of other social media platforms, you'll enjoy the channel whether you prefer content or visuals. Users can post words, photos, and/or videos. 
How Miami University is using Threads
Our social media team recently launched the official Miami University Threads account. Within the first few days, the account earned nearly 6,000 followers. We started off strong by posting a simple "Love and Honor" message as our first thread. 
By following Miami's official account, discover a wide range of content, including: 
Photos of our beautiful campus, 

Faculty and student research,

Appearances from our own Ivy and Newton,

Swoop appreciation threads,

Conversations with Miamians all over the world,

And much more! 
As we continue to test this platform in its infancy, you'll see the more light-hearted, playful side of the university.
Looking Ahead: New Features to Come
With the app in its early stages, several features haven't been rolled out just yet. Instagram's CEO, Adam Mosseri, has mentioned in his threads some new features to watch out for in the future including search, hashtags, following feed, and messaging.
Features we hope to see announced: 
Business accounts, 

Data tracking,

Adding user-generated alt text.
Managers of social media accounts (or those who are just interested in picking up a new channel for fun) might wonder if it is worth joining the latest social media platform. "Without the analytics, as a brand, it's hard to talk about a good strategy for the platform," Platt said. 
Our digital team is currently testing the app and its relevance within the higher education space. As an individual, we suggest giving it a try. 
Questions about joining Threads as a manager of a Miami-related account? Reach out to socialmedia@miamioh.edu for help and/or to learn more about the social media account approval process.