RedHawk Alert provides Miami community with emergency updates
Formerly known as Omnilert, text message system available to students, faculty, and staff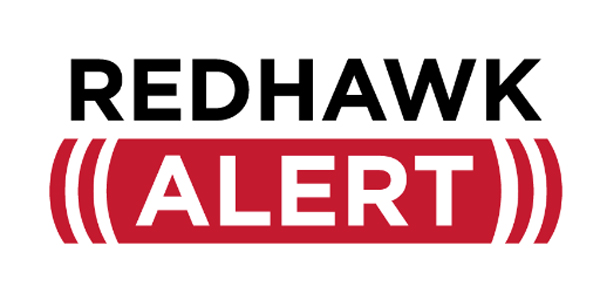 Miami University's emergency text messaging system now has a new name.
Rechristened RedHawk Alert, the system provides emergency notifications and is available to students, faculty, and staff on Miami's Butler County campuses. Previously known as Omnilert, RedHawk Alert will advise users on situations that pose immediate danger or if a campus is closed.
Even though the name has changed, RedHawk Alert is still powered by Omnilert's mass notification services. The rebranding is a way to bring awareness to the service for a better understanding of its purpose, said Chief Stephen VanWinkle of the Miami University Police Department (MUPD).
"We want our community to know that these messages are sent to be specific to Miami and urgent, so that when they receive one, they know to check the information and can make the most informed decisions to ensure their safety," VanWinkle said.
Guests and visitors to Miami may opt-in to the system while they are on campus. Also available is Nixle, a text-message alert system used by the Oxford Police Department, Oxford Township Police Department, and Butler County Sheriff's Office.
MUPD also utilizes Rave Guardian, an app that features many safety features for members of the Miami community
A QR code to sign up for RedHawk Alert will be offered on stickers, window clings, and coffee cup sleeves. Miami's procedures and contacts also are accessible in the case of emergencies.
"We wanted to make it more recognizable with the student population and with employees as well," said Captain James Bechtolt of the MUPD. "The sign-up method, notification process, and testing are all still the same."
The rebranding effort coincides with National Campus Safety Awareness Month. Several events are planned by MUPD throughout September, including participation in Mega Fair on Sept. 3; Coffee with a Cop at Armstrong Student Center from 11 a.m.-1 p.m. on Sept. 6; and the Campus Safety Fair on Sept. 21 at Armstrong Student Center.
A Thrive Self-Defense Workshop is from 6-8 p.m. on Sept. 14 and is open to all Miami students, faculty, staff, and community members. The location is still to be determined with a social media blast planned to help publicize the event.
There also are medication drug take-back sessions scheduled on three of Miami's campuses:
Sept. 15 from 10 a.m.-noon at 100 Johnston Hall on the Middletown campus.

Sept. 15 from 1-3 p.m. at 105 Mosler Hall on the Hamilton campus.

Sept. 27, 11 a.m.-1 p.m. in the Armstrong Student Center atrium next to Lux Café on the Oxford campus.
VanWinkle noted Campus Safety Month helps bring awareness to the services provided by the MUPD.
"Whether they want to request MUPD programs for active threats, severe weather, learn some self-defense tactics, or ensure a safe home by disposing of outdated or unused medications, we are here to help them have a safe and successful experience at Miami," VanWinkle said.
MUPD also publishes an email newsletter throughout the year which contains specifics for community initiatives.
"We enjoy meeting and talking with students, hearing what is going on, what their thoughts or concerns are," Bechtolt said. "These are the perfect opportunities for us to get to know the people we are here to serve. These events are invaluable."