Headline Highlights: Miami and Miamians in the news in September
Our editors' picks for September provide a snapshot of recent news media coverage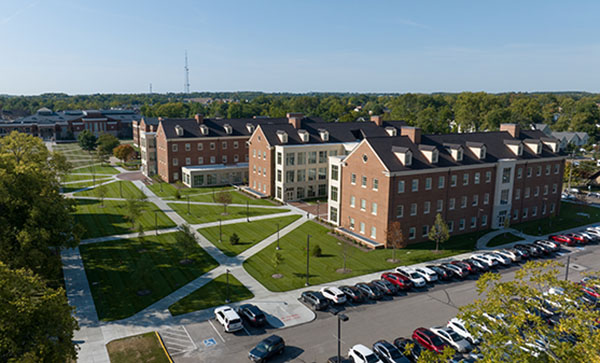 The new Clinical Health Sciences and Wellness facility had its grand opening September 14 (photo by Jeff Sabo)
Headline Highlights: Miami and Miamians in the news in September
The new Clinical Health Sciences and Wellness facility had its grand opening September 14 (photo by Jeff Sabo)
James Rubenstein, adjunct professor emeritus of Geography, is quoted in this story about the auto workers' strike. 
Tammy Kernodle, University Distinguished Professor of Music, penned this OpEd on Jann Wenner, the co-founder of Rolling Stone magazine and his recent remarks that sparked a cultural firestorm. 
This article detailing how Gen Z employees respond to and expect managerial feedback was written by Megan Gerhardt, professor of Management.
This article on the prehistoric roles of women quotes Kimberly Hamlin, the James and Beth Lewis Professor of History.
This article features a Miami University mother and daughter, Laura and Sarah Bowling, who were assigned to the same residence hall (Emerson Hall) 33 years apart.
This article is about how schools are addressing biases and racism. It quotes Andrew Matschiner, a visiting assistant professor in Educational Leadership, on the subject of utilizing professional development for staff to combat these issues.  
 This article about feedback and performance reviews quotes Megan Gerhardt, professor of Management.