Karla Guinigundo's MacMillan Hall office filled with keepsakes from her travels
The director of global partnerships hopes to motivate students to accept the challenge of adding a global experience into their academic or professional development plans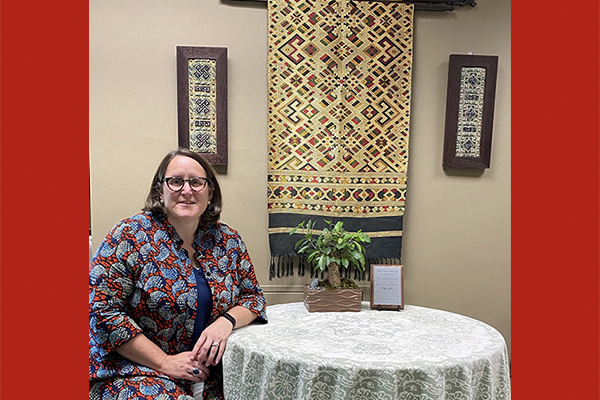 Karla Guinigundo sits in her office in front of a hand-woven Vietnamese scarf and two pieces of Hmong embroidery.
Karla Guinigundo's MacMillan Hall office filled with keepsakes from her travels
Karla Guinigundo sits in her office in front of a hand-woven Vietnamese scarf and two pieces of Hmong embroidery.
This is the latest of an occasional feature in Miami Matters about where we work at Miami. Have an idea about an interesting or cool office space we should spotlight with a story or video? Share your ideas with us at kisselm@MiamiOH.edu.
Karla Guinigundo '99 sees her MacMillan Hall office as "something of a living, Asia-inspired travelogue" filled with mementos from her travels.
The director of global partnerships in Global Initiatives facilitates partnership development between Miami University and higher education institutions abroad, manages the agreements pertaining to these partnerships, and hosts visiting delegations on Miami's Oxford campus. She also collaborates with faculty and departments on grant proposals for international projects and advises students competing for national fellowships and scholarships.  
"Wherever I go, I gravitate towards textiles. I'm a sewer and quilter, so textile traditions are a keen interest for me," she said. "In my office, I have several textile examples — a Malaysian batik tablecloth, two framed pieces of Hmong embroidery, a woven Vietnamese scarf, and an Indian toran (door hanging)."
One of her favorite items is a small pewter plate with the image of the island of Penang, Malaysia on it. That's where she spent 7th, 8th, and 9th grades at Dalat International School. The plate was a gift from her junior high teacher.
"My other favorite item is a piece of khadi (homespun cotton cloth) from Mahatma Gandhi's ashram in Ahmedabad, India," she said, noting that Gandhi's khadi movement — encouraging his followers to spin their own cloth and wear only homespun fabric rather than purchase British cloth manufactured from Indian cotton — helped end the British empire in India.
"It is a nice reminder that even simple actions can have significant impact," she said.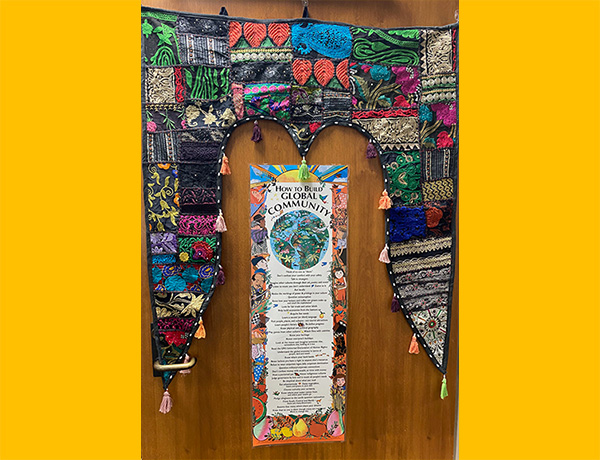 Guinigundo displays an Indian toran (door hanging).
This summer, Guinigundo traveled to India with 11 faculty members from eight departments. The trip was funded by a Fulbright Hays Group Project Abroad grant through the U.S. Department of Education.
"The objective was to enable Miami faculty who teach Miami Plan courses to engage with counterparts in their disciplines in India to learn about different perspectives on the topics they teach (as well as learn about India generally)," she said. Faculty will incorporate what they learned into their courses, ultimately exposing more Miami students to content and perspectives from India.
She brought back two hanging elephant garlands, which are common in India.
"Elephants are a symbol of good fortune in India, so it is common to have these hanging in rooms or in doorways."
What's been her favorite place to travel?  
Angkor Wat and the surrounding temple complexes in Siem Reap, Cambodia are at the top of her list. She has in her office a few items from there, including small replicas of temple carvings and an apsara (celestial being) statue.
"International travel is a great reminder of how much there still is to learn," she said. "I don't think 'global citizenship' or 'global consciousness' is something to be attained as much as it is something to continuously aspire to. There will always be new places to visit, new people to meet, and new ways of knowing to experience that will impact our understanding of the world."
She loves the questions she gets from students when they visit her office.
"Pushing yourself out of your cultural comfort zone to study abroad or pursue a Fulbright grant or other nationally competitive awards can be a daunting prospect for many students," she said.
"By sharing my experiences, I hope to motivate the Miami students I advise to expand what they think is possible and accept the challenge of adding a global experience into their academic or professional development plans."