Celebrating 10 years and 300 episodes of the Stats + Stories podcast: a Q-and-A with the creators and hosts
Ten years. 300 episodes. Not many podcasts can celebrate these milestones but the Stats + Stories podcast can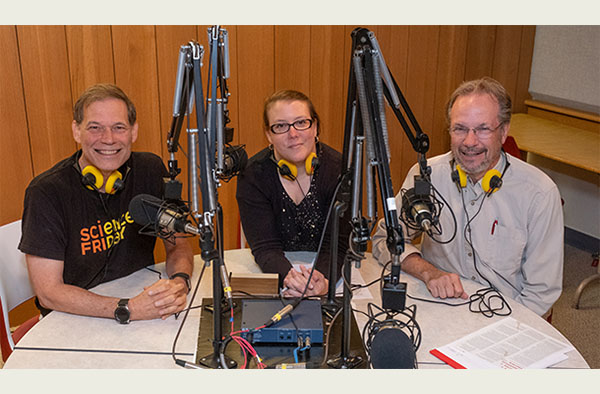 John Bailer, Rosemary Pennington, and Richard Campbell, creators and hosts of the Stats + Stories podcast (photo by Scott Kissell)
Celebrating 10 years and 300 episodes of the Stats + Stories podcast: a Q-and-A with the creators and hosts
John Bailer, Rosemary Pennington, and Richard Campbell, creators and hosts of the Stats + Stories podcast (photo by Scott Kissell)
Chances are you might be one of the thousands of listeners of the Stats + Stories podcast, which celebrated its 10th year and 300th episode on Oct. 19. 
Stats + Stories is a partnership between statistics and journalism that strives to tell the statistics behind the stories and the stories behind the statistics, said creator and host John Bailer. 
The idea for the podcast originated from a 2009 course, News and Numbers, taught by Bailer, Miami University Distinguished Professor Emeritus of Statistics and former president of the International Statistical Institute (2019-2021), and co-creator Richard Campbell, professor emeritus and founding chair of the Department of Media, Journalism, and Film. 
Campbell was a Stats + Stories host until he retired in 2016, when journalist  Rosemary Pennington, associate professor of Media, Journalism, and Film, joined as the podcast's host and moderator. 
Drawing from their experience, Bailer and Pennington co-authored "Statistics Behind the Headlines," published last year. 
Recent episodes of this long-running podcast have featured topics ranging from factors impacting site selection for the FIFA Women's World Cup, what is learned from bird banding, universal basic income, medical murders, and household surveys (see recent episodes for a complete list). 
Bailer, Campbell, and Pennington were honored with the 2021 Joint Policy Board for Mathematics (JPBM) Communications Award for the "engaging, entertaining, and enlightening" Stats + Stories podcast.
The podcast is supported by the departments of Statistics and Media, Journalism, and Film along with the American Statistical Association and is available on streaming sites including Apple, Spotify, Soundcloud, and more.
We checked in with the creators and hosts for a Q-and-A:
When you started the Stats + Stories podcast, did you ever think that it would still be going strong 10 years later?
John: I'm not sure I thought about it at the time. I don't think we had any idea it would continue. We were scrambling to release an episode every 6-8 weeks with in-person guests, and it was not clear that this would be sustainable. We didn't anticipate the ability to do virtual, remote recordings with the ease that is now possible, nor did we predict the support of a professional society. 
Richard: I thought maybe a year … and then John would get tired of how little I knew about statistics.
John: No way, Richard. I had a blast teaching the News and Numbers class (his course "News and Numbers," co-taught with journalism professor Richard Campbell in 2009, was "one of the most unique and engaging classes I took while at Miami," a former student said.) and the podcast was a fun collaboration, so I wasn't in any hurry to see it finish.
With your new book out, have you noticed an increase in listeners?
John: The publication of the book led to a talk at the May US Conference on Teaching Statistics where the Consortium for the Advancement of Undergraduate Statistics Education (CAUSE) director proposed a contest where the best lesson plan associated with the podcast will win a cash prize (entries due this January). I think this might result in an increase in audience size, so perhaps the book's impact is still to be observed.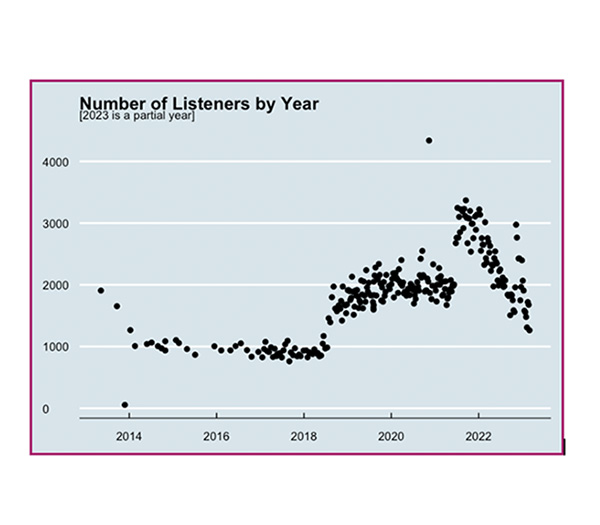 How do you keep the content and topics fresh after 300 episodes? Is it partly due to being driven by news of the day?
Rosemary: It's a combination of things. It's certainly driven by news — I'm still very much a newshound and look for newshooks — but also by personal interest. John and I often send each other social media posts or articles and books that we've read because we think they might make a good episode. Of course, we also get suggestions from people in our respective fields, too. I think we're both sort of curious about everything and that curiosity often drives the show. 
John: What Rosemary said: News and personal interest are major drivers of content. In addition, we have regular conversations with the editors of two magazines, Chance and Significance. They share titles and articles from their upcoming issues and help us to connect to authors. For example, we are planning to record an episode with the author of a recent article on the data needed to evaluate to prepare for a climb of Mount Everest. 
Are there some "special" guests coming up this next year? 
John: Hey, all of our guests are special. 
Rosemary: Unlike John, I will give an answer. We are trying to bring on Melissa Johnston — a researcher at University of Tübingen — who has found evidence that crows use statistics. I love crows and have spent the summer trying to befriend some in my backyard, so I can't wait to talk to her and see if I get some tips on how to gain some crow buddies. 
John: Rosemary, I hadn't finished my answer. Believe it or not, I wanted to think a little before answering. Other upcoming guests include a director of the UN Refugee Agency and another guest (still to be arranged) may discuss how to evaluate who is winning the war in the Ukraine. By the way, the crow episode has a great potential to be a Halloween special episode … "Thus quoth the raven, A is more likely than B."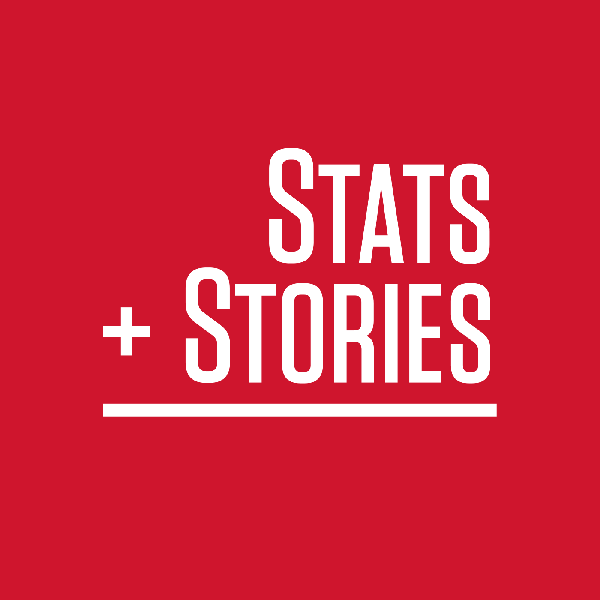 What have been some surprises you've encountered along the way? 
Rosemary: There's a real loyalty built into the listenership, which is wonderful. It feels like a relationship because you do have people regularly interacting with you in social media or sometimes suggesting guests. I've connected interpersonally with researchers who I would have never met otherwise, which is really cool. Our listeners often feel really connected to us. I've had several tell me they feel like they know me, even though we've never met. I worked in public radio before becoming an academic and often had people tell me similar things; I had not considered that a podcast might create the same feeling in listeners. 
John: As Rosemary mentioned, it is fun to meet listeners who comment on how it is nice to meet us after hearing our voices on the podcast. One experience that still brings a smile for me was when my niece who was in high school reported: do you know that my math teacher was excited when he found out you were my uncle? He loves your podcast! I was delighted to hear that this podcast somehow made it onto the radar of a high school teacher. 
It still surprises me that people say "yes" when invited to join us for a conversation on the podcast. We've had senior government officials including the current Census director (well, before he was director), scientists, journalists, and more all agree to take time and talk about what they do and why they do it. 
Richard: I am surprised it's still going. More seriously, I can't believe how much I learned along the way.
Do you have a favorite or memorable-to-you episode/guest/subject? 
Rosemary: This is going to be so cheesy, but I really enjoy all our episodes because I learn so much. But one interview that I particularly enjoyed featured science journalist and author Angela Saini. Her book on pseudo-scientific race "science," "Superior: The Return of Race Science," is so important. She's such a thoughtful speaker and writer, and I really enjoyed the opportunity to talk with her about her work for that book. 
John: I echo Rosemary's sentiment about the pleasure that each conversation brings. We've talked a couple of times with Megan Price, director of the Human Rights Data Analysis Group (HRDAG), and her colleagues. I love the idea of data analysis contributing to the promotion of human rights. The conversations on filter bubbles, propaganda, misinformation, and inoculation for misinformation with guests Francesca Tripodi and Sander van der Linden were fascinating. Finally, the opportunity to talk with Nan Laird and Brad Efron, International Prize Winners in Statistics, was amazing for me since they are living legends in my discipline.
Richard: I have a personal favorite — Rick Ludwin. Rick was a '70 Miami grad and also the NBC VP who kept "Seinfeld" on the air when it had low ratings. The podcast was about how TV ratings impact programming decisions. We did two episodes with Rick, who died unexpectedly in 2019. He was a big supporter of Miami and helped us start our Inside Hollywood program. I also liked the two episodes we did on "news deserts" and the sad decline of local journalism — with Penny Abernathy and Tom Stites.
Below: Winner of the Stats + Stories 300th Episode Data Visualization Contest. View the interactive visualization on the Stats +Stories website.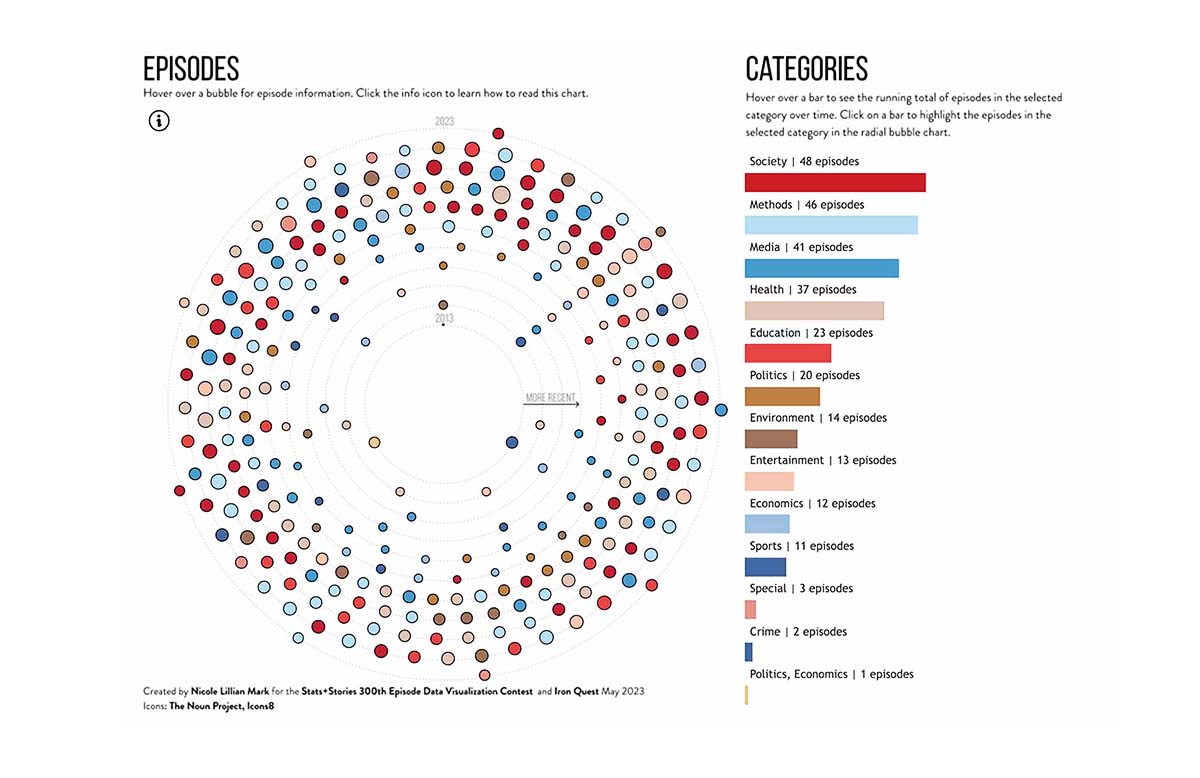 Stats + Stories held a 300th Episode Data Visualization Contest for listeners to vote for their favorite of five finalists. The winner (above) was featured on the 300th episode. View the interactive visualizations on statsandstories.net/voting
How about a recommended "starter" episode for someone who might be thinking "sounds like too much math for me"?
John: The best starter episode will be one that connects to your interests. For example, the episode related to an analysis of who was the best friend on the television show "Friends" might attract a fan of popular media. Timandra Harkness has worked in comedy and is an author of a Big Data book along with articles in Significance magazine on the data economy. Her episodes are a lot of fun. Maybe start here. The statistics of the year, sports statistics of the year, and statistics of the decade are good places to start too.
Rosemary: I think two fairly recent guests (and repeat guests) have offered up good starter episodes. SLAM's Adam Beissel has been on to talk about sports and stats a couple of times, and Sander van der Linden's episodes on misinformation are pretty general listener friendly. Debby Herbenick's episodes on sex research are also a really fun, and informative, listen. 
Richard:  I would start with the 100th (or so) anniversary episode we did about how the podcast got started. 
What is one of your favorite podcasts that is not Stats + Stories? 
John: Only one — not possible for me! "Science Friday" and "Freakonomics" were early favorites. "More or Less: Behind the Stats" is a great podcast and really well done. "Deep Questions" with Cal Newport (author of "Deep Work" and "The World Without Email"), "The Greg McKeown Podcast"(Essentialism author) and "On Purpose" with Jay Sheddy are other favorites. 
Rosemary: "The Infinite Monkey Cage"
John: Rosemary is being a show-off and answering the question exactly as answered. 
Richard: I listen way too much to old music, so I'm not a big podcast listener. But when traveling, I occasionally listen to "Conan O'Brien Needs a Friend." I am semi-embarrassed to admit that back in 2015-16 I did get hooked on Entertainment Weekly's Twin Peaks podcast during the second iteration of TP, the best satire ever of network television. I am also a big David Lynch fan.
It is important to recognize the village this podcast takes to produce, Bailer said.
Stats + Stories contributors include:
Charles Blades, podcast producer, engineer, web designer

Steve Beitzel, chief engineer

Ringo Jones, engineer

Rob Hinton, producer

Paula Fogt, web designer

Guy Moore, podcast producer

Larry Downes, IT consultant

Vickie Sandlin, logistics for guest hosting and more

13 student reporters contributed to early podcasts 
Some of the episodes with more than 3,000 listens (as of Feb. 2023):
"Monitoring Health Data;" guest Glen Wright Colopy (11/12/2020): 4,337 listens
"MemeMedianMode Contest Winner;' guests 

Nynke Krol, Eric Daza (9/16/2021): 3,368 listens

"Sounding Human When Talking About Statistics;' guest Kevin McConway (8/5/2021): 3,223 listens

"What is Nutrition Science?;' guest Michelle Cardel (1/13/2022): 3.136 listens

"The Best Friend on Friends;' guest Mathias Basner (2/24/2022): 3,014 listens