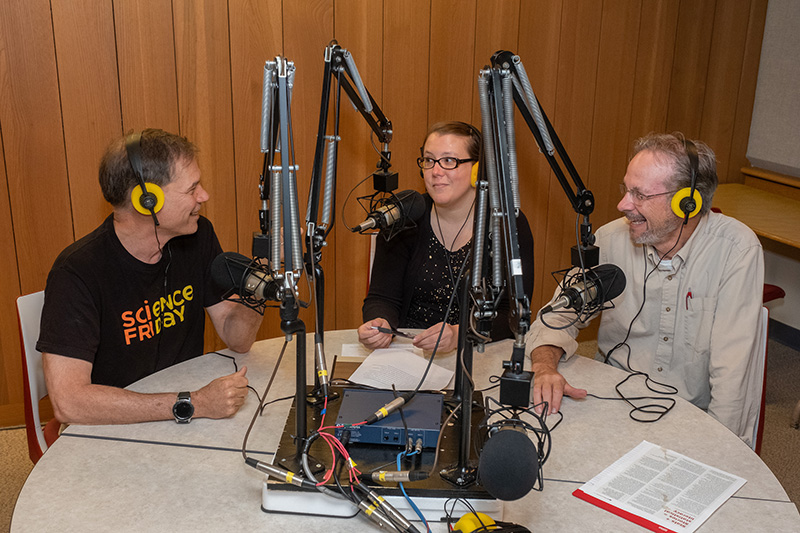 Oct 28, 2020
Stats+Stories podcast honored with national award for mathematics communications
John Bailer also honored with American Statistics Association Founders Award
The Founders Award recognizes members who have rendered distinguished service to the association.
Bailer was recognized for his leadership in statistics at the international level; for leadership of the ASA Risk Analysis and Statistics and the Environment sections and of the ASA Cincinnati Chapter; for service on the ASA board of directors, and for creating, producing and performing in the Stats + Stories podcast.
Translating math and science for a general audience is key to challenging anti-science
By Susan Meikle, university news and communications 
Miami University's John Bailer, Richard Campbell and Rosemary Pennington have been honored with the 2021 Joint Policy Board for Mathematics (JPBM) Communications Award for their "engaging, entertaining and enlightening" Stats + Stories podcast.
The annual award is designed to reward and encourage communicators who, on a sustained basis, bring mathematical ideas and information to non-mathematical audiences. 
Created in 2013 by Bailer, a statistician, and Campbell, a journalist, Stats + Stories brings "the statistics behind the stories and the stories behind the statistics" to public radio and a broad podcast audience.
Bailer, Miami University Distinguished Professor, chair of statistics and president of the International Statistical Institute (2019-2021), said, "During times when allegations of false news are common and trust in science varies, there continues to be a call for a forum to consider the statistics behind the stories and the stories behind the statistics."
Campbell, professor emeritus and founding chair of Miami's media, journalism and film department, said that the ability for a mathematician or scientist to "translate the complexities of her work into a story for a general audience is key to challenging the anti-science and anti-evidence strains running through our mediated culture."
He recommends every journalism student take a statistics course, and that every statistics and mathematics major take a journalism course, if possible.
Pennington, also a journalist and moderator of Stats + Stories, was a former science and medical reporter, which helped her develop a deep appreciation for "all that math can help us understand about our world," she said. "Sometimes, all it takes is the right story, or the right storyteller, to unlock the beauty of math for someone who may have struggled with it in the past."
She is currently an assistant professor of journalism at Miami, with a research focus on media representations of marginalized groups.
Partnering with good people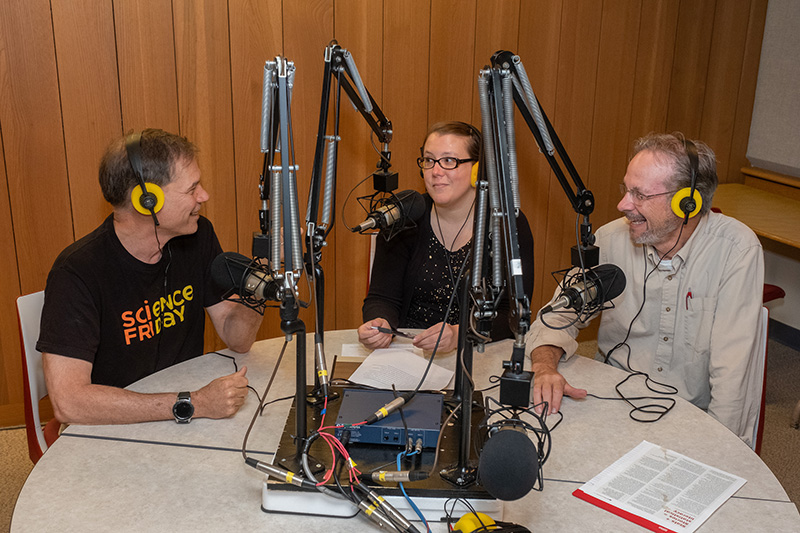 Left to right: Bailer, Pennington and Campbell celebrate the 100th episode of Stats + Stories in May, 2019 (photo by Jeff Sabo).
"One of my first reactions to hearing about this award was the recognition of the importance of partnering with good people," Bailer said. He has collaborated with Campbell for more than a decade and with Pennington for the last six years.
The podcast team extends thanks to those who helped make the "on air" panel sound and look good — the sound and recording engineers and those involved with web page support and podcast / show production — including Bob Long, the podcast's first moderator. They recognize the College of Arts and Science for facilities and other resources contributing to the podcast. 
Campbell said "It has been an absolute pleasure working with our team on Stats + Stories. So much so that I keep doing it in retirement, still learning from the terrific guests we have had on the podcast over the years."
They will receive the award with co-winner Erica Klarreich, writer and mathematician, during the 2021 Virtual Joint Mathematics Meetings in January.
JPBM  is a collaborative effort of the American Mathematical Society, the Mathematical Association of America, the Society for Industrial and Applied Mathematics, and the American Statistical Association.
Follow them on Twitter:
Read more about Stats + Stories and the podcast team in the College of Arts and Science story "Stats + Stories podcast wins national award."