PCLC Climate Commitment: Virtual Signing Ceremony Sept. 22
Sept. 2020: 
Join Miami University President Greg Crawford as he signs the Second Nature's Presidents' Climate Leadership Commitments (PCLC) Climate Commitment in a virtual ceremony at noon Tuesday, Sept. 22.
Second Nature president Tim Carter, members of Miami's new Climate Action Task Force executive steering committee, the office of sustainability, and Oxford Mayor Mike Smith will give brief remarks during the ceremony.
Climate Commitment = Carbon + Resilience
Miami will join more than 400 other colleges and universities that have signed Second Nature's  PCLC commitment to carbon neutrality and will join the 111 schools that have also committed to resilience through the climate commitment.
Climate Commitment: The most comprehensive of the commitments, Climate combines the Resilience and Carbon commitments.  
Resilience Commitment: Committing to adapt to the impacts of climate change through campus/community engagement.
Carbon Commitment: Committing to reduce greenhouse gas emissions and achieve carbon neutrality as soon as possible.
Next steps: Complete resilience assessment in 2022; Climate Action Plan in 2023.
The PCLC timeline starts upon signing the commitments. Miami has already met the first step of creating a Climate Action Task Force. Major steps are:
Within 2 years: Complete a Campus-Community Resilience Assessment (by September 2022).
Within 3 years: Develop comprehensive Climate Action Plan and set a target for achieving carbon neutrality (by September 2023).
Updates will be posted on this website and on Miami University Sustainability social media.
Read the full story: Moving off steam: Utility Master Plan provides a path toward carbon neutrality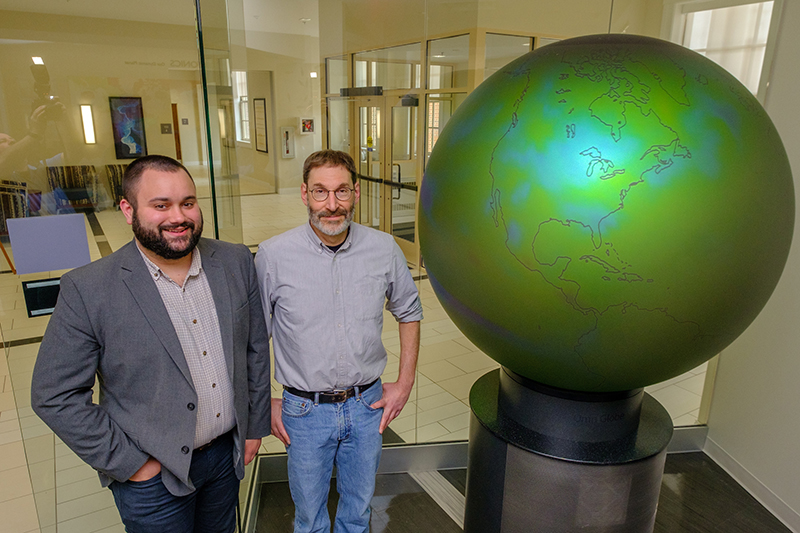 Adam Sizemore (left) and Jonathan Levy, co-chairs of the Climate Action Task Force.
---
♺ Recycling Tips
Miami's recycling and solid waste reduction efforts have come a long way since becoming part of campus operations in 1989. But what can be tossed into those blue recycle bins around campus?
Miami University is committed to sustainability in our academic programs, physical campus and operations, and university mission by promoting environmental stewardship, social responsibility, and economic viability for current and future generations. This commitment is a collaborative effort that involves students, faculty, staff and external partners.
Miami's various sustainability stakeholders include, but are not limited to, current and future students, parents, alumni, faculty, staff, suppliers, contractors, residents of the communities in which we operate, and those who live both within and beyond the boundaries of the state.
Contact us at Sustainability@MiamiOH.edu.
Battery Disposal
Battery collection bins are conveniently located in King Library, Shriver Center, and the Rec Center. To begin recycling batteries in your building, submit a service request to Physical Facilities.
Sustainability Partnerships
MU-Lean
MU-Lean is a method of organizing human activities to deliver more benefits and value to customers while systematically eliminating waste within processes.
Physical Facilities (PFD)
Physical Facilities (PFD) creates a more sustainable and green campus through proper waste management, energy conservation, and responsible construction practices.
Sustainability in the News