Miami is a Top 100 Sierra Club Cool School and a Princeton Review Green College
Nov. 2020
Check out our new Sustainability Snapshot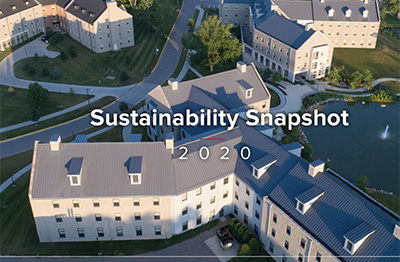 Miami University ranked 71st among the Sierra Club's "Coolest Schools" 2020 for the greenest colleges. Miami is the top Ohio public university on the list of 312 schools ranked based on food, energy, waste, research, transportation and curriculum.
Miami is also again listed in The Princeton Review Guide to Green Colleges: 2021 Edition, one of 416 schools selected for being environmentally responsible.
The Sierra Club and the Princeton Review both use data from institutions' Sustainability Tracking, Assessment & Rating System (STARS) reports in collaboration with the Association for the Advancement of Sustainability in Higher Education.
Miami has spent 10 years on the path to carbon neutrality by transforming energy systems on the Oxford campus. In September, Miami became a signatory of Second Nature's Presidents' Climate Leadership Commitments (PCLC) climate commitment, pledging Miami to carbon neutrality and climate resilience. 
The PCLC Climate Commitment moves us forward, expanding our reach to long-term climate action and community partnerships that are the path to a sustainable future.
Take a look our new 2020 Sustainability Snapshot:An at-a-glance guide to Miami's sustainability initiatives and path to carbon neutrality.
Oct. 2020
Climate Action Task Force seeking student representative: Apply by Oct. 18
Miami's new Climate Action Task Force (CATF) executive steering committee is seeking students interested in sustainability and climate change to apply for the position of CATF Student Representative.
Sept. 2020 
Thank you!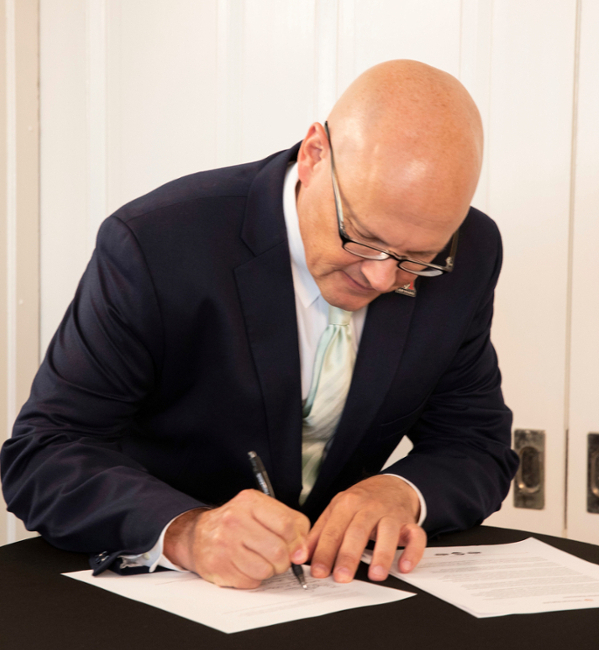 Thank you to Miami President Greg Crawford, Second Nature's President Tim Carter, Oxford mayor Mike Smith and assistant city manager Jessica Greene; members of Miami's new Climate Action Task Force; and nearly 100 attendees: The Autumnal Equinox (Sept. 22) signing of the Presidents' Climate Leadership Commitments (PCLC) was a memorable event! (link to Zoom recording posted soon).
Climate Commitment = Carbon + Resilience
Miami has joined more than 400 other colleges and universities that have signed Second Nature's  PCLC commitment to carbon neutrality and will join the 111 schools that have also committed to resilience through the climate commitment.
Next steps: Complete resilience assessment in 2022; Climate Action Plan in 2023.
The PCLC timeline starts upon signing the commitments. Miami has already met the first step of creating a Climate Action Task Force. Major steps are:
Within 2 years: Complete a Campus-Community Resilience Assessment (by September 2022).
Within 3 years: Develop comprehensive Climate Action Plan and set a target for achieving carbon neutrality (by September 2023).
♺ Recycling Tips
Miami's recycling and solid waste reduction efforts have come a long way since becoming part of campus operations in 1989. But what can be tossed into those blue recycle bins around campus?
Miami University is committed to sustainability in our academic programs, physical campus and operations, and university mission by promoting environmental stewardship, social responsibility, and economic viability for current and future generations. This commitment is a collaborative effort that involves students, faculty, staff and external partners.
Miami's various sustainability stakeholders include, but are not limited to, current and future students, parents, alumni, faculty, staff, suppliers, contractors, residents of the communities in which we operate, and those who live both within and beyond the boundaries of the state.
Contact us at Sustainability@MiamiOH.edu.
Battery Disposal
Battery collection bins are conveniently located in King Library, Shriver Center, and the Rec Center. To begin recycling batteries in your building, submit a service request to Physical Facilities.
Sustainability Partnerships
MU-Lean
MU-Lean is a method of organizing human activities to deliver more benefits and value to customers while systematically eliminating waste within processes.
Physical Facilities (PFD)
Physical Facilities (PFD) creates a more sustainable and green campus through proper waste management, energy conservation, and responsible construction practices.
Sustainability in the News