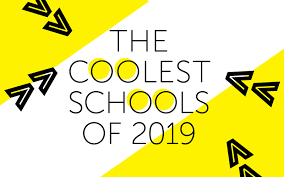 Dec 04, 2019
Sierra Club names Miami one of top 100 "Coolest Schools" in green colleges ranking
Recommending a path to carbon neutrality at Miami
In January 2019, Miami University President Greg Crawford charged the Miami University Sustainability Committee to prepare a new sustainability plan. One of the 10 objectives of the charge was to consider whether Miami should sign the Presidents' Climate Leadership Commitment (PCLC).
With the input of internal and external stakeholders, the committee prepared a report, "A Commitment to Lead: A proposed, renewed vision to position Miami University as a sustainability leader among higher education institutions."
In that report the Sustainability Committee strongly recommended that due to the overwhelming evidence that the impact of climate change requires drastic action, Miami should commit to carbon neutrality by one of two pathways:
Sign the PCLC, which provides guidance and ensures transparency.
OR
Implement our own university-based plan that is transparent and rigorous.
After President Crawford's review in August, and the first meeting of the Sustainability Committee this semester on Sept. 20, Crawford presented a new charge: "to further research and explore an internal plan for Miami University to achieve carbon neutrality" and report by Feb. 1, 2020.
Top five ways Miami has committed to the environment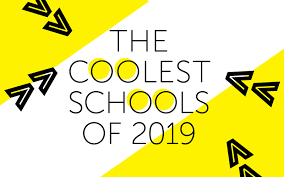 Miami University is 70th among the Sierra Club's "Coolest Schools" 2019 ranking for the greenest colleges.
Miami is the top Ohio public university on the list of 282 schools based on food, energy, waste, research, transportation and curriculum.
The Sierra Club collaborated with the Association for the Advancement of Sustainability in Higher Education to gather raw data for the rankings.
Here are five green points of pride at Miami:
1. Miami consumes half the electric and fossil fuel of peers
With efforts that began more than a decade ago, Miami now consumes half the electric and fossil fuel of its private and public peers.
Among energy efficiencies achieved:
Miami reduced its carbon footprint by 45% per gross square foot since 2008.
Miami has not burned coal on site since 2016.
Watch our short video to see how Miami's physical facilities' energy systems has done more in 2018-2019 on conversions of energy systems off carbon-intensive steam.
The conversions — which will provide a path toward carbon neutrality — have reduced energy use and energy costs and increased energy efficiency. 
2. Miami earned gold in STARS sustainability rating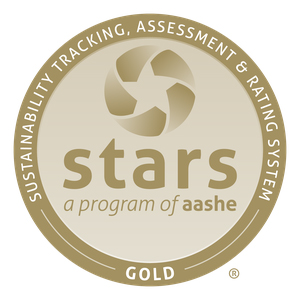 Miami received its first STARS Gold rating in May 2019 in recognition of its sustainability achievements from the Association for the Advancement of Sustainability in Higher Education (AASHE).
Miami achieved a silver rating in 2016 and in 2013. In 2016 Miami's stormwater management plan was noted by AASHE for geothermal wells, rain gardens and pond management that purify, cool and detain stormwater runoff that flows through storm drains, significantly reducing the amount of pollution and superheated water that flows to area creeks.
This progress comes as university leadership and energy engineers from physical facilities meld Sustainability Commitments and Goals with a utility master plan.
The Princeton Review's Green Rating – which gave Miami a score of 96 out of 99 – provides a comprehensive measure of a school's performance as an environmentally aware and prepared institution. It includes:
How well a school is preparing students for employment in the clean-energy economy of the 21st century, as well as for citizenship in a world now defined by environmental concerns and opportunities.
How environmentally responsible a school's policies are.
4. Miami's 29 LEED-certified buildings: 28% gsf of Oxford campus
Four buildings at Miami were recently certified as LEED Gold or Silver rated, giving Miami four LEED Gold and 25 LEED Silver buildings. These buildings account for 28% of the gross square footage (gsf) of Miami's Oxford campus. 
Miami's 2016 Sustainability Commitments and Goals call for achieving LEED Silver for all new construction and major renovation projects.
Learn more on the Sustainability at Miami website.
5. Miami's Institute for the Environment and Sustainability predates EPA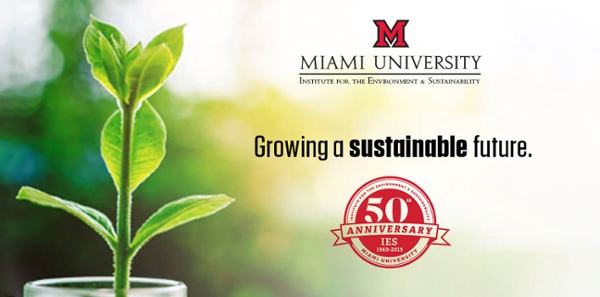 Miami's Institute for the Environment and Sustainability (IES) celebrated its 50th anniversary this year. Established in August 1969 as the Institute of Environmental Science, it predates the founding of the Environmental Protection Agency (December 1970).
Believed to be the oldest program of its type in the country, its professional master's of environmental science degree program was created in 1971.