Miami, Kent State and Ohio University host first collaborative DEI conference
Miami will host next year's conference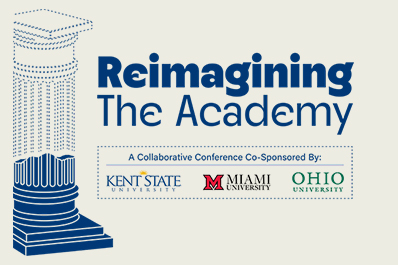 Miami, Kent State and Ohio University host first collaborative DEI conference
More than 60 Miami University faculty, staff, and students attended the first collaborative diversity, equity, and inclusion conference involving Miami, Kent State University, and Ohio University.
The Miami contingent, made up of those attending in-person and virtually, participated in the Reimagining the Academy Conference: Building Communities for Access and Transformational Change at Kent State on Oct. 18-19.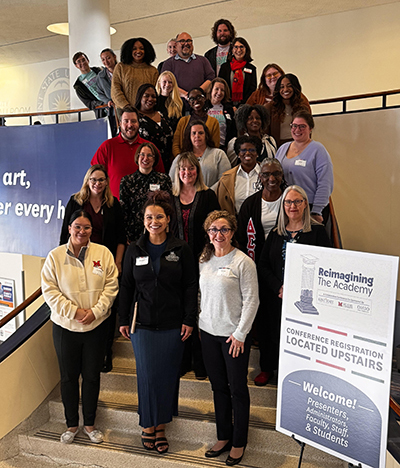 The new alliance allows the universities to come together for one conference that will share expertise and leverage their strengths. 
"It brings our three individual DEI conferences into one larger regional one," said Cristina Alcalde, vice president for institutional diversity and inclusion and professor of Global and Intercultural Studies. She co-chaired the conference steering committee with Amoaba Gooden, vice president of the Division of People, Culture and Belonging and professor of Africana Studies at Kent State.
Miami will host next year's conference.
More than 300 registered for the event that featured keynote speaker, Carol Anderson '81 MA '82, professor of African American Studies at Emory University and author of several best-selling books including the 2016 critically acclaimed "White Rage."
The conference's themes centered on anti-racism in institutional excellence, educators and students as activists and diversity leaders, and building community and mutual dialogue.
Alcalde said the goal of the conference was "to bring our communities together to engage with and learn from one another as we move forward in the direction of transformational change to ensure higher ed across Ohio is equitable and accessible."  
She added, "We are stronger together because we can create networks and communities of support, expertise, and action that go beyond one individual institution. This benefits all of us."
The conference started with a welcome from Kent State President Todd Diacon and a three-hour Teach-In that focused on transformational change for and through individuals and institutions. Teach-In facilitators included Alcalde, Gooden, Christa Porter (associate dean, Kent State), Jacqueline Johnson (university archivist, Miami), Dan Darkow (formerly of Miami, now Cleveland State director of disability and testing services), and Amanda Feaster (Kent State, director of student accessibility services).
They are already generating ideas for next year's conference at Miami. 
"At the closing session for the conference, we invited participants to reflect on and share how they would like to continue this collaboration and conversations in next year's conference," Alcalde said. 
"We will draw on those ideas and feedback from this conference to identify the themes for next year. In the meantime, we are already working on other forms of collaboration, including an Interfaith Dialogue Series with Kent State."