Family Weekend request leads to SNL shoutout
During a Q-and-A session with all 4,000-plus Family Weekend audience members, Colin Jost received a bold request from one (assumedly) Miami University student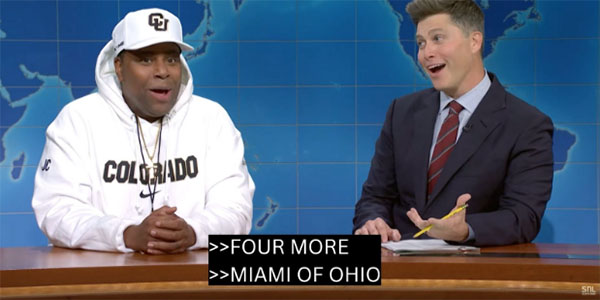 If you missed seeing Colin Jost on Family Weekend, you might not know that during a hilarious Q-and-A session with all 4,000-plus audience members, Colin got a bold request from one (assumedly) Miami University student.
"Can you give a shoutout to Miami on SNL next week?"
Colin's response was quick and witty, asking how he was supposed to slip Miami into a Weekend Update that was very likely to center around the growing conflict in the Middle East. The show wrapped up after that and everyone went home, unlikely to be expecting anything to come of it.

Cut to Saturday night one week later as Colin interviews "Deion Sanders," aka Kenan Thompson, about his not-so-stellar record as the coach of the Colorado Buffaloes. Colin begins listing off college teams that are currently undefeated before switching to teams that have more wins than Sanders' team. Right at the very end, he comes through for all of Miami University with "Miami of Ohio."

Miami University Performing Arts Series and Miami Activities and Programming, the collaborators behind the incredibly successful Family Weekend comedy show, were as surprised and thrilled as the rest of campus with the high profile mention. But they have always believed in the seen and unseen benefits to Miami and the whole Oxford Community of bringing in top talent to entertain parents and their students every year – a tradition that has been going since 1966 with the pandemic being the first significant disruption.

Well, the headliner for next year's Miami Family Weekend will have to do something pretty amazing to top a "Saturday Night Live" shoutout.