Miami's Project Dragonfly, Cincinnati Zoo celebrate 20 years of partnership
'Fiona Goes to College' event helps commemorate anniversary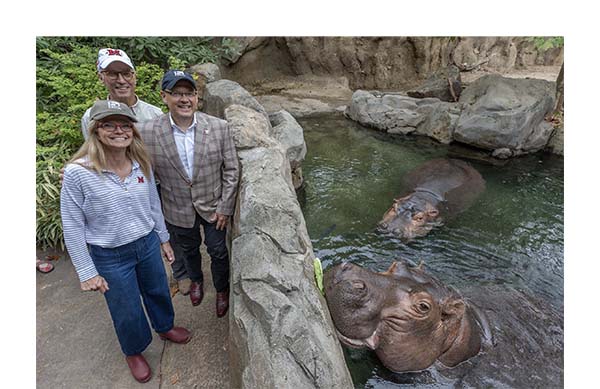 At the Fiona Goes to College event, behind the scenes at Hippo Cove: left to right: Renate Crawford, Miami University Ambassador; Thane Maynard, director of the Cincinnati Zoo & Botanical Garden; Miami University President Gregory Crawford, and Fiona and her mother Bibi
Miami's Project Dragonfly, Cincinnati Zoo celebrate 20 years of partnership
At the Fiona Goes to College event, behind the scenes at Hippo Cove: left to right: Renate Crawford, Miami University Ambassador; Thane Maynard, director of the Cincinnati Zoo & Botanical Garden; Miami University President Gregory Crawford, and Fiona and her mother Bibi
Twenty years ago, Chris Myers and Lynne Born Myers knocked on David Jenike's door and told the then-director of education at the Cincinnati Zoo & Botanical Garden all about Project Dragonfly.
Twenty years later, Jenike is the vice president and chief operating officer of the zoo, the Myers still helm Miami University's innovative master's degree program, and the relationship between Project Dragonfly and the zoo continues to flourish. So much so that the two commemorated their milestone anniversary on Oct. 5 with "Fiona Goes to College – Celebrating 20 years of Project Dragonfly and the Cincinnati Zoo & Botanical Garden."

The event — which highlighted the monumental conservation efforts of the two entities through the lens of one of the zoo's most compelling stories — was held at Hippo Cove.
Fiona, a hippo born six weeks before her due date, was too small to stand and nurse from her mother. Members of the Cincinnati Zoo community came together to feed her, keep her warm, and spread her story, which garnered national attention. Miami University President Gregory Crawford will present Fiona with an honorary certificate from Miami during the event.
Jenike likened Fiona's story to Project Dragonfly, which began at Miami in 1994 as a national magazine featuring children's science investigations and discoveries. Project Dragonfly has evolved over the years into a leader of community-engaged graduate education through its Earth Expeditions, Advanced Inquiry, and Global Field programs.
"In some ways, both symbolize and galvanize hope," Jenike said. "Fiona and her struggle to survive and thrive has become a symbol of hope for so many. Project Dragonfly is able to provide people with the tools to be successful and to help create a world where people and wildlife can thrive, and, in the process, give us hope and inspire us."
Jamie Anzano, director of communications and research for Project Dragonfly, estimated that more than 700 Cincinnati-area residents have taken Dragonfly graduate courses that directly involved learning at the Cincinnati Zoo. 
What's so unique about Project Dragonfly is its ability to combine Miami courses online with face-to-face experiential learning.
"Student engagement at our zoos is really the heart and soul of the Advanced Inquiry Program master's," Anzano said. "Our students are working professionals interested in changing careers or advancing, and this degree lets them do that."
Some of Project Dragonfly's partners include the African Conservation Centre, Audubon Miami Valley, the Belize Zoo and Tropical Education Center, and the San Diego Zoo Wildlife Alliance.
"We're confident there is no other program like it," said Kevin Matteson, associate director of the master's programs. "A lot of the time we look to the future, so it's nice to look back every now and then and celebrate where we've been."
Anzano called Fiona an ambassador of the relationship, a "hopeful story of conservation and moving things forward."
Moving forward also nicely signifies the relationship between the Cincinnati Zoo and Project Dragonfly. Thane Maynard, director of the zoo, praised the partnership for allowing students to gain a greater understanding of what conservation really takes.
"It gives them a very deep dive into big issues, whether it's zoos or animals or around conservation," Maynard said. "This is a part of people's lives. It's had an impact on these people and their careers and on the entire zoo field."
While Maynard will be among those at the Oct. 5 event, Jenike will be toasting the anniversary from afar. He will be in Kenya for a conservation forum.
That also has its ties to the Dragonfly-zoo relationship. One of the zoo's richest and deepest connections today is in southern Kenya, and it started with Project Dragonfly's Earth Expeditions.
"It was essential to building trust with the community," Jenike said. "Showing up year after year, building relationships, and becoming part of the solution has grown into one of the zoo's biggest and most successful conservation collaborations.
"Project Dragonfly has become an integral part of what we do as a zoo."
And an integral part of graduate education offered at Miami. Project Dragonfly welcomes students from all undergraduate degrees and backgrounds, and the program has graduated more than 2,200 worldwide.
Initial zoo partners included Cincinnati and Chicago's Brookfield Zoo, followed by the Cleveland Metroparks Zoo and the Woodland Park Zoo in Seattle.
"It's just a great story of coming up with an idea and making sure students get all the services they need," Matteson said. "I think the legacy is thinking outside the box about graduate programs and making something happen through goodwill, positive thinking, and finding leaders at zoos and botanical gardens who are willing to dream of something different."