Netflix special spotlights Miami alumna's comedic flair
Beth Stelling '07 filmed the project in historic hometown landmark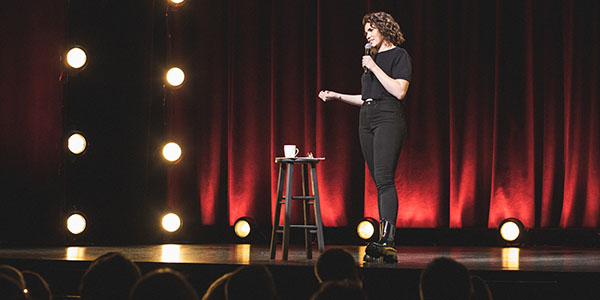 Beth Stelling '07 is a firm believer that a stand-up comedy special should be just that.
Special.
That was one of the reasons Stelling chose the historic Victoria Theatre in her hometown of Dayton as the venue for the recently released Netflix special "If You Didn't Want Me Then." Part of the "Netflix is a Joke" series, the one-hour performance takes place in the popular theater where Stelling saw many of her first plays and musicals.
Close friend Mo Welch realized it was the first time Stelling would perform on Victoria's stage and suggested filming the occasion. With that prompting, Stelling's latest special was born. Her previous performances aired on outlets including Comedy Central, HBO Max, and more.
"It was incredible to showcase the comedian I've become in front of the city that shaped me," Stelling said. "From 1866 to 2023, Victoria Theatre has weathered fires, floods, and now … a Beth Stelling stand-up special."
A Theatre major at Miami ("I got into the theatre program very last minute, and I worked for scholarships that helped me graduate debt-free, which is important as a Theatre major," she said), Stelling utilized Miami's Urban Leadership Internship Program to land an internship at the School at Steppenwolf, part of the renowned ensemble theater in Chicago.
Miami's internship program was extremely influential on Stelling's career path. Steppenwolf offered her a view of theater at the highest level in Chicago, and she received advice from working comedians. Her time at Steppenwolf also prepared Stelling for the move to Chicago after graduation.
She's returned to the Oxford campus over the years, including performing in 2016 at Armstrong Student Center's Wilks Theater. Her last time at Miami was two years ago, where Stelling made sure to stop at her former employer, Bagel & Deli, dining with Reilly Thimons (creator of the eatery's popular Crunch n' Munch item) and Jane Frye, co-owner of D'Oiler Street restaurant in Dublin, Ireland.
As a student, Stelling was active in the Miami community. Her resume includes Lambda Sigma Honors Society, Alpha Omicron Pi sorority, Miami University Theatre, the Walking Theatre Project, and the club field hockey team, as well as working as an R.A. at Collins Hall and as a Freedom Summer tour guide.
"I remember loving poetry class," Stelling said of her time at Miami. "I met amazing people who I am STILL friends with."
Currently on tour, Stelling has upcoming stops in Austin, Los Angeles, Portland, and Burlington, Vermont, through Dec. 23. The full tour schedule is available at BethStelling.com.
Aside from touring, Stelling has kept busy on the podcast circuit promoting "If You Didn't Want Me Then." Stelling's slate also includes writing for the Apple TV cartoon "Strange Planet (created by another Daytonian, Nathan Pyle), as well as for "Rick and Morty." Stelling's work on Season 8 of that popular show is expected to air in the next year or so.
Stelling advises aspiring creatives to trust their instincts.
"Your intuition is powerful," she said. "It can sometimes be blocked by outside sources or your own devices. But, when possible, I would suggest letting the little blinking light within you lead. And take advantage of your youthful arrogance and blind confidence while you can!"