Wil Haygood '76 to be honored for telling the story of the struggle for freedom
Acclaimed author and journalist will receive the Freedom Summer of '64 Award on Nov. 14 at the National Underground Railroad Freedom Center
Wil Haygood '76 to be honored for telling the story of the struggle for freedom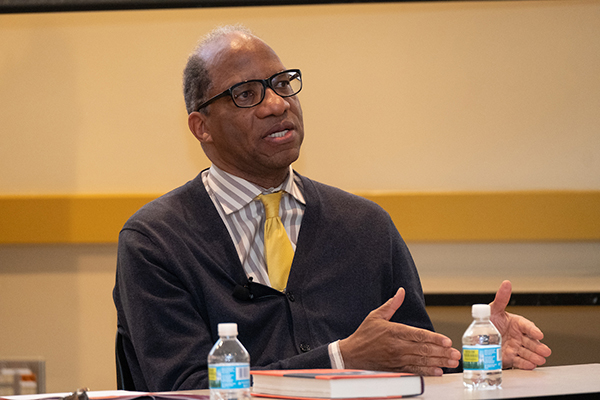 Wil Haygood talks to Miami University students on campus.
Miami University honors Wil Haygood with the Freedom Summer of '64 Award on Nov. 14 during an event at the National Underground Railroad Freedom Center in Cincinnati.
The invitation-only award presentation starts at 6:15 p.m. It includes a talk by Haygood titled "Why 1964 Still Matters," and he will also reflect upon his national and international reporting career. 
The award — given each year to a distinguished leader who has inspired the nation to advance civil rights and social justice — recognizes the spirit of the 800 volunteers who trained at Oxford's Western College for Women, now part of Miami's Western Campus.
Haygood '76 called it "an unbelievable honor" to be named a recipient of the award recognizing those volunteers, many of them college students, who traveled to the South to register Black voters and set up freedom schools and community centers in what has become known as Freedom Summer.
"In my journalism and book writing life, there have been a lot of words written," he said. "Many of the stories have taken me into the landscape of the South, where Freedom Summer unfolded."
Haygood highlighted some moments in his journalism and book-writing career where, he said, "it was becoming noticeable that I might be piecing together — through journalism and books and even film — the arc and scope of the epochal civil rights movement.
"My career has indeed been versatile regarding subject matter, but if one looks at it, there is powerful evidence of the story of the 1960s and the struggle for freedom in this nation being investigated and researched and written."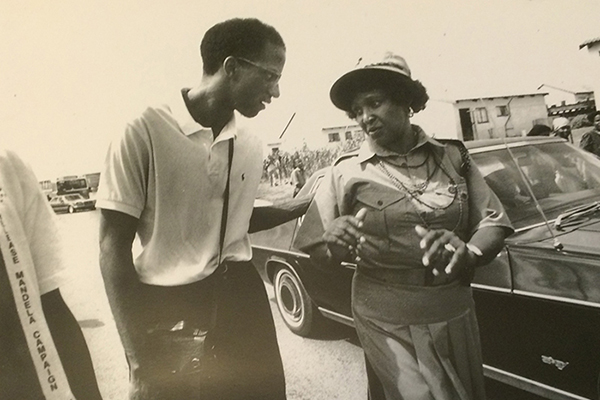 Wil Haygood walks alongside Winnie Mandela in South Africa in the days of hot demonstration before Nelson Mandela was released from prison.
Telling the civil rights story
As a reporter for the Pittsburgh Post-Gazette in 1983, Haygood asked to be sent to the nation's capital to cover the 20th anniversary celebration of the March on Washington. Although the story had already been assigned to another reporter, Haygood took a Greyhound bus to Washington, D.C., paying his own way, then called the newsroom from D.C. to say he was going to write some stories. All of them made it into the paper.
The next year, as a reporter and feature writer for The Boston Globe, Haygood approached the national editor to write about the 20th anniversary of the deaths of three Freedom Summer activists — Michael Schwerner, 24, James Chaney, 21, and Andrew Goodman, 20 — who were murdered in Mississippi by the Ku Klux Klan after training in Oxford. He asked to leave Boston to interview their families. It became his first national assignment for the newspaper.
Haygood had numerous other experiences, including traveling the length of the Mississippi River in 1987 with Pulitzer Prize-winning Boston Globe photographer Stan Grossfeld to examine the political, racial, and social heritage of America — an update to Mark Twain's classic, "The Adventures of Huckleberry Finn."
For 17 straight days in 1992, he filed stories from Los Angeles after the city erupted following the acquittal of four police officers who had been charged with beating Black motorist Rodney King.
Haygood reached South Africa while its system of segregation, known as apartheid, was still in effect. He spent two months there and witnessed the 1990 release from prison of civil rights activist Nelson Mandela, who had been imprisoned for 27 years. He became the first Black president of South Africa.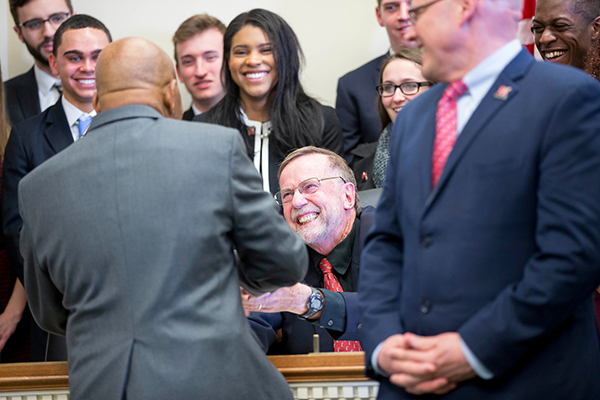 Rick Momeyer congratulates U.S. Rep. John Lewis, the first recipient of the Freedom Summer of '64 Award in 2018.
A connection to Freedom Summer
Rick Momeyer, Miami professor emeritus of Philosophy — who Haygood calls one of the most important teachers in his life — said Haygood's body of work makes him deserving of this award.
"Wil's work promoting better understanding of the Black American experience through the biographies and histories and stories he has written has been immensely important," Momeyer said. "I am continually impressed by the breadth, diversity, and imaginativeness of Wil's research and writing."
Haygood, a Pulitzer Prize finalist, has been the Boadway Distinguished Scholar-in-Residence in Miami's Department of Media, Journalism, and Film since 2014-2015, and he'll be back on campus periodically this academic year.
Haygood didn't realize when he was an undergraduate student at Miami that Momeyer had participated in the Freedom Summer training sessions one week after graduating from college.
The ink was barely dry on Momeyer's philosophy degree from Allegheny College when the 22-year-old Pennsylvania native arrived in Oxford to assist with training in nonviolent resistance.
"I was on the SNCC staff in 1964 and came to the training at the request of my former roommate, friend, and chair of SNCC John Lewis to help do the training," he said, referring to the late U.S. Rep. John Lewis, who was the first recipient of Miami's Freedom Summer of '64 Award in 2018.
Momeyer played the victim in simulated attacks to show other volunteers how to protect themselves, as he had done during his own civil rights activism in Nashville and elsewhere during the previous two years.
In a chapter he wrote in "Finding Freedom: Memorializing the Voices of Freedom Summer" (Miami University Press, 2013), Momeyer shared that he had experienced assaults with "scalding water, bricks, fists and clubs" and was repeatedly jailed.
Momeyer is glad Miami gives out the Freedom Summer of '64 Award.
"For the institution, it is an annual reminder of the significant role Miami inherited with the Western College as the site of one of the Civil Rights Movement's most significant efforts to break the back of segregation and secure voting rights for Blacks in Mississippi," he said.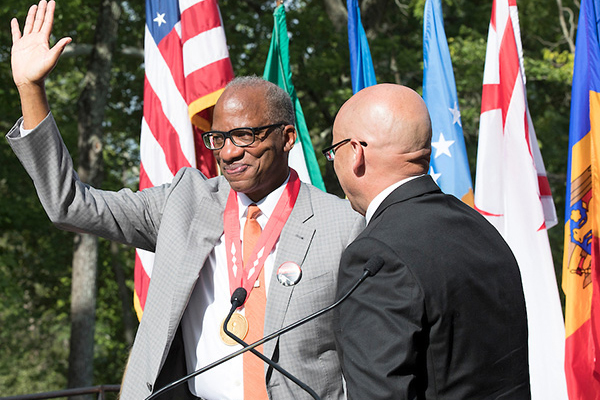 Miami President Gregory Crawford awarded the President's Medal to Wil Hayood in 2018.
Powell, Marshall, Allen, and more
Among Haygood's award-winning books are biographies of U.S. Rep. Adam Clayton Powell Jr., Supreme Court Justice Thurgood Marshall, entertainer Sammy Davis Jr., and White House butler Eugene Allen. All played roles in the Civil Rights Movement.
Haygood expanded his 2008 story, "A Butler Well Served by this Election" for The Washington Post into the book, "The Butler," which was the basis of the 2013 movie.
Spending an average of four years on each of his nine books, Haygood has dedicated decades to researching and telling stories important to the history of America, and even the world. 
Some of the books he has written "have covered the terrors and triumphs of Freedom Summer. The American Story won't be fully told — or even properly understood — until this facet of it is told," Haygood said. "I've tried to walk into the deep telling of this wide-angled story. I'm just one of its chroniclers, of course, but it seems to me the highest of literary callings."
Haygood has received numerous other awards, including:
The Ella Baker Social Justice Award, named after the renowned Mississippi civil rights leader, in 2013.
The Miami University President's Medal, the highest award given by the university, in 2018.
The Ambassador Richard C. Holbrooke Distinguished Achievement Award, an international literary award bestowed by the Dayton Literary Peace Prize Foundation, in 2022.