EHS Dean Jason Lane selected to lead National Association of System Heads
Search for EHS interim dean to begin immediately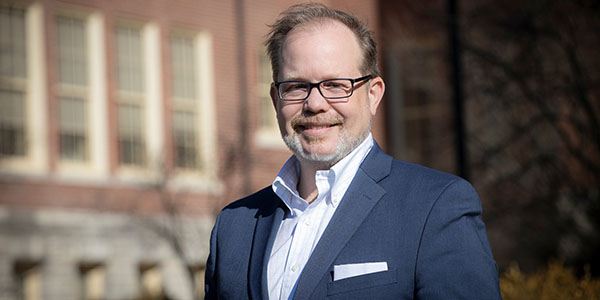 EHS Dean Jason Lane selected to lead National Association of System Heads
Jason Lane, dean of the College of Education, Health, and Society (EHS), has been selected by the National Association of System Heads (NASH) to serve as its first president and CEO. He will also serve as special advisor to University of Illinois System President Timothy Killeen. An internal search is underway for an interim dean for EHS.
"As higher education wrestles with unprecedented challenges and opportunities, it was clear our ship needed an experienced captain willing and able to chart our course. We knew Jason Lane was the right choice," said Brian McCall, chancellor of the Texas State University System and chair of the NASH Board of Directors. "Systems play a critical role in America's learning landscape, a role that uniquely positions NASH members to truly move the dial for students and ensure America can remain competitive globally. Jason understands this critical role for systems and the board was unanimous in our belief that he will be able to deliver."
Serving Miami since 2021, Lane has led several statewide initiatives to improve support for public education. Under his leadership, EHS launched and scaled TEACh Cincinnati, a homegrown approach to identifying the next generation of classroom teachers from within a community. While the state of Ohio saw a 40% decline in teacher education enrollments, Miami achieved continued growth. EHS fundraising and sponsored research programs also flourished in the past three years, and rankings also improved. Miami's Education program now ranks second in Ohio. 

"Miami is a storied and remarkable university, and I've been truly blessed to be part of this academic community," Lane said. "It's been a privilege to work alongside my colleagues in EHS and across the institution as we launched new academic programs, expanded our experiential learning opportunities, and created a more collaborative and holistic student experience."
Lane said one of his greatest pride points is the work he and the team have done to support students. They created the EHS Success Center to build a more collaborative and integrated approach to supporting students and yielded a record-high retention rate last year. 

"I'm particularly proud of the work the college does each and every day to strengthen and diversify the pipeline of changemakers who are going out to make a positive difference in the world," Lane said. "While I look forward to putting my scholarly and practical expertise to work at the national level, I leave excited for the future of EHS and the positive impact it will continue to have on our students and our community."

Previously, Lane served as vice provost and senior associate vice chancellor for The State University of New York system, having led several of the system's academic, research, and economic development initiatives. While at the University at Albany, SUNY, he served as a full professor, department chair, and dean. Lane is also director of Association of Governing Boards of University's (AGB) Institute for Leadership and Governance, a professional development program for aspiring college presidents, and chair of the National Center for Higher Education Management Systems (NCHEMS) board of directors.

Lane begins his new appointment Jan. 2, 2024. An interim EHS dean is expected to be named before the semester ends Dec. 8, and a national search for a permanent dean will begin in 2024.