Original Lilly Conference returns to Miami for 42nd year
Around 350 attendees will present evidence-based research on effective teaching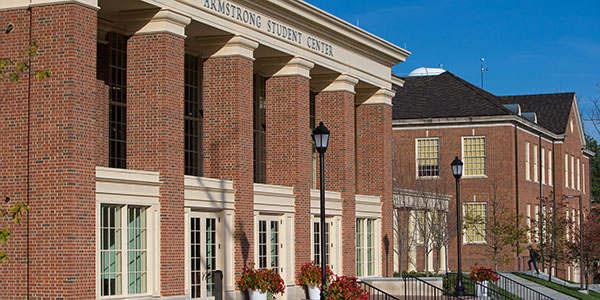 A pre-Thanksgiving tradition enters its 42nd year at Miami University.
Since 1981, Miami has hosted the Original Lilly Conference on College Teaching. This year's edition, held Nov. 16-18, will see around 350 participants come together to present evidence-based research on effective teaching.
The educators have something else in common: their shared passion for helping college students learn.
"It's a diverse group of faculty from different sized schools and different disciplines from all over the country," said Gregg Wentzell, director of the conference and assistant director of Miami's Center for Teaching Excellence, which puts on the conference. "We are enjoying seeing the trend of people being really engaged and happy to be together."
An estimated 175-200 members of Miami's faculty will be in attendance. Armstrong Student Center is the home base for the conference, which gives students serving as session chairs or working at the conference and at the student center the opportunity to observe a different side of faculty.
"Students get to see how much hard work it takes to be a teacher," Wentzell said. "Faculty get to hear the students' perspective. It's a reminder of why we're here and how learning is a two-way process. It's valuable both ways."
This year's plenary speakers include Paul Hanstedt, vice chancellor for Academic Affairs and Innovation at the University of Minnesota Rochester; Teresa Nance, vice president of Villanova University's Office of Diversity, Equity, and Inclusion; and John Warner, co-principal of Eyler Warner & Associates.
While participants are busy with workshops, sessions, and more, there is also time for community building and networking with receptions, time spent in Uptown Oxford, and an annual trivia night featuring questions ranging from pedagogy to pop culture.
"Sometimes we can get kind of siloed, and it's hard to connect," Wentzell said. "This is a way to do that right here in our own backyard. We get to see some of our colleagues do what they do and celebrate that. It's a chance to exchange ideas."
It's also another occasion for Miami to show off its campus to visiting institutions. Wentzell noted participants will travel from as far as Germany for this year's program.
"It is truly a unique privilege," Wentzell said of hosting the conference.