Miami University to receive Wil Haygood Collection
Acclaimed author and journalist gives his alma mater materials from his life's work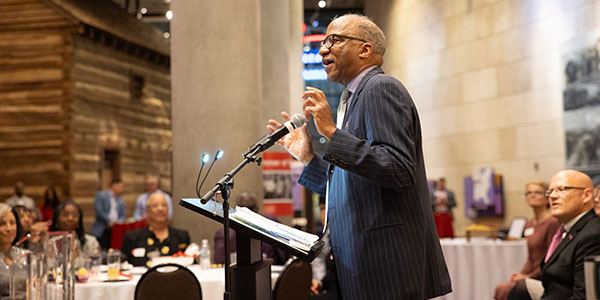 Excitement was palpable as Wil Haygood '76 took to the podium at the National Underground Railroad Freedom Center on Nov. 14. The Grand Hall was filled with colleagues, admirers, and friends who traveled far and near to see the acclaimed author and journalist receive one of Miami University's highest honors, the Freedom Summer of '64 Award. However, they didn't know they would be the first to hear some big news. 

During his acceptance remarks that included him sharing his career journey and acknowledging those who've inspired him along the way, Haygood announced that the Wil Haygood Collection, which contains thousands of items and documents from his storied career, will be given to his alma mater.

The collection is unique given Haygood's dual career as a journalist and an author/biographer. His passion for storytelling led to his front row seat and byline to worldwide headlines, such as the 20th anniversary celebration of the March on Washington, the Berlin Wall, the 1990 release of anti-apartheid activist Nelson Mandela, who was imprisoned 27 years and later became the first president of South Africa, and the 1992 riots in Los Angeles.

"It's probably one of the more robust collections of this type of material amassed by any single writer anywhere on this subject matter," Haygood said. "It is my goal that students, scholars from Europe or Africa or anywhere are able to come to Miami and look at this collection."
The collection contains early drafts of some of his books (including comments and notes from editors), behind-the-scenes production notes from the 2013 movie "The Butler," authored but unproduced film scripts, rare photographs from world travel, letters from world leaders and public figures, and so much more.

The Wil Haygood Collection gives readers an extraordinary view into the writing room of the story of America.

Research and archived materials have special meaning for Haygood. As he said during a talk given at the Columbus Metropolitan Library Foundation, "If I can get to the library, I can travel the world."
"While my writing journey has involved interviewing many, many hundreds of people, I have also sat for untold hours inside the Library of Congress doing research," Haygood said. "And I have visited several presidential libraries peering at and reading over important documents. The archival research can be thrilling and so important. I want my collection to both inform and inspire, as many collections have done for me."
That same passion, but different format, has led to 10 books. The Wil Haygood Collection will also include interviews from veterans of the Vietnam War, which is the topic of his next book.
"Journalists who have the talent to write books tend to wait on a publisher to spot something they've written in a newspaper and then approach them with a book idea," Haygood said. "I never did that. I always came up with my own book ideas. And I chose epic subjects — Sammy Davis Jr., Thurgood Marshall, Congressman Adam Clayton Powell, the century-long lifeblood of Black cinema — and book editors also found those subjects fascinating and realized they needed exploring."
Haygood's career as a journalist spanned time spent at the Pittsburgh Post-Gazette and the Boston Globe to the Washington Post. A Pulitzer Prize finalist, Haygood received the Ella Baker Social Justice Award in 2013, the Miami University President's Medal in 2018, and the Ambassador Richard C. Holbrooke Distinguished Achievement Award in 2022.
Haygood's first national assignment was on the 20th anniversary of the deaths of James Chaney, Andrew Goodman, and Michael Schwerner, civil rights activists who were murdered during Freedom Summer in Mississippi.

Haygood is donating his collection in honor of Schwerner, Goodman, and Chaney, and as a tribute to Rick Momeyer, Miami professor emeritus of Philosophy, and the other Freedom Summer '64 activists. Miami's Freedom Summer of '64 Award is given each year to a distinguished leader or organization who has inspired the nation to advance civil rights and social justice. It recognizes the spirit of the 800 volunteers who trained at Oxford's Western College for Women, now part of Miami's Western Campus, to register Black voters in the South.

"When I stepped on campus in 1972, I did not know anything about Freedom Summer," Haygood said. "As I became a reporter and as I was going to the South, I started reading the civil rights giants — Bob Moses, Dorothy Height, etc. — and the conversations so often turned to Freedom Summer. I knew I had gone to school and lived in a town that had a connection to Freedom Summer."
With the anniversary approaching, Haygood took it upon himself to pitch the story to Royal Ford, the Boston Globe's national editor. Ford "hardly knew who I was," Haygood recalled, but he still had the confidence to make the proposal.
Ford wasn't aware of the impending anniversary, but he did know one thing: The story had found its reporter.
"If I hadn't made it at Miami, there's no telling what route my life would have taken," Haygood said.
"I hope Miami University can find room maybe to honor civil rights and what this work has meant to me," he said at the ceremony. "It is my life."
Miami University President Gregory Crawford confirmed during the ceremony that there would indeed be a space dedicated for the Wil Haygood Collection.
"I've had the opportunity to get to know Wil and his extraordinary work," President Crawford said. "It's been such an inspiration to our students. We are truly excited about this collection. We'll have a Wil Haygood room for you. Thank you, we're so grateful."