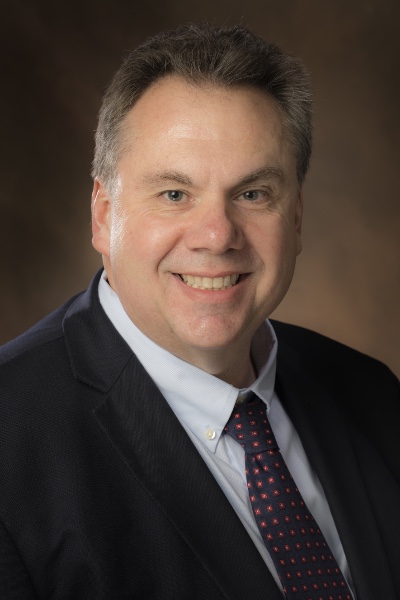 Chair of Chemistry and Biochemistry and University Distinguished Professor
Chemistry and Biochemistry, Cell, Molecular and Structural Biology Graduate Program
Tags:
Biochemistry, Physical chemistry
Gary A. Lorigan, Ph.D.
Contact Info
(513) 529-3338
651 E. High St., Department of Chemistry and Biochemistry
Introduction
I am interested in providing an outstanding educational experience for students in the classroom and laboratory at Miami University. I have research funding from the NIH and NSF to study the structural and dynamic properties of integral membrane proteins.
Research Interests
Biophysical chemistry
Membrane proteins
Phospholipids
Magnetic resonance spectroscopy
Courses Taught
CHM 144

CHM 145

CHM 147

CHM 472

CHM 572
Education
1996-1998 NIH Postdoctoral Fellow, Department of Chemistry, University of Pennsylvania, Philadelphia, PA

1990-1996 Graduate Student, Department of Chemistry, University of California, Davis, CA

1985-1990 Undergraduate Student, Department of Chemistry, California State University, Sacramento, CA
Publications
Sahu ID, Craig AF, Dunagum MM, McCarrick RM, Lorigan GA. (2017) "Characterization of Bifunctional Spin Labels for Investigating the Structural and Dynamic Properties of Membrane Proteins Using EPR Spectroscopy" J Phys Chem B 121:9185–9195.

Sahu ID, Zhang R, Dunagan MM, Craig AF, Lorigan GA (2017) "Characterization of KCNE1 inside Lipodisq Nanoparticles for EPR Spectroscopic Studies of Membrane Proteins" J Phys Chem B 121:5312–5321.

Burridge KM, Harding BD, Sahu ID, Kearns MM, Stowe RB, Dolan MT, Edelmann RE, Dabney-Smith C, Page RC, Konkolewicz D, and Lorigan GA (2020) "Simple Derivatization of RAFT-Synthesized Styrene-Maleic Anhydride Copolymers for Lipid Disk Formulations" Biomacromolecules 21:1274–1284.

Gordon EA, Richardson YB, Shah MZ, Burridge KM, Konkolewicz D, Lorigan GA. (2022) "Formation of Styrene Maleic Acid Lpid Nanoparticles (SMALPs) using SMA Thin Film on a Substrate" Analytical Biochemistry 647(15) 114692.

Zhang, R.; Sahu, I. D., Comer, R. G.; Maltsev, S.; Dabney-Smith, C., and Lorigan, G. A "Probing the Interaction of the Potassium Channel Modulating KCNE1 in Lipid Bilayers via Solid-state NMR Spectroscopy" Magn. Reson. Chem. (2017) 55, 754-758.

Dixit G, Sahu ID, Renyolds WD, Wadsworth TM, Harding BD, Jaycox CK, Dabney-Smith C, Sanders CR, and Lorigan GA, (2019) "Probing the Dynamics and Structural Topology of the Reconstituted Human KCNQ1 Voltage Sensor Domain (Q1-VSD) in Lipid Bilayers Using Electron Paramagnetic Resonance Spectroscopy". Biochemistry, 58, 965–973.

Dixit G, Dabney-Smith C, and Lorigan GA (2020) "The membrane protein KCNQ1 potassium ion channel: Functional diversity and current structural insights" BBA-Biomembranes, 1862, 5, 183148-183187.

Dixit G, Stowe RB, Bates A, Jaycox CK, Escobar JR, Harding BD, Drew DL Jr, New CP, Sahu ID, Edelmann RE, Dabney-Smith C, Sanders CR, Lorigan GA. (2022) "Purification and Membrane Interactions of Human KCNQ1 Potassium Ion Channel" BBA-Biomembranes 1864 (11), 184010.
Work in Progress
The research in the Lorigan laboratory is focused upon the utilization of magnetic resonance spectroscopy to investigate the structural and dynamic properties of membrane-bound proteins and peptides and their interactions within the lipid bilayer. We are specifically interested in developing and applying state-of-the-art nuclear magnetic resonance (NMR) and electron paramagnetic resonance (EPR) spectroscopic techniques to study membrane proteins inserted into aligned phospholipid bilayers.

Membrane proteins (which make up approximately one-third of the total number of proteins) are responsible for many important properties and functions of biological systems: they transport ions and molecules across the membrane, they act as receptors, and they have roles in the assembly, fusion, and structure of cells and viruses. Despite the abundance and clear importance of these membrane proteins and peptides, only a minute amount of information regarding these systems exists.