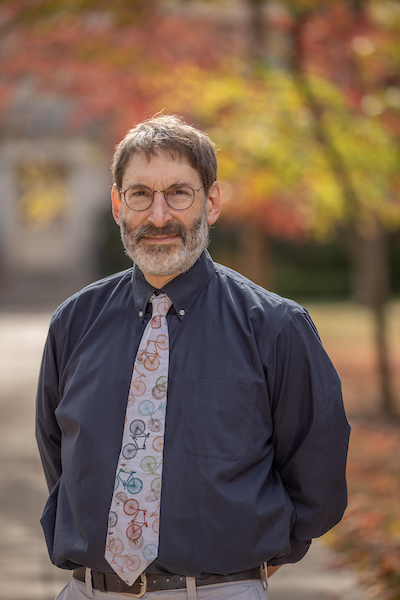 Director of the Institute for the Environment and Sustainability
,
Associate Professor
Institute for the Environment and Sustainability, Center for Aquatic and Watershed Sciences, Institute for Food, Geology and Environmental Earth Science
Tags:
Ground Water Flow and Contamination, groundwater hydrology, groundwater surface water interaction, pesticide fate and transport
Jonathan Levy
Contact Info
513-529-1947
120 Shideler Hall
My research addresses how to improve our capacity to make reliable and practical predictions of contaminant fate and transport in groundwater systems. The goal of this research is to better understand the threats posed to our groundwater resources and to better protect those resources. My research has included field and modeling investigations of the fate and transport of herbicides in groundwater, delineation of source-water protection areas, and development of new techniques to quantify the uncertainty of model predictions and laboratory and modeling investigations of the transport of E. coli bacteria through unconsolidated aquifers material. Much of my latest research focuses on groundwater/surface-water interaction and investigating the role of the riverbed in controlling riverbank filtration and induced infiltration. I have also been exploring palygorskite clay as a potential filter medium for removing pharmaceuticals from sewage treatment plant effluent. In addition, I am also interested in water-quality problems in the industrially-developing world. This interest led to research and development of new research opportunities in Nepal, Kenya, Zambia, and Malawi.
Possible Thesis/Dissertation Topics
Investigating the sources, vulnerability, quality, and sustainability of groundwater in southern Kenya.
Investigating groundwater/surface-water interaction in southwest Ohio.
Exploring the fate and transport of pharmaceuticals in clay filter media and natural systems.
Current/Recent Graduate Student Research
Samuel Mutiti (Ph.D. 2009) The efficacy of riverbank infiltration on the attenuation of virus contamination at a site of induced infiltration:  use of remote sensing to find shallow groundwater resources in arid regions of southern Kenya;  Use of temperature modeling to explore the temporal variability of riverbed hydraulic conductivity.
Tedros Berhane (Ph.D. 2015) Exploring alygorskite clay as a potential filter medium for pharmaceuticals and endocrine disrupting compounds.
Idah Ngoma (M.S. in progress) Toxic metal contamination of groundwater in Kabwe, a mining town in Zambia.
Selected Publications
Berhane, T, J Levy, MPS Krekeler, N Danielson (2017) Kinetic sorption of contaminants of emerging concern by a palygorskite-montmorillonite (Pal-Mt) filter medium. Submitted to Chemosphere, 176: 231-242.
Berhane, T, J Levy, MPS Krekeler, N Danielson (2016) Sorption of bisphenol A (BPA) and ciprofloxacin (CIP) by palygorskite- montmorillonite (PM): effect of granule size, solution chemistry and temperature. Applied Clay Science, 132-133: 518-527.
Berhane, T, J Levy, MPS Krekeler, N Danielson, A Stalcup (2015) Sorption-desorption of carbamazepine by palygorskite- montmorillonite (PM) filter medium. Journal of Hazardous Materials, 282(23): 183-193.
Skoumal, RJ, MR Brudzinski, BS Currie, J Levy (2014) Optimizing multi-station earthquake template matching through re-examination of the Youngstown, Ohio, sequence. Earth and Planetary Science Letters, 405(1): 274-280.
Select Grants
National Geographic, 2012:

 

Climate Change and Water Resources in Southern Jordan.
Miami Conservancy District, Dayton, OH, 2010. Riverbed Scour and Deposition and its Influence on Riverbed Hydraulic.
Fulbright Regional Sharing Program, 2010: Groundwater Field Research, Student Training and Capacity Building, Nkhata-Bay, Malawi.
City of Oxford, 2008.  Re-delineation of Four Mile Creek Basin Source Water Protection Zones for the City of Oxford, Ohio.
Source Water Protection Grant Program, 2007 (Miami Conservancy District, Dayton, OH through the Village of Gratis, OH). Twin Creek Watershed Nitrate and Source-Water Protection.
City of Hamilton, OH, 2006.  Investigating Riverbed Hydraulic Conductivity at Several Wellfields along the Great Miami River, Southwest, Ohio.
Teaching Interests
GLG 408/508 - Introduction to Hydrogeology
GLG 428/528 - Groundwater Flow Modeling
IES 127 - Cinematic Representations of Environmental & Social Justice Issues
IES 611 - Environmental Problem Solving
Back to Directory