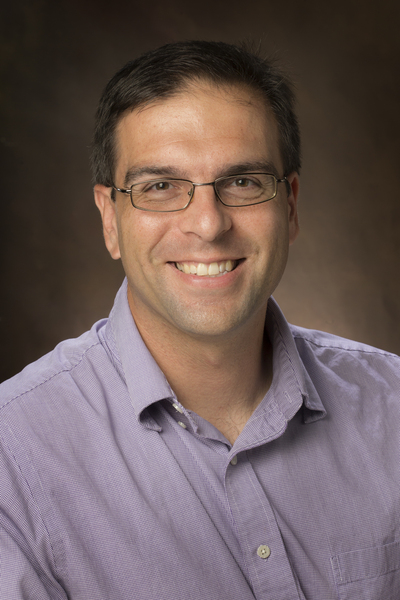 Computer Science and Software Engineering
John Femiani, Ph.D.
Contact Info
513-529-0349
Benton Hall, 205 O
Education
Ph.D., Computer Science, Arizona State University, 2009
B.A., Arizona State University, 2000
Research Highlights
Computer Vision
Computer Graphics
Machine Learning
Procedural Modeling
Remote Sensing
Research Bio
Dr. John Femiani is an associate professor in the Computer Science and Software Engineering department. He has a Ph.D from Arizona State University with published work ranging from surface parameterization to document image analysis. He has produced 12 journals, 20 peer reviewed conference publications, and received best paper awards including the Late Sydney R. Parker Best Paper Award in the area of Signal Processing and M. N. S. Swamy Best Paper Award.

He was recognized for entrepreneurial innovation in 2010 and 2011, he received AzTE 2006 "Innovator of the Year" award, and holds a patent on modeling handwriting in document images. His research is applied and interdisciplinary with a focus on computer graphics, computer vision, remote sensing, and 3D geometry.

His main research interests are in the areas of computer vision and computer graphics; often applied to large scale big-data problems in domains such as remote sensing, where large amounts of imagery might be processed to search for important features.

Major research areas are 1) segmentation/classification of raster/vector imagery, point clouds, or surfaces, and 2) feature extraction and reverse engineering. Both of these areas are connected to 3D computer graphics through their use in generating content for modeling and simulation, advanced training, gaming, or CAD.

His approach to research is often very applied, especially to domains such as assistive technology, health, anthropology, as well as training for military or intelligence applications. Even though applied research has been important, he is also very interested in 'classical' research problems such as Hermite interpolation.
Experience
Arizona State University, Tempe, AZ, Assistant Professor, 2009

 

–

2016
VProctor, Inc., Pheonix, AZ, Chief Technology Officer, 2012

 

–

present
I'DEA, Mesa, AZ, Assistant Research Professional, 2006

 

–

2008
PRISM, Tempe, AZ, Research Assistant, 2001

 

–

2006
Barrow Neurological Institute, Pheonix, AZ, 3D Graphics Specialist, 2002

 

–

2003
Honors and Awards
2014

 

—

Late Sydney R. Parker Best Paper Award in the area of Signal Processing
2014

 

—

M. N. S. Swamy Best Paper Award.
2011

 

—

Certificate of Appreciation for Contribution to Career and Technical Education
2010

 

—

Special recognition, AzTE, Arizona State University
2006

 

—

Innovator of the year, AzTE, Arizona State University
Scientific and Professional Societies
Institute of Electrical and Electronics Engineers (IEEE)
Association for Computing Machinery (ACM)
Professional Service
Reviewer (Journal)

 

—

Transactions on Geoscience and Remote Sensing (TGRS) , 2015, 2016
Reviewer(Journal)

 

—

Journal of Selected Topics in Applied Remote Sensing (JSTARS), 2014­­2016
Reviewer (Journal)

 

—

Computer Aided Geometric Design (CAGD), 2015
Reviewer (Conference)

 

—

SIGRAPH Asia 2011, 2014
Reviewer(Journal)

 

—

Computer Graphics Forum (CGF), 2010
Reviewer(Conference)

 

—

Computer Graphics International, 2010
Principal Publications
Selected Journal Articles
E Li, J Femiani, X Zhang, P Wonka, Robust Rooftop Extraction from Visible Band Images, Using Higher Order CRF," Transactions on Geoscience and Remote Sensing, IEEE Journal of, 2015.
K E Goodenberger, D M Boyer, C M Orr, R L Jacobs, J C Femiani, B A Patel, Functional morphology of the hallucal metatarsal with implications for inferring grasping ability in extinct primates, American journal of physical anthropology, 2015
J Femiani, E Li, A Razdan, P Wonka, "Shadow­Based Rooftop Segmentation in Visible Band Images," Selected Topics in Applied Earth Observations and Remote Sensing, IEEE Journal of , vol. PP, no.99, pp.1,1, 2014
J Jiao, B Zhao, J Femiani, A Hybrid Method for Multi­sensor Remote Sensing Image Registration Based On Salience Regions, Circuits, Systems, and Signal Processing (Journal). [Impact Factor 0.982], 2013
J. Femiani, C, Chuang, A. Razdan, Least Eccentric Curves for Geometric Hermite Interpolation. Computer Aided Geometric Design (1), 141­149. [Impact Factor 1.398],2012
X. Yin, J. Femiani, P. Wonka, and A. Razdan, A New QEM for Parameterization of Raster Images, Computer Graphics Forum / Eurographics 30 (8), 2440­2451. [Impact Factor 1.638]., 2011
M Tocheri, CR. Solhan, CM. Orr, J Femiani, B Frohlich, CP. Groves, WE. Harcourt­Smith, BG. Richmond, B Shoelson, WL. Jungers, Ecological divergence and medial cuneiform morphology in gorillas, Journal of Human Evolution, Volume 60, Issue 2, February 2011, Pages 171­184. [Impact Factor 4.094], 2011
M. Marzke, M.Tocheri, B. Steinburg, J. Femiani, R. Linscheid, C. Orr, R. Marzke. Comparative 3D quantitative analyses of trapeziometacarpal joint surface curvatures among living catarrhines and fossil hominins. American Journal of Physical Anthropology (AJPA), Volume 141, no.1. [Impact Factor 2.481], 2010
M. Cui, J.C. Femiani, J. Hu, P. Wonka, A. Razdan, Curve Matching for Open 2D Curves, Pattern Recognition Letters 30 (2009) 1­10. [Impact Factor 1.266],2009
J.Hu, A. Razdan, P. Wonka, M. Cui and J. Femiani, Urban road network extraction and intersection detection in aerial images using local shape classification, IEEE T. on Remote Sensing and GeoSciences. [Impact Factor 3.467], 2007
L. Zhang, A. Razdan, G. Farin, J. Femiani, M S Bae, C Lockwood 3D Face Authentication and Recognition Based on Bilateral Symmetry Analysis, Visual Computer, Volume 22 number 1 43­55, January 2006. [Impact Factor 0.708], 2006
Selected Conference Proceedings
C. Chuang, S. Craig, J Femian​i, "The Role of Certainty and Time Delay in Students' Cheating Decisions during Online Testing", Cognitive Science 2015
J Femiani​, E Li, Graph cuts to combine multiple sources for feature extraction, IMAGE 2014, Dayton, Ohio
B. Chladny, J. Femiani,​B. Graniela, Realistic Geo­Specific Feature Densities in Real­Time Synthetic Environments, Interservice/Industry Training, Simulation, and Education Conference, (I/ITSEC), 2013. [Acceptance Rate 73%]
A. Amresh, AR. Carberry, J. Femiani​, Evaluating the ef ectiveness of flipped classrooms for teaching CS1, IEEE Frontiers in Education Conference (FIE), 2013. [Acceptance Rate 67.2%]
A Shah, A Amresh, J. Femiani​, Improving E­Learning Videos Using Personalization and Social Signals, World conference on E­Learning in Corporate, Government, Healthcare, and Higher Education, 2013, 1696­1700 [Acceptance Rate 25­39%]