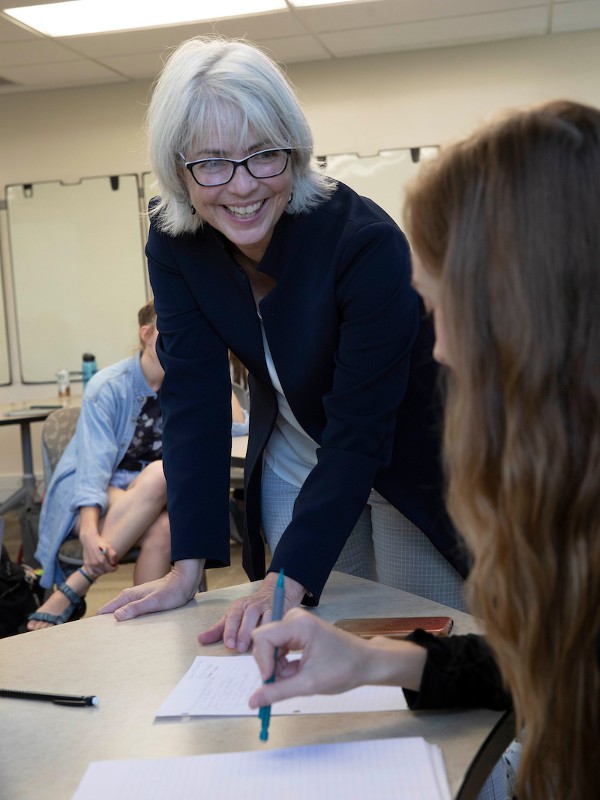 Chair and Professor - Anthropology
Teacher - Scholars
Cameron Hay-Rollins
My Approach to Teaching and Learning
"How do you know?" This is the question that I most commonly write in the margins of students' papers.  With this question, I invite students into the scholarly conversations of researchers: first, we look at "the literature" — scientifically reviewed publications — to find evidence which interrogates their assumptions or supports their claims; second, if there is no evidence, I give them the tools to design their own research projects, sometimes in the classroom and sometimes by joining me on my own research adventures. Research is an adventure. While informed by the literature, good research questions with good design always have an element of surprise for we don't know what we will find. As an anthropologist, I seek to understand how people cope with suffering, illness, and inequity. Whether in Indonesia, India, or Indiana, I venture into the unknowns of research to find evidence of how we might promote resilience, wellbeing, and equity in the most vulnerable moments of people's lives. Research is an exciting activity, and Miami's teacher-scholar model allows me to invite students into scholarly conversations and the surprising joy of pursuing research adventures.   
My Teacher-Scholar Journey  
Teaching and research are synergistic activities for me, each invigorating the other. I am committed to working transdisciplinarily to improve wellbeing and health equity. Research drives my teaching, and teaching inspires me to revisit the insights of anthropologists whose shoulders I stand upon and to pursue different avenues of research. A prime example of student inquiry that prompted an entirely new line of teaching and research is the origin story of global health at Miami University. As a medical and psychological anthropologist, I had conducted anthropological research and was teaching anthropological courses, which focus on understanding human experience within particular sociocultural structures. Students increasingly insisted that those insights needed to be used to inform change particularly in terms of health equity. I began exploring the field of global health. Unlike anthropology, which tends to be a solitary research endeavor, global health is inherently transdisciplinary, requiring teams of people working collaboratively to improve health equity. Now, a decade after those early student questions, global health is embedded in the Miami curriculum as a dynamic minor. Nearly all of my research now is team-based and collaborative; whether or not it addresses health equities, it integrates anthropological perspectives and methods with the insights afforded by working with others, including students on my research projects. The synergies of the teacher-scholar model at Miami means that the knowledge and methods we teach are always improving, building on the best possible research evidence guided by questions that matter in the world. 
Knowledge is Power
"The best teachers are those that bring students along on the adventure of learning that research provides."
Education
Ph.D. Emory University
M.A. Emory University
B.A. Grinnell College
More About Me
With biocultural training in anthropology (Ph.D. 1998, Emory), I have developed expertise in medical and psychological anthropology and in global health, working transdisciplinarily to understand and find ways to improve wellbeing and health equity, primarily among women,  children, and people with chronic disease. To date, I have published one ethnographic book, one edited volume on mixed methods, and 34 peer-reviewed articles and chapters, with over $2 million in grant or contract funding as a principle or co-investigator.