A Distinctive Approach to Undergraduate Excellence
"When scholars teach, they enhance instruction with evidence-based practices that elevate student learning and introduce cutting-edge research discoveries into the classroom. Miami has scaled this model, greatly enhancing our focus on undergraduate excellence. Undergraduate students at Miami receive a spectacular education because of the teacher-scholar model." Miami President, Gregory P. Crawford
Senior Clinical Lecturer
Educational Psychology
College of Education, Health, and Society

"Actively engaging in research in partnership with Miami students through a teacher-scholar model empowers me to create new pathways for student learning that directly impact both my students and my teaching in powerful and deeply meaningful ways. Sharing in decision-making with my students to inform my teaching and research, and partnering in leadership roles with them provide paths that honor and value my students' intellect, interests, and unique strengths. To me, this is teaching for Love and Honor."

Teacher - Scholar Profiles

Associate Professor
Teaching, Learning, and Educational Inquiry
College of Education, Health, and Society

"Miami University, its faculty, and students believe in the power and possibility of transformative education through its untiring commitment to the teacher-scholar model and socially just practices. Through these commitments, we genuinely move towards a more profound commitment to loving and honoring all people, especially those from historically marginalized populations."

Teacher - Scholar Profiles

Associate Professor
English
College of Arts and Science

"As faculty, it is so invigorating to find that Miami students are reflective and active participants in their learning experiences, rather than just sitting back and passively consuming the materials I've provided. Together, we all strive to create a knowledge-making community in the classroom, where I find myself both teaching and constantly learning from students in ways that grows my own scholarship. By challenging ourselves to become better teacher-scholars, we all can create spaces where community knowledge can happen and inclusive teaching begins."

Teacher - Scholar Profiles

Associate Professor
Art History
College of Creative Arts

"Curiosity drives the teacher-scholar model for me. In my courses, I ask students to use their own curiosity as a catalyst to develop larger questions. Then we learn how to handle the research tools by which we can answer those questions. Teaching at Miami makes me a better scholar. Designing courses for Miami students encourages me to think outside of the boundaries of my training and to look toward the larger impact my research and teaching can have on the world around me."

Teacher - Scholar Profiles

Associate Professor
Sport Leadership and Management
College of Education, Health, and Society

"Miami University gives faculty and students the time and resources to be creative inside and outside the classroom. Whether it's the latest technology, small class settings, or support for research mentoring, my students and I have been able to take our curiosity about specific health-related topics to the next level to investigate, experiment, fail, try again, and ultimately learn from our work and create knowledge that had not been known before. How cool is that?"

Teacher - Scholar Profiles
Our Commitment to Learning and Discovery
Miami is a national leader in a student-centered approach to education that attracts faculty and students eager to practice teaching, learning, and research in a holistic way. We purposefully integrate teaching and scholarship to foster collaboration between top scholars and students. Our teacher-scholar method advances learning beyond textbook and workplace skills, while creating an environment that challenges students to learn by doing and achieve deep understanding.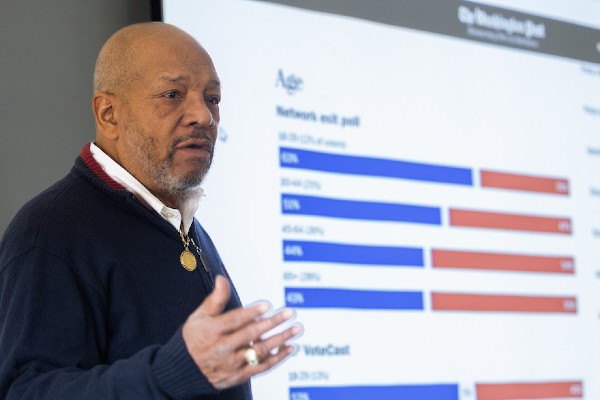 Works with faculty and students to promote innovative teaching, and to assess and enhance teaching and learning.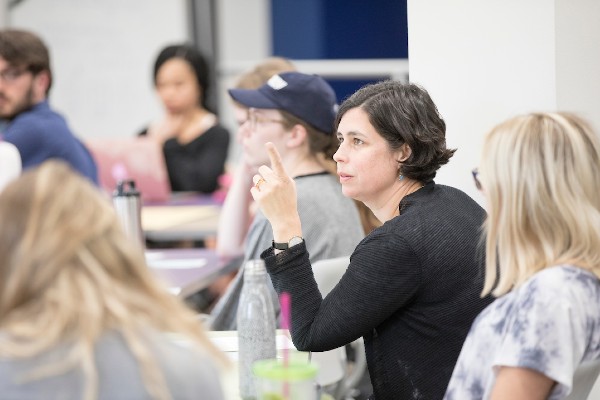 Supports students through peer writing consultations and faculty through a Writing Across the Curriculum program.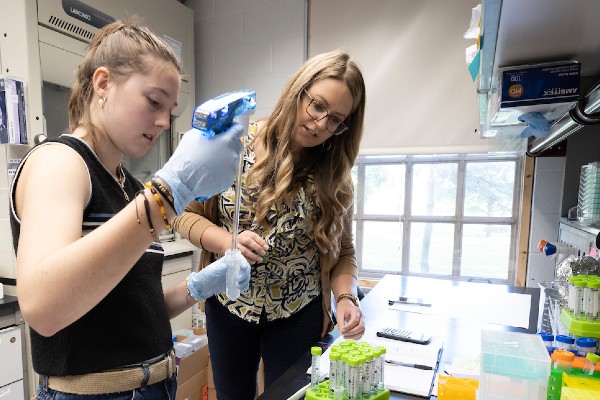 Promotes undergraduate research, experiential learning, and creative works on Miami's campus and beyond.
A Place For Those Who Will
The teacher-scholar model is at the heart of a Miami education. It yields incredible results.
Top 10
University for Undergraduate Teaching Among Public Universities
U.S. News & World Report, 2022
400+
Students Presented Their Research at the 2022 Undergraduate Research Forum
Miami University Data
15th
Among National Public Universities for 4-Year Graduation Rate
U.S. Department of Education, 2019
Students Prepared to Make an Impact
Scholars Bring Curiosity to the Classroom
Our Faculty Create a Culture of Teaching
Inspiring Students to Push the Boundaries
Learning that's Global, Innovative, and Impactful
The Miami Plan enhances specialized studies in any major or professional field and provides contexts for exploring social, academic, and professional choices. It empowers students to creatively transform the future with the tools to question assumptions, design solutions, exchange views with others, and become better global citizens.
The Four Pillars
The foundation of the Miami Plan.
The Perspectives Areas
Broadens your intellectual toolkit.
Signature Inquiry Options
Cutting-edge courses that embody the best of Miami's teacher-scholar approach.
Knowledge in Action
Engage and create meaningful culminating experiences that prepare you for the future.