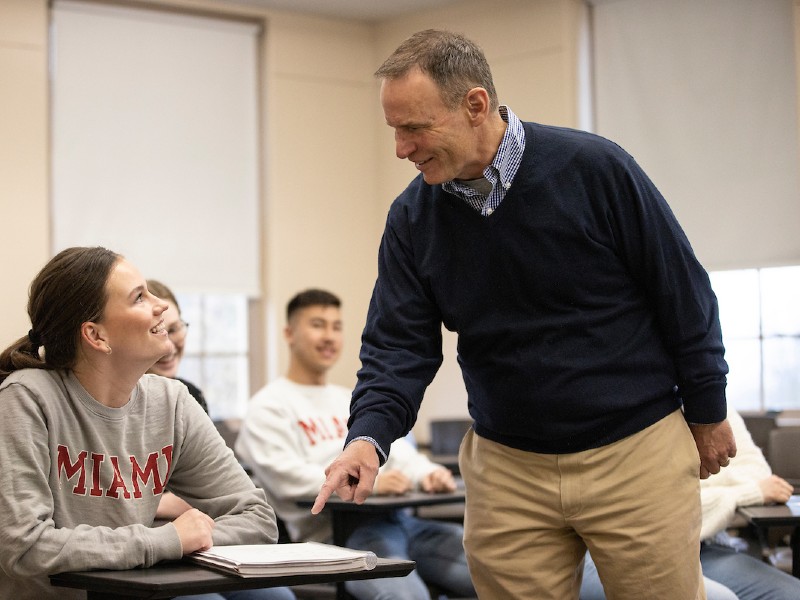 Professor - Political Science
Teacher - Scholars
Patrick Haney
My Approach to Teaching and Learning
The most basic social science question, many suggest, is "of what is this an instance?" My research is always driven by that question, and so too are my classes — within the domain of U.S. foreign and security policy. Just as I want to understand how, for example, how interest groups, Congress, and the president, work to craft U.S. policy toward Cuba, for example, I want students to understand the range of ways that foreign and national security policy making can occur so that they can know it when they see it; be able to say of what is this policy making case an instance. An instance of elites picking policy? Of Congress leading? Of Congress abdicating their constitutional role? Of societal groups pressuring government for a policy? Of presidents finding ways to elude congressional and societal oversight through the use of special forces? I want students to learn about this content area not just because I think it's fascinating, but because ultimately one of the ways that the experiment in self-government will be judged is by the ability for citizens to understand these issues and to be engaged in them. I want students to be able to leave my class and go to work in this content area, or to be involved in their communities in ways that link them to these issues. And I for sure want former students working around these issues to come back to talk to my classes and to host my current students as interns! Thus I want my students to see themselves as part of this content stream, even while we sit among fields of corn and soy. The only way to do that is through active learning, hopefully that includes not just reading and writing and talking but also by doing through an internship experience or shadowing.
My Teacher-Scholar Journey
I teach and write about American foreign and national security policy. My research has generally focused on the "sources" of U.S. foreign policy, from examinations of presidents, advisers, and crisis decision making, to studies about ethnic interest groups, through the role of Congress in foreign policy, what my work shares in common is that it always asks about not just the policy but where that policy came from. As a result, teaching the class on American foreign policy is about as good as it gets for me! I also designed a course on U.S. National Security Policy that allows a tighter focus on security threats. Just as I learn about foreign and national security policy by reading and talking and writing, so too in my classes that's how students learn. I have also been fortunate to have many students work on senior theses, graduate projects, independent studies, and papers for Dean's Scholars and Undergraduate Summer Scholars, in this content area. One of the things that's so great about my faculty job is that I teach exactly the sorts of questions I am most interested in as a scholar, and so I have always enjoyed great synergies between teaching and research at Miami. 
My professional activities in the discipline mirror this connection between teaching and learning. I have been involved in the Foreign Policy Analysis section of the International Studies Association (ISA), and served on the editorial board for the journal of that section; I have also been engaged in the Active Learning in International Affairs section of the ISA, and have written some of my papers about the pedagogy around undergraduate courses in foreign affairs. 
Knowledge is Power
"Our students are the best part of Miami University. What that means for the teacher-scholar model here is that we don't really have two or three sides to our jobs, breaking out teaching and research and service into fundamentally different compartments. The strength of our students means these elements of being a faculty member work seamlessly together. Great students are great to work with, they inspire questions, those questions infuse research and bring the classroom alive. Those students often work on research projects with you, and they then join our alumni base ready to help the university and our students going forward. It's the full-cycle nature of Miami that is so exciting, the way the teacher-scholar model shapes recruiting students, working alongside them, and then staying connected to them after graduation and the way all of that contributes to a meaningful scholarly career. I'm very fortunate to have spent my entire career here." 
Education
Ph.D. Indiana University
B.A. The Ohio State University
More About Me
I started at Miami in 1992 and teach and research American foreign and national security policy. In addition to several books and many articles and chapters, I was recognized as a Distinguished Scholar and with the William Holmes McGuffey Award. I served as department chair and associate dean.