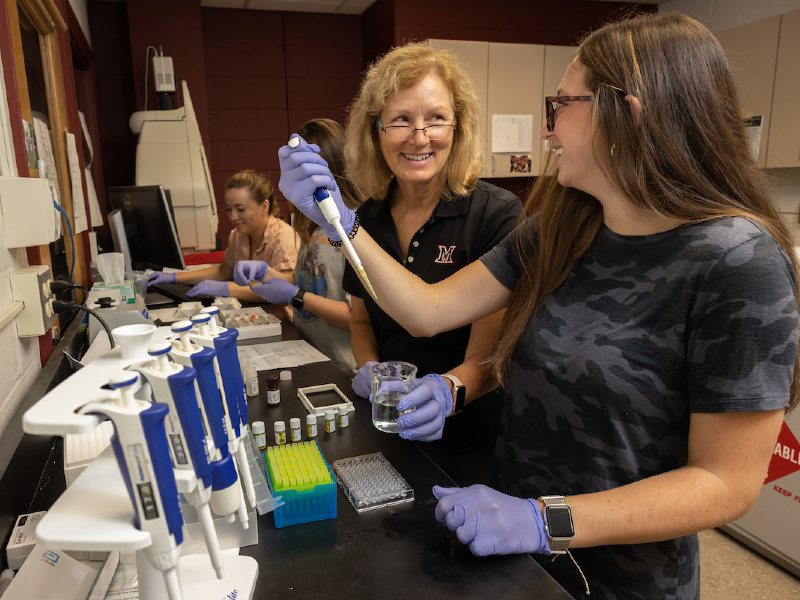 Chair and Professor - Kinesiology, Nutrition, and Health
Teacher - Scholars
Helaine Alessio
My Approach to Teaching and Learning
I believe teaching and learning are connected. I teach what I learn – especially from my research – and I learn by teaching. I teach across multiple disciplines of Kinesiology, Nutrition, Physiology, Biology, Chemistry, Genetics, Psychology, and Gerontology – all with applications to individual and public health. I find joy when students work extra hard to learn difficult concepts, e.g., if they are motivated to learn anatomy and physiology and exercise interventions necessary to optimize rehabilitation because they suffered an ACL sport injury, or they recognize that their personal consumption of "things" would require four Earths' worth of resources if everyone likewise consumed. When students see that both individual health and environmental health are necessary to sustain life, we develop action plans, including building sustainable hiking and biking trails at a nearby state park. Whether working alongside students in an exercise science laboratory, creating trails in a park, studying in Africa, touring Miami's museums and campus geothermal plant to learn about healthy ecosystems and how we are trying to solve major-climate related challenges, learning about the Miami Tribe's resilience and how well they treat the earth and each other, or using problem-based and cooperative learning strategies in the classroom, I love the freedom Miami's teacher-scholar model gives me to teach what I learn and learn from what I teach. My students translate the knowledge from laboratory and classroom settings into action in the community. They are living examples of engaged students who become engaged citizens.
My Teacher-Scholar Journey
My teaching journey took a major professional step up when I started at Miami. Participation in Faculty Learning Communities and attendance at the annual Lilly conferences opened my eyes and mind to theories of teaching and learning and to the scholarship of teaching. I published several innovative papers in teaching journals. My research journey began with animal models in exercise science and included oxidative stress, green tea, aging, and more. I even developed an assay, the method for which has been cited over 2,400 times. The addition of human subjects and secondary data sets to my scholarship agenda broadened the appeal of research to a diverse set of students, many of whom wanted to be mentored in the traditional way – laboratory setting –collecting data and learning about the nuances of research with animal and human models. Other students preferred working with large data sets that some of our studies collected, including gene and protein expression with thousands of data points. My research includes interdisciplinary projects that enable interactions with faculty and students from such departments as Biology, Chemistry and Biochemistry, Statistics, Psychology, Engineering, and Speech Pathology and Audiology. We all learn from each other, and our publications and presentations have resulted in awards, including best paper awards for students, paper of the year award from one journal, and research support from national health organizations and private foundations as well as corporate support. Also, my students have gone on to incredible careers that some had not even considered before working with me.
Knowledge is Power
"Miami University gives faculty and students the time and resources to be creative inside and outside the classroom. Whether it's the latest technology, small class settings, or support for research mentoring, my students and I have been able to take our curiosity about specific health-related topics to the next level to investigate, experiment, fail, try again, and ultimately learn from our work and create knowledge that had not been known before. How cool is that?"
Education
Ph.D. University of Maryland
M.S. Ithaca College
B.S. Rutgers University 
More About Me
I am listed in the top 2% of scientists cited in the world by Stanford University researchers. My publications include two books, 13 chapters, and 55 manuscripts. I've created widely distributed public health infographics and blogs and have been interviewed on public radio on the topic of active transportation.